We would all be telling porkie pies if we didn't admit to wanting to recreate favourite restaurant meals at home. We will often be at a restaurant and wondering how easy it is to make and if we could make it at home.
When you go to a steak restaurant you wonder about their sauce, at a Chinese you wonder where they get their soy sauce from because it tastes better than your own, or you could be at an Indian and wondering where they source their spice from because the local Indian restaurant does the best ever curries!
We have had a favourite restaurant ever since we moved to Portugal. It is a 45 minute drive away but well worth the distance. It serves a lot of steak and fish dishes including steak on the stone (unheard of in many countries), homemade mayonnaise, the best ever garlic potatoes and the puddings are so worth having.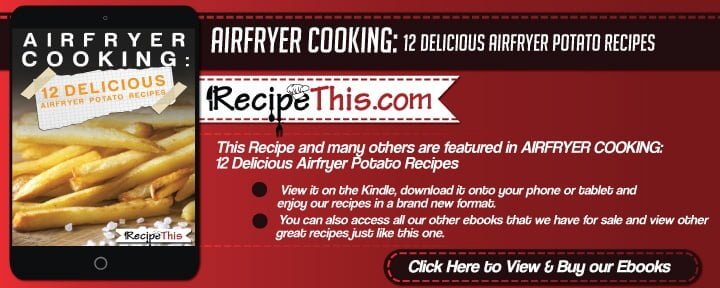 The one thing we have always liked the most are the garlic potatoes. They are cooked with garlic and bacon and I can't resist asking for more. The worst thing is that they come with unlimited portions of potatoes so by the end of the night (especially after I have had pudding) I feel incredibly full 🙂
This recipe when cooked in our airfryer, that I have created is my take on the classic Portuguese potatoes and beware you will want extra!
#AirFryer Restaurant Style Garlic Potatoes from @Recipe_this
Click To Tweet
Air Fryer Restaurant Style Garlic Potatoes
Instructions
Begin by peeling your potatoes and chopping them into medium sized cubes.

Place the potatoes in the Air Fryer with a teaspoon of olive oil and cook for 10 minutes on a 180c heat.

While they are cooking dice your bacon and mix the bacon in a bowl with your garlic, extra teaspoon of olive oil and salt and pepper.

Once the potatoes have beeped add them to the bowl and the mix everything well.

On a big piece of silver foil add the potato and bacon mixture. Slightly cut the silver foil so it can breathe and then cook for a further 10 minutes on the same temperature.

Serve.
Recipe Notes
If you want a smokey flavour then we suggest that you swap unsmoked for smoked bacon.