What Should You Not Cook With An Instant Pot?
This Post Contains Affiliate Links. Click Here To Read Our Full Disclosure.
What Should You Not Cook With An Instant Pot? I have been cooking with the instant pot for five years now and often get asked what not to cook in a pressure cooker and today want to reveal all.
This instant pot cooking guide is also featured in the Magic With Gadgets Podcast. Simply search for Magic With Gadgets on your preferred podcast player, then scroll to episode 16 of season 2 to access this awesome episode.
Can You Cook Everything In The Instant Pot?
No, it can't. The instant pot can cook most things but not everything.
When I first bought an instant pot, I joined loads of instant pot Facebook groups and it was so exciting to be part of the community.
But one thing that was discussed was what you were getting rid of in the kitchen now that you had an instant pot.
What surprised me is how many people said EVERYTHING like the instant pot was going to be the only thing that they would EVER cook with AGAIN.
I understood how they felt that way, because the instant pot was something I too was incredibly passionate about.
But the truth is that the instant pot can not do EVERYTHING it can do a lot of things, but not everything.
I have cooked exclusively in the instant pot for 8 weeks and have found that it replaces so much, but at the same time I missed some things and it was nice to be reunited with my air fryer.
Today I wanted to share with you what the instant pot can not cook, so that you can see if the instant pot is for you or not.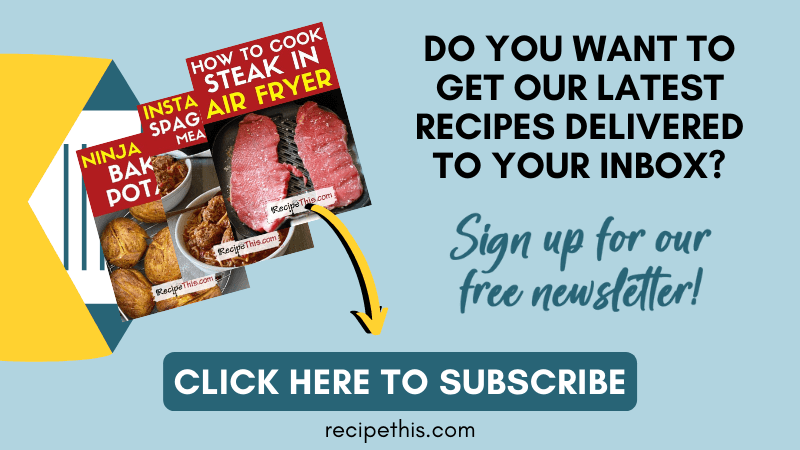 Plus, as well as our free newsletter, we also have a free instant pot mini course. It is ideal for instant pot beginners or those that want to get more confident with their instant pot. The free course runs for 5 days with a new lesson delivered each day to your inbox.
What Should You Not Cook With An Instant Pot?
Here is what I recommend you don't cook in the instant pot:
Food that is too good for the instant pot – We often use the instant pot to make something taste better. But there are some foods that are so premium and so amazing that they don't need to be cooked in the instant pot. For example, I cook instant pot frozen steak using braising/chuck steak. It's a tough cut and comes out tender like sirloin steak. BUT do a fillet steak in the instant pot and you don't gain anything as it will be better in a pan or air fried.
Cookies – Cookies and other similar baking just goes too puffed up and loses the texture that we associate with it. It is much better to cook cookies in the air fryer or the traditional way.
Rapid cooking – If you have food that cooks too quick, then the instant pot is not a good option. That is because it will be cooked BEFORE the instant pot has the chance to go to pressure and will end up over cooked. You don't want pressure cooked food that is really mushy.
Dairy – If you don't do it right, its way too easy top have an explosion with dairy in the instant pot. Its so much easier to add it later. Or if you want to get the dairy thing right, then start with Dominic's instant pot rice pudding.
Canning – The reason you can't can with the instant pot is that the instant pot does not get hot enough for it to be safe. You can use the instant pot for instant pot strawberry jam, but for long term storage of something like pears is not recommended.
And beyond this I am struggling to find food groups you can't cook in the instant pot because there are so many possibilities.
If you would like to see the current price and check out the instant pot we have then click here.
Did You Know We Have A Podcast?
We started the Magic With Gadgets podcast in the January of 2021 as a way to offer a different way to enjoy Recipe This. It focuses on cooking with kitchen gadgets. You can find out more about our podcast here.
With twice weekly episodes through September to December. This is episode 16 of the second season and you have the choice between reading this post, listening to the podcast or both.
If you would like to stay in the loop with our podcast, I recommend you subscribe below:
How To Listen To This Podcast Episode?
You can use the player above to listen to this episode of Magic With Gadgets. Alternatively search for Magic With Gadgets on your favourite podcast platform or click the links below:
Subscribe & Review
Thank you for listening to the Magic With Gadgets Podcast. Have some feedback you would like to share? Want to be featured in a future episode? Want to help us spread the word?
Browse other episodes (access them all here)
Leave a comment below the blog post
Share with your friends on social media
Share your thoughts in our Facebook Group (you can sign up here)
Ask me a question or submit a guest request by filling out the form below
If our podcast has helped you, please leave a review on iTunes. Your reviews help spread the word and without reviews our podcast will not get seen. Plus, I love reading each and every one of them.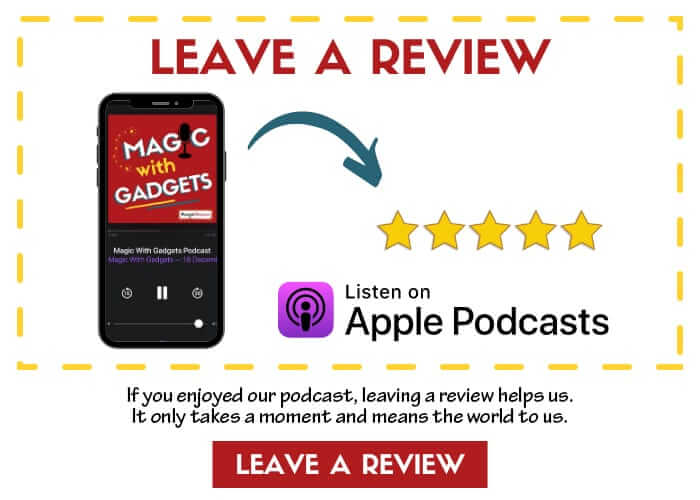 Can't listen now? Then pin it for later!