What Accessories Do You Need For An Air Fryer?
This Post Contains Affiliate Links. Click Here To Read Our Full Disclosure.
What accessories do you need for an air fryer? Today we wanted to answer your essential questions about how to use air fryer accessories, how to choose the best air fryer accessories and which air fryer accessories we personally use.
This air fryer accessories guide is also featured in the Magic With Gadgets Podcast. Simply search for Magic With Gadgets on your preferred podcast player, then scroll to episode 2 of season 3 to access this awesome episode.
Do You Need Air Fryer Accessories?
Note that I said do you NEED air fryer accessories and NOT do you want air fryer accessories.
This is because I am all about saving money, I am all about been frugal and I also save money on air fryer accessories and only buy the air fryer accessories that I truly need.
I often get asked about my go to list of air fryer tools and thought that instead of just listing the same ones everyone else is talking about, that instead on the podcast today I give you a walk through around our kitchen of:
Which air fryer accessories we use everyday
Where to buy air fryer accessories
How to use air fryer accessories
What to look for in air fryer accessories
If air fryer accessories are universal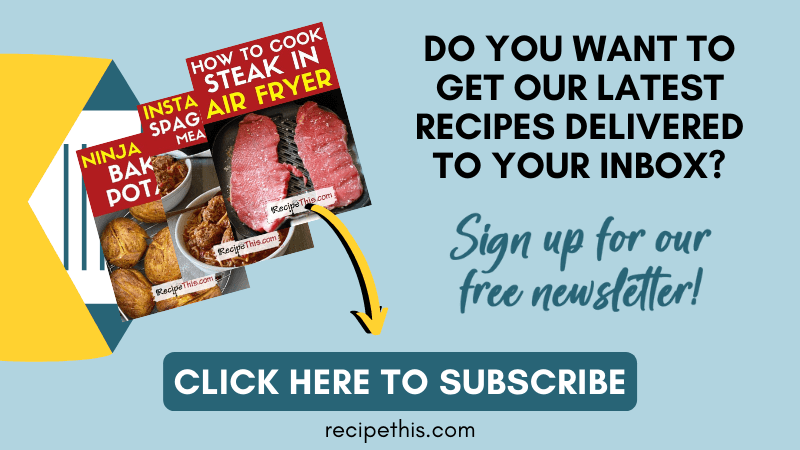 Plus, as well as our free newsletter, we also have a free air fryer mini course. It is ideal for air fryer beginners or those that want to get more confident with their air fryer. The free course runs for 5 days with a new lesson delivered each day to your inbox.
Do You Need Air Fryer Accessories?
Someone once said to me that buying air fryer accessories is a rip off and we don't really need air fryer accessories and people are just out there wanting to make a commission from us.
Well, yes there are plenty of people out there just after a commission and that are recommending accessories because they cost more to make more money.
But there are also people out there like me, that just recommend what I personally believe will help you.
You need air fryer accessories to help you cook with, just like you need pots and pans and bakeware to be able to cook in a pan or in an oven.
Can you imagine trying to cook in the oven without any type of cookware. Yes, you could warm up some bread, but you couldn't make a sheet pan dinner or roast some potatoes.
What Are Air Fryer Accessories Used For?
Its very much like accessories you would use for an oven, cooking on the stovetop, or on the grill etc.
Its just you want ones that fit the size of the air fryer.
Imagine using an extra virgin olive oil spray to spray your food, or silicone instead of a baking tray for when you make a frittata or what about a dish that is small enough for the air fryer that you can make a cake in the air fryer.
So just think, when you are wondering what accessories are used for, that its very similar to the way you use them in an oven.
Are Air Fryer Accessories Universal?
Yes, they are. You can easily use your Philips Air Fryer accessories in your Cosori air fryer like we do.
BUT note, that not all air fryer sizes are equal.
This means if you have an air fryer that will fit 7 inch accessories, you wont be able to use them in a smaller air fryer.
I have several air fryer accessories in multiple sizes so that it will fit all of my different air fryers.
Also note, if you have an air fryer oven, the accessories sizes that fit will differ a lot compared to an air fryer basket.
Can You Use Air Fryer Accessories In Instant Pot?
Yes, you sure can and I often mix and match. The silicone that comes with the instant pot, I use in the air fryer and many instant pot steamer baskets will fit the air fryer.
Just like you could use your air fryer baking pans or air fryer pie pan or even your air fryer spring form pan in the instant pot.
Where To Buy Air Fryer Accessories?
The most popular place to buy air fryer accessories is on Amazon. You can also use Amazon to buy a bundle of air fryer accessories in one, like this pack here.
But I find a great starting point is what you already own, followed by heading to your favourite supermarket and seeing what small accessories they have, that will fit in your air fryer.
Note, that most air fryer accessories are cheap, and its not a big cost to you to get your air fryer kitted out with essential air fryer tools.
What Air Fryer Accessories Do I Need?
I went through our pantry, our kitchen cupboards and what is inside of our air fryer, and these were the accessories we use on a regular basis that are also mentioned in the podcast:
Did You Know We Have A Podcast?
We started the Magic With Gadgets podcast in the January of 2021 as a way to offer a different way to enjoy Recipe This. It focuses on cooking with kitchen gadgets. You can find out more about our podcast here.
With weekly episodes that will help you cook smart with kitchen gadgets. This is episode 2 of the third season and you have the choice between reading this post, listening to the podcast or both.
If you would like to stay in the loop with our podcast, I recommend you subscribe below:
How To Listen To This Podcast Episode?
You can use the player above to listen to this episode of Magic With Gadgets. Alternatively search for Magic With Gadgets on your favourite podcast platform or click the links below:
Subscribe & Review
Thank you for listening to the Magic With Gadgets Podcast. Have some feedback you would like to share? Want to be featured in a future episode? Want to help us spread the word?
Browse other episodes (access them all here)
Leave a comment below the blog post
Share with your friends on social media
Share your thoughts in our Facebook Group (you can sign up here)
Ask me a question or submit a guest request by filling out the form below
If our podcast has helped you, please leave a review on iTunes. Your reviews help spread the word and without reviews our podcast will not get seen. Plus, I love reading each and every one of them.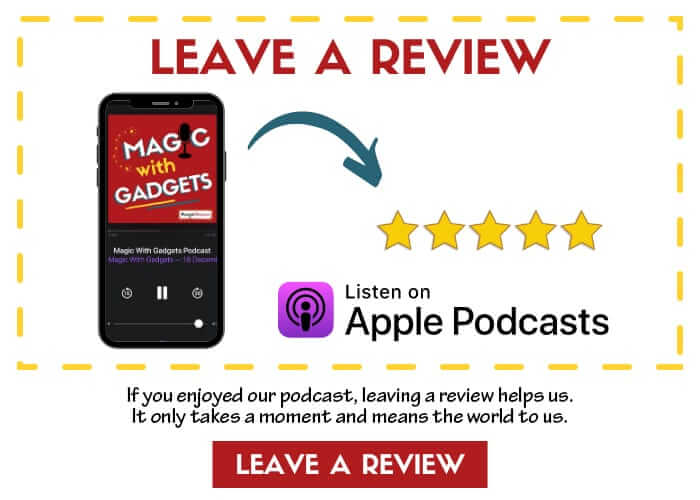 Can't listen now? Then pin it for later!