How To Steam Vegetables In Microwave
This Post Contains Affiliate Links. Click Here To Read Our Full Disclosure.
Delicious perfectly cooked steamed microwave veggies. Let me share with you my recipes, top tips, cooking times, and more for how to steam vegetables in microwave.
You will love how easy it is to steam veggies in microwave with a microwave steamer bowl and then you rinse and repeat with your own favourite vegetable.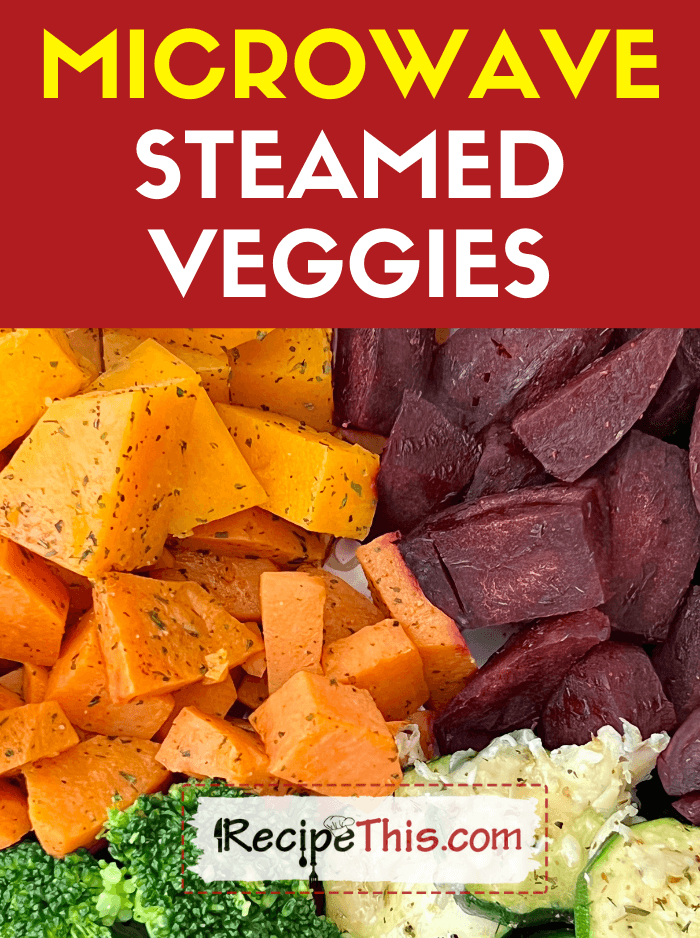 Steam Veggies In Microwave
I set myself the challenge to create 28 new recipes for you on Recipe This for the microwave.
I wanted to learn more about microwave cooking and find some quick shortcuts for you to make mealtimes even easier.
Many are amazed by how much vegetables I eat as well as how often I cook from scratch and don't rely on processed foods.
Well, I do this easily because I have air fryers, instant pots and a microwave. They make it simple.
Through our microwave month, we have featured a lot of vegetables that you can steam in the microwave.
With you having so many questions about steam veggies in the microwave, today I wanted to talk you through the behind the scenes of our microwave veggies, and how to get confident at cooking vegetables in the microwave yourself.
Can You Steam Vegetables In Microwave?
Yes, you can. Cooking vegetables in the microwave using a steamer bowl is amazing and you will be impressed with the results.
When you steam vegetables they retain their great flavour, they don't need any oil and can just be seasoned and then steamed in the microwave.
Are Microwave Vegetables Healthy?
Yes, steamed vegetables in the microwave are very healthy. This is because they are cooked without any oil but can be loaded with your favourite seasoning.
Then secondly, microwave vegetables don't lose their nutrients, like they do when they are boiled.
Plus, we often say we don't have enough time to cook vegetables, yet microwave vegetables are fast cooking.
Best Way To Steam Vegetables
The best way to steam vegetables and also the easy way to steam vegetables is with a steamer bowl in your microwave.
Its no harder than loading vegetables into a bowl and then loading it into the microwave and also saves you having to buy a professional steamer.
Can You Reheat Steamed Vegetables?
Yes, you sure can. Reheating cooked vegetables in the microwave, is a great way to save you time and not to stress out at mealtimes.
You can use the microwave to reheat your leftovers, but you can also make vegetables ahead and then microwave them to reheat just before dinner.
For example, here is a big platter of the veggies that we reheated in the microwave: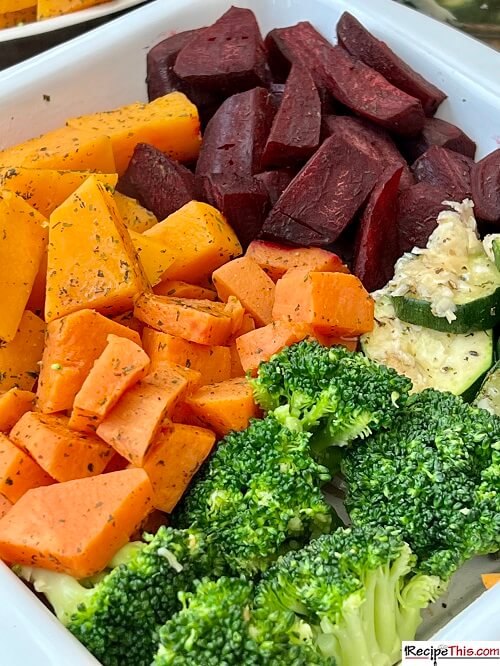 Would you like easy & amazing microwave recipes from microwave experts? Click here and join the Recipe This Newsletter. We will then send you the BEST microwave beginner recipes direct to your email inbox along with other useful microwave resources.
Vegetables You Can Steam
There is a lot of different vegetables you can steam. You can steam zucchini, broccoli, cauliflower, cabbage, carrots, asparagus, spinach, beets and the list goes on and on.
But some vegetables are better than others for steaming.
I recommend you opt for steaming the vegetables that take a long time to cook. Such as carrots, beets, swede, and other turnips.
Also note that steaming vegetables that have a high water content can make them mushy much quicker in the microwave steamer.
From all the different veggies I have steamed in the microwave, I have found the best vegetables to steam are carrots, rutabaga, green beans, and broccoli.
How To Steam In Microwave
The same method applies to anything you want to learn how to steam in microwave and isn't just about how to steam veggies in microwave.
The method of microwave steaming is all about a small amount of water, plus the food you want to steam plus making sure what you are steaming from is sealed.
You see, you need the steam to stay local to the food and not to escape.
This means that you could steam in a Ziploc bag, you could steam in a pyrex container, and you could also use a steamer bowl like we are using today.
Or if you have Ziploc bags in, then do check out our microwave corn on the cob that we shared with you yesterday.
Microwave Steamer Bowl
I bought a fantastic microwave steamer bowl from a local shop here in Yorkshire. They had an end of aisle shelf just loaded with accessories for the microwave and I thought they were AMAZING.
It shrinks down when not in use, so doesn't take up a lot of room.
Here is my steamer bowl loaded with broccoli ready for the microwave: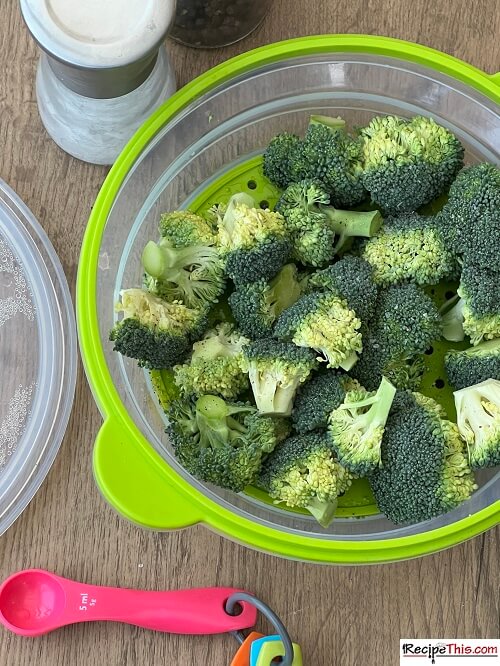 You can get one like this from your local shop, or I really like this one from Amazon.
The most important things you need to look for in a steamer bowl is that it will:
Fit easily in your microwave
Will hold enough vegetables for your needs
Will clean easily
Fits in a kitchen drawer for easy storage
Then once you have your microwave steamer bowl, its time to put your plan into action.
How To Season Steamed Vegetables?
I season vegetables for the microwave steamer the same way I do when I air fry vegetables.
Once I have peeled and diced the vegetables that I am cooking, I load them into the steamer basket.
I then add the seasonings and use my hands to mix the vegetables to make sure there is an even coating.
I also have a wonderful herbs and spices cupboard (mainly M&S) and will use whichever dried herbs fit in with what I am cooking.
My favourite seasoning for vegetables includes:
Dill
Parsley
Basil
Oregano
Sweet Paprika
Coriander/Cilantro
Though sometimes I just like to keep it simple with salt and pepper.
How To Steam Veggies In Microwave?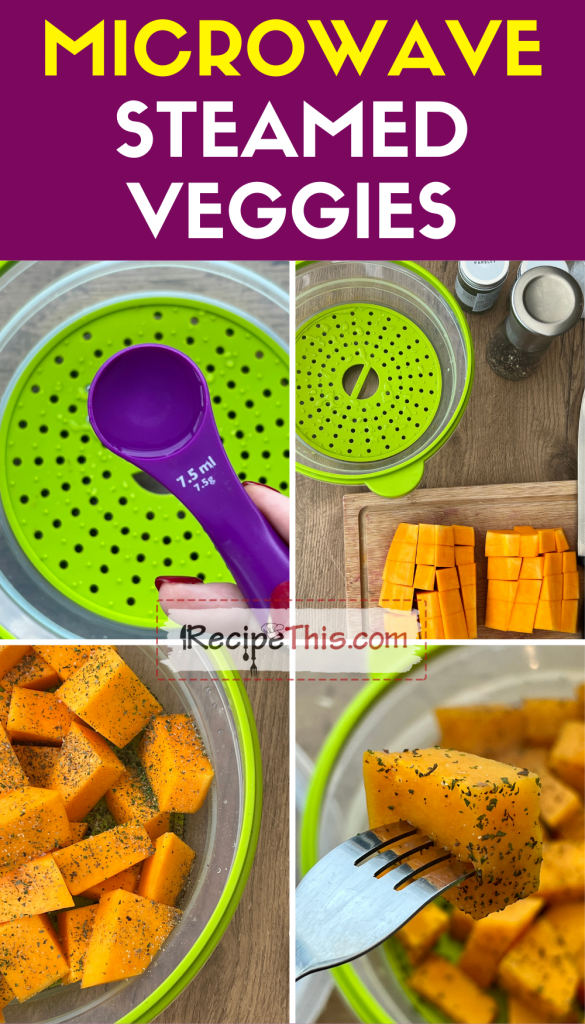 Now you understand the ins and outs of the microwave steamer bowl and how to season steamed vegetables, let me run through the process of steaming vegetables in the microwave.
Step #1 – Add Water
To allow the vegetables to steam in the microwave they need one tablespoon of water. I recommend that you add this first to your steamer that way you will not forget!
Step #2 – Prepare Vegetables
Next you want to peel and dice any vegetables that you plan to steam in the microwave. You can do a mix of vegetables or just use the same vegetable. Just remember to focus on mixed vegetables that have a similar cook time.
Step #3 – Add Seasoning
There is nothing worse than bland vegetables. I recommend tossing your vegetables in seasoning from the steamer bowl.
It saves on washing up and then your veggies cook in their seasoning.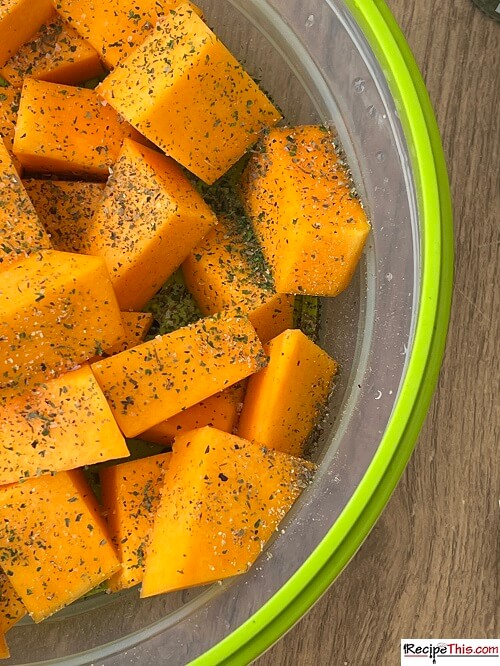 Step #4 – Add The Lid
Place the lid down on your steamer basket and then load into the microwave. You then set the cook time and let the microwave work its magic.
Step #5 – Fork Test
Then when the microwave beeps do a fork test to make sure your veggie is fork tender.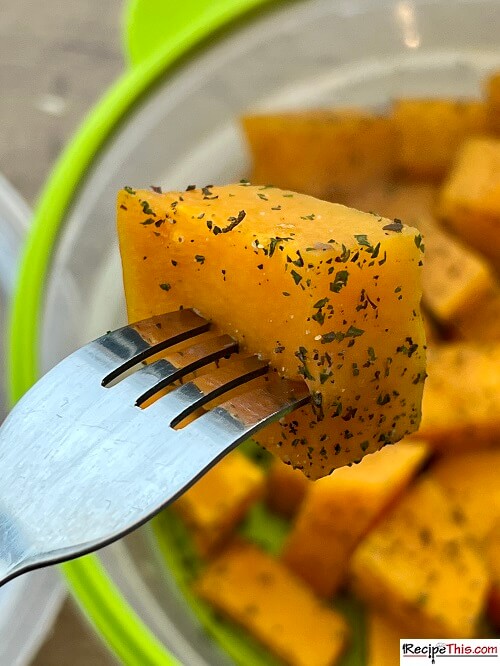 Step #6 – Spoon Trick
Then remove the lid and carefully allow the steam to escape. Then use a silicone spoon to remove the veggies as you don't want the steamer water to end up on your dinner plate too.
Note that not all microwaves are equal, and we all have different wattage, so vegetable steaming times can vary.
How Long To Steam Vegetables?
The steamed veggies cook time varies depending on the vegetable, but this is how long it took to steam vegetables in our 800w Panasonic microwave.
Microwave Zucchini – 6 Minutes
Before you steam veggies in the microwave, don't forget to subscribe, and grab your FREE VIP Pass to Recipe This. You will get access to our latest recipes first, you will be able to request recipes, you will have access to free mini courses, free air fryer ebooks and useful air fryer cook time charts and so much more.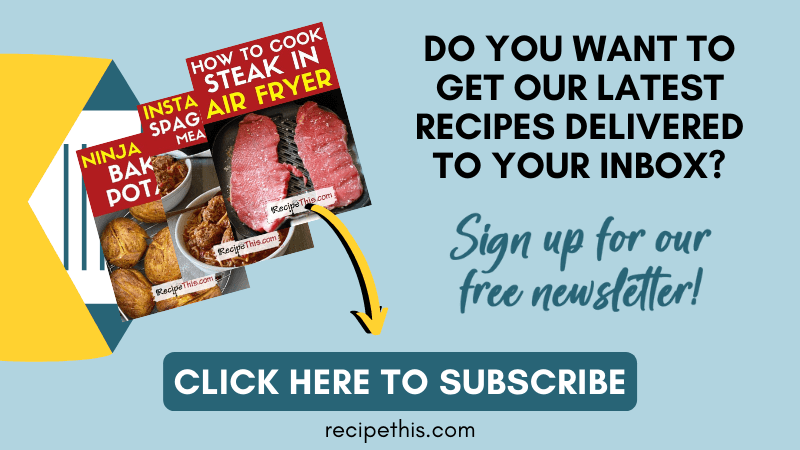 Did You Know We Have A Podcast?
We created an awesome podcast episode about why I love cooking veggies in the microwave. You can listen to it below and you can find out more about our podcast here.
You can use the player above to listen to this episode of Magic With Gadgets. Alternatively search for Magic With Gadgets on your favourite podcast platform or click the links below:
Can't steam vegetables now? Then save it for later!