Can you put frozen chicken in a slow cooker? Today, I wanted to help you out with one of the biggest cooking questions and talk about frozen chicken in the slow cooker.
This slow cooker Q&A is also featured in the Magic With Gadgets Podcast. Simply search for Magic With Gadgets on your preferred podcast player, then scroll to episode 17 of season 2 to access this awesome episode.
Frozen Chicken In Slow Cooker
I can remember it like it was yesterday, it was spring of 2000 and I just moved in with my chef hubby. I couldn't cook, didn't know where to start and was totally clueless.
I knew how to generate a lot of washing up and make an awesome homemade lasagne and could make macaroni cheese and a few other similar dishes. Basically, anything in a cheese sauce.
But I had a chef to feed and felt that chicken thighs cooked from frozen in the oven with a bad sweet and sour sauce from Aldi was the way to go.
20 minutes later I served it.
Of course, the chicken was still frozen in the middle and it was disgusting undercooked chicken.
Right there and then my lovely boyfriend talked me through how to cook chicken and most importantly the dangers of frozen chicken and how easy it is to get seriously ill from frozen chicken or uncooked chicken.
It didn't put him off me though, as now he is my husband of almost 19 years so my chicken must have improved!!!!
Today I wanted to help you too and want to talk about one of the biggest problems when it comes to online recipes and that is frozen chicken in the slow cooker.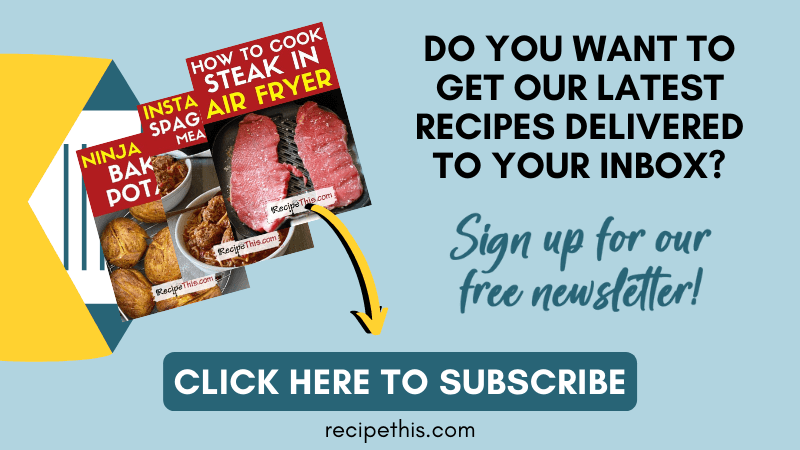 Can You Slow Cook Frozen Chicken?
No, you should NEVER EVER EVER EVER put frozen chicken in a slow cooker. Its one of the most dangerous ways to cook chicken and can lead to food poisoning.
I feel like I need to shout this out, just because so many people are doing it and risking their health and the health of the people they are cooking for when doing so.
I blame the slow cooker freezer meals industry for this. Not that I don't like freezer meals, because I do. But because many of these frozen meals are with chicken, many assume and some are told, to put frozen chicken in the slow cooker.
You can't blame people for doing it though, because there is something amazing about a freezer meal from the freezer into the slow cooker to dinner being ready on the dinner table.
Though, you can keep your family perfectly safe if you thaw out the chicken first. Simply get your freezer meal out at 4pm, leave it on the side to defrost and put in the fridge when you go to bed, then by morning it will be fully defrosted.
Why NOT Cook Frozen Chicken In The Slow Cooker?
This is because the slow cooker fails to get to the recommended temperature to cook from frozen. This means that you are not killing off the bacteria and the bacteria remains on the frozen chicken as you cook it.
Also, the chicken doesn't get hot enough internally for the recommended temperature of frozen chicken.
But the confusing thing for many is that frozen chicken IS recommended in the instant pot which has a slow cooker function. But note, when people cook instant pot frozen chicken, they are pressure cooking NOT slow cooking.
For example, I LOVE instant pot frozen whole chicken, instant pot frozen chicken thighs, instant pot frozen chicken drumsticks and so many others.
And each of these instant pot alternatives are 100% safe compared to frozen chicken slow cooker recipes.  
What About Frozen Chicken In Crockpot On High?
It is just as dangerous to cook frozen chicken in a Crockpot on high as it is on a medium temperature, just because the heat is not enough.
Though of course the risks will always be the worst when you slow cook frozen chicken on low.
My recommendation is that you use an instant pot pressure cooker, an air fryer, or a sous vide, where you have a greater control of the temperature of your frozen chicken.
Did You Know We Have A Podcast?
We started the Magic With Gadgets podcast in the January of 2021 as a way to offer a different way to enjoy Recipe This. It focuses on cooking with kitchen gadgets. You can find out more about our podcast here.
With twice weekly episodes through September to December. This is episode 17 of the second season and you have the choice between reading this post, listening to the podcast or both.
If you would like to stay in the loop with our podcast, I recommend you subscribe below:
How To Listen To This Podcast Episode?
You can use the player above to listen to this episode of Magic With Gadgets. Alternatively search for Magic With Gadgets on your favourite podcast platform or click the links below:
Subscribe & Review
Thank you for listening to the Magic With Gadgets Podcast. Have some feedback you would like to share? Want to be featured in a future episode? Want to help us spread the word?
Browse other episodes (access them all here)
Leave a comment below the blog post
Share with your friends on social media
Share your thoughts in our Facebook Group (you can sign up here)
Ask me a question or submit a guest request by filling out the form below
If our podcast has helped you, please leave a review on iTunes. Your reviews help spread the word and without reviews our podcast will not get seen. Plus, I love reading each and every one of them.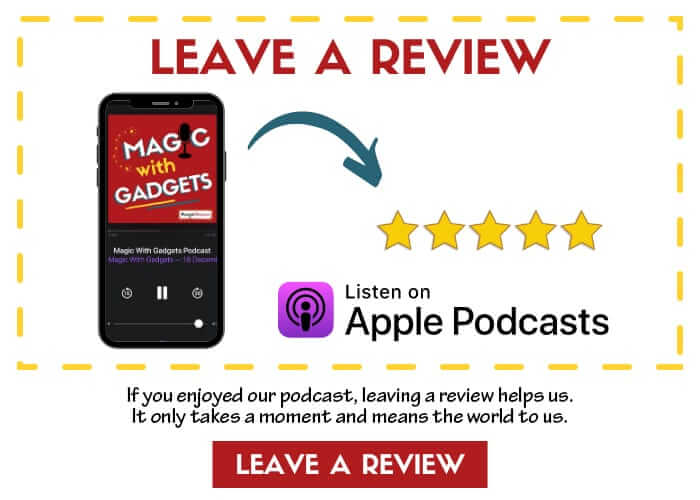 Can't listen now? Then pin it for later!