What Size Instant Pot Do I Need?
This Post Contains Affiliate Links. Click Here To Read Our Full Disclosure.
What Size Instant Pot Do I Need? Today we are talking all about the instant pot pressure cooker, what are the sizes of instant pot and exactly which instant pot we recommend and why.
This recommended instant pot size guide is also featured in the Magic With Gadgets Podcast. Simply search for Magic With Gadgets on your preferred podcast player, then scroll to episode 12 of season 2 to access this awesome episode.
Instant Pot Sizes
I have been using the instant pot for five years and have met some lovely people through my love for the instant pot. Many of them have been instant pot beginners and their number #1 question is about instant pot sizes.
What size instant pot should I get?
Is the 8qt instant pot too big?
How big of an instant pot do I need?
Best size instant pot for a family of five
What size instant pot for a family of four
And so much more
Today is all about me sharing with you, what instant pot sizes that I recommend for you and your household and which instant pot sizes we have in the Recipe This kitchen and our instant pot size regrets.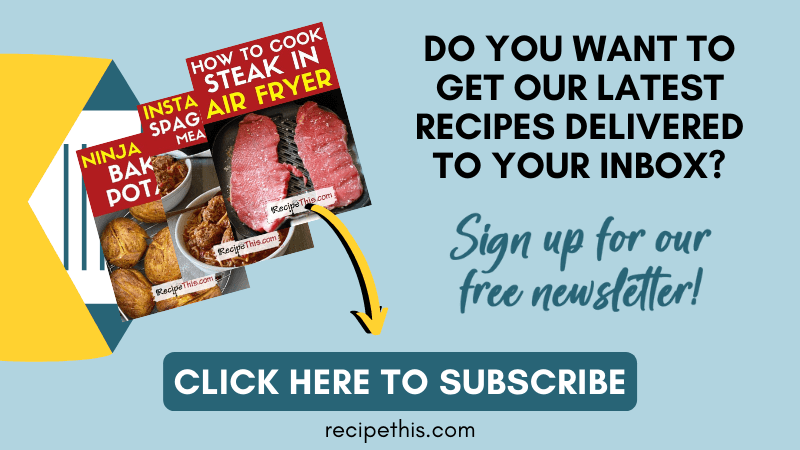 Plus, as well as our free newsletter, we also have a free instant pot mini course. It is ideal for instant pot beginners or those that want to get more confident with their instant pot. The free course runs for 5 days with a new lesson delivered each day to your inbox.
What Are The Sizes Of The Instant Pot?
There are 4 popular sizes of the instant pot pressure cooker.
The 3qt, the 6qt, the 8qt and the 10qt.
From a size perspective I like to think of them as small, medium, large and extra large instant pot pressure cookers.
What Size Instant Pot Should I Get?
This depends on your personal needs and what you plan to cook in your instant pot pressure cooker.
3 Quart Instant Pot – Is perfect for a widow, a single person, or someone that is just using the instant pot for side dishes. My first thought is cooking steamed broccoli in the instant pot and then using the air fryer at the same time for some air fryer chicken breast.
Though if you are a single person and every instant pot recipe is for the 6 quart a simple halving the ingredients will work wonders.
Would I get a 3 quart instant pot? Yes, I believe I will, when I next get another one. I wish I had one now, just for the times when I am doing some quick veggies.
6 Quart Instant Pot – Is what I would call the common instant pot. That is because, it's what most instant pot owners have. It's a medium size and is perfect for 4 people and we even travelled around Europe with our 6qt. It was also the first instant pot we ever owned.
If you are looking for the best instant pot for a family of four then this is it.
It is also low enough wattage to have in a motorhome or RV.
Would I get a 6 quart instant pot? I already have two, so no problem with me getting a 6 quart. They are fantastic for a regular sized family and perfect for every day cooking.
8 Quart Instant Pot – Is what we use the most in the Milner house and is the ideal size for a larger family or for those that batch cook. We use it every day and it amazes me what a great job it does.
The 8 quart instant pot is also fantastic for a large whole chicken or a medium sized turkey breast.
Would I get an 8 quart instant pot? Yes, I have one already and they are my favourite size for our household. But note, we do tend to cook bigger meals and find that it is then big enough to make a large stew with plenty of leftovers.
10 Quart Instant Pot – Is the larger instant pot and is perfect for a family of six. It is also fantastic if you are feeding a crowd too. Such as the lady that does the food for the church group or for big potluck events in summer.
Would I get a 10 quart instant pot? No, I don't think I would. Its just too big for our family and we find that the 8 quart is perfect for us, along with the 6 quart for smaller meals.
Choose your size for the instant pot here.
8qt vs 6qt Instant Pot
I find that this is the BIGGEST and HARDEST buying decision when it comes to getting an instant pot pressure cooker. This is because they are similar in size and its hard to know what is best for you.
We originally had a 6 quart instant pot and found that it was perfect for us and never felt like we were missing out.
Then we bought an 8 quart instant pot and found that it was even better for us.
Now when we use the 6 quart we comment on how tiny it feels because of what we have got used to using.
Can You Cook Small Meals In 8qt Instant Pot?
Yes, you can. You can cook as much or as little in the instant pot. Though note, as you cook you will need more liquid to go to pressure on a larger model compared to a smaller one.
But that is the only main difference, and you can use a larger 8 quart instant pot to achieve bulk cooking and then make small meals in it for every day dinners.
Why Not Get Two Instant Pots?
In our house we have both the 6qt and the 8qt. We love this because we can do meat in one and vegetables in the other. Or if we are doing dried beans in bulk, we can do one batch in the 6qt and another batch in the 8qt.
If you use them a LOT I would also recommend having two:
3qt and 6qt – The smaller one is for the steaming of vegetables or rice, then the bigger one is for the main meat or fish.
6qt and 8qt – The same setup that we have and its nice to be able to run both at the same time to save time. This is the two I would recommend for medium sized families.
Did You Know We Have A Podcast?
We started the Magic With Gadgets podcast in the January of 2021 as a way to offer a different way to enjoy Recipe This. It focuses on cooking with kitchen gadgets. You can find out more about our podcast here.
With twice weekly episodes through September to December. This is episode 12 of the second season and you have the choice between reading this post, listening to the podcast or both.
If you would like to stay in the loop with our podcast, I recommend you subscribe below:
How To Listen To This Podcast Episode?
You can use the player above to listen to this episode of Magic With Gadgets. Alternatively search for Magic With Gadgets on your favourite podcast platform or click the links below:
Subscribe & Review
Thank you for listening to the Magic With Gadgets Podcast. Have some feedback you would like to share? Want to be featured in a future episode? Want to help us spread the word?
Browse other episodes (access them all here)
Leave a comment below the blog post
Share with your friends on social media
Share your thoughts in our Facebook Group (you can sign up here)
Ask me a question or submit a guest request by filling out the form below
If our podcast has helped you, please leave a review on iTunes. Your reviews help spread the word and without reviews our podcast will not get seen. Plus, I love reading each and every one of them.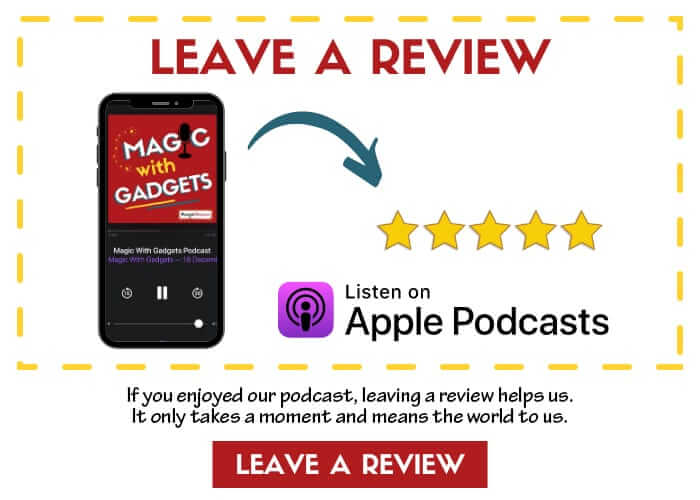 Can't listen now? Then pin it for later!