The instant pot less normal and more settings. Today on the podcast we are talking you through the less normal and more settings on the instant pot duo and how to increase and decrease the temperature when using the slow cooker or sauté functions.
Many people that use the instant pot, don't know that its easy to adjust the temperature of the slow cooker or that they can use the sauté setting for simmering food as well as for browning the meat.
And today I am going to run through both and you can listen along as I adjust the temperature of my instant pot duo.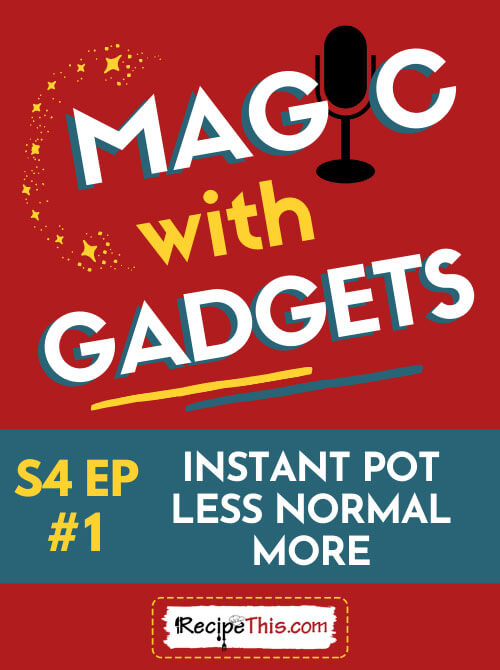 Instant Pot Less Normal & More
The most complained about function of the instant pot pressure cooker is the slow cooker setting.
You often hear people complaining that something was cooking for 10 hours on the slow cook button and is still nowhere near cooked.
That same thing has happened to me too and trust me when I say, you're not alone if it has happened to you too.
The reason it has happened, is as newbies to the instant pot, we are not aware of the instant pot less normal and more.
Which put in simple terms is how you can adjust the slow cooker (and the sauté setting) from low to medium to high. With medium been the natural setting that you will always have, if you don't go in and adjust it.
Today on the podcast I am running through this setting so that you can easily go from less normal and more in an instant.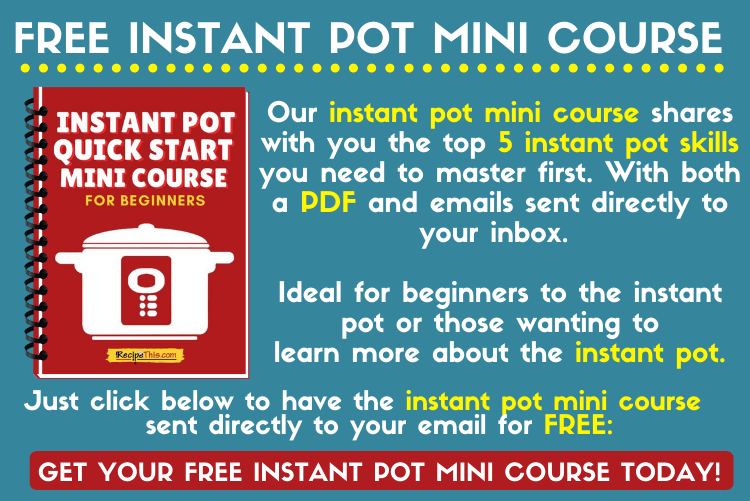 Plus, as well as our extremely popular instant pot mini course which teaches you the instant pot basics in 5 days, we also have our instant pot bucket list. That is loaded with 30 FREE bucket list worthy instant pot recipes.
Click here or on the banner above and you will have access to both in an instant.
Is Less The Low Setting On The Instant Pot?
Yes, it is. Less is like low, more is like high and normal is the equivalent of a medium.
So, if you are using a slow cooker it's like low, medium, and high. And on a sauté, it's like low, medium, and high on the stovetop.
What Does Less Mean On Instant Pot Slow Cooker?
The less button on the slow cooker is the same as low on a slow cooker. It's just slightly lower in temperature compared to a traditional Crockpot. When you use the Crockpot brand, because it's the best slow cooker it seems to do the best for keeping its heat.
I would say on average the instant pot and the Ninja Foodi slow cookers are about 30 minutes behind the Crockpot brand.
Instant Pot Slow Cooker Less Normal More
When you use the slow cooker function, you can go from normal, to less, to more.
If you stick with normal which is what happens unless you change it, the temperature will be 90c-95c or 190-200f.
However, if you want the slow cooker warmer, then you can switch to more and it will set the temperature to 95-100c or 200-210f.
Or go less if you are away from the house all day and you can opt for 80c-90c or 180-190f.
Instant Pot Sauté Less Normal More
As well as the slow cooker, the instant pot sauté function will also do less normal and more for you.
But of course, for a sauté, the temperature is rather different than a slow cooker.
The temperatures you can do with the instant pot sauté include:
The normal sauté setting does 160-175c or 320-349f. This is perfect for most sauteing, and many people only ever use this temperature.
You can also hit more and increase the sauté up to 175-210c or 347-410f. This is perfect for when you want to quickly brown some meat.
Or go less and decrease the temperature to 135-150c or 275-302f. Which is perfect for if you want to do a simmer in the instant pot or don't want a creamy sauce bubbling and burning.
How To Change Less Normal More On Instant Pot?
The less normal more setting on the instant pot is very easy to adjust. Though I know many people with the instant pot duo are left deeply confused by doing so.
This is because there is no adjust button like many other instant pot models.
To adjust on the instant pot duo, simply press the button you are using twice.
For example, for a slow cook adjustment you would press slow cook, then press it again and it will change, and then press it again. This will then move you from normal to less and more. Then make a mistake and you can press it again to get back to where you were.
This same rule applies to doing instant pot normal less and more for the sauté setting.
Though on the podcast this week, you get to listen to me adjusting my own instant pot duo and explaining how it works with this and on the instant pot duo plus.
Did You Know We Have A Podcast?
We started the Magic With Gadgets podcast in the January of 2021 as a way to offer a different way to enjoy Recipe This. It focuses on cooking with kitchen gadgets. You can find out more about our podcast here.
With weekly episodes that will help you cook smart with kitchen gadgets. This is episode 1 of the fourth season and you have the choice between reading this post, listening to the podcast or both.
If you would like to stay in the loop with our podcast, I recommend you subscribe below:
How To Listen To This Podcast Episode?
You can use the player above to listen to this episode of Magic With Gadgets. Alternatively search for Magic With Gadgets on your favourite podcast platform or click the links below:
Subscribe & Review
Thank you for listening to the Magic With Gadgets Podcast. Have some feedback you would like to share? Want to be featured in a future episode? Want to help us spread the word?
Browse other episodes (access them all here)
Leave a comment below the blog post
Share with your friends on social media
Share your thoughts in our Facebook Group (you can sign up here)
Ask me a question or submit a guest request by filling out the form below
If our podcast has helped you, please leave a review on iTunes. Your reviews help spread the word and without reviews our podcast will not get seen. Plus, I love reading each and every one of them.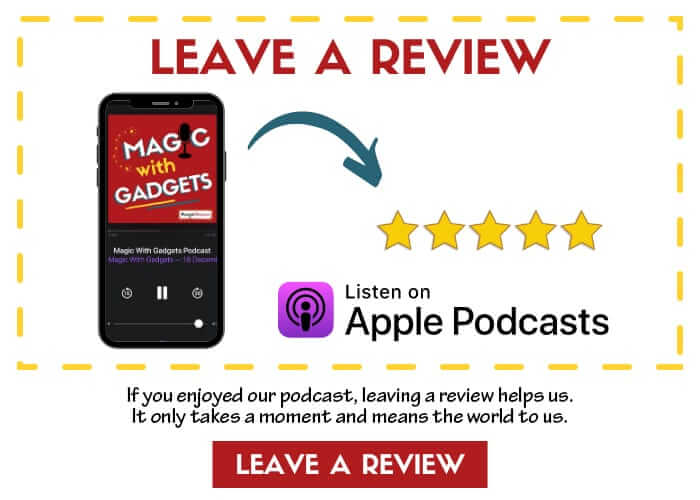 Can't listen now? Then pin it for later!