How To Thicken Stew In Slow Cooker? Today, I wanted to help you out with one of the biggest cooking questions and talk about how to thicken stew in the slow cooker without any flour or cornstarch.
This slow cooker Q&A is also featured in the Magic With Gadgets Podcast. Simply search for Magic With Gadgets on your preferred podcast player, then scroll to episode 25 of season 2 to access this awesome episode.
How To Thicken Stew
I love a bowl of thick homemade stew. Especially, if I have some air fryer dinner rolls to dunk into it that have a nice coating of English butter.
My favourites include slow cooker lamb stew and dumplings, slow cooker vegetable stew and dumplings, instant pot beef stew and dumplings and of course instant pot irish beef stew.
What these stews all have in common with each other (well apart from being delicious and involving bread) is that they are all thickened naturally WITHOUT any cornflour or flour.
I am a cornflour and flour hater in my stews and casseroles and hate Bisto even more.
Instead, I like a natural solution to thicken stew and today I am going to be sharing with how to thicken stew in the slow cooker without flour.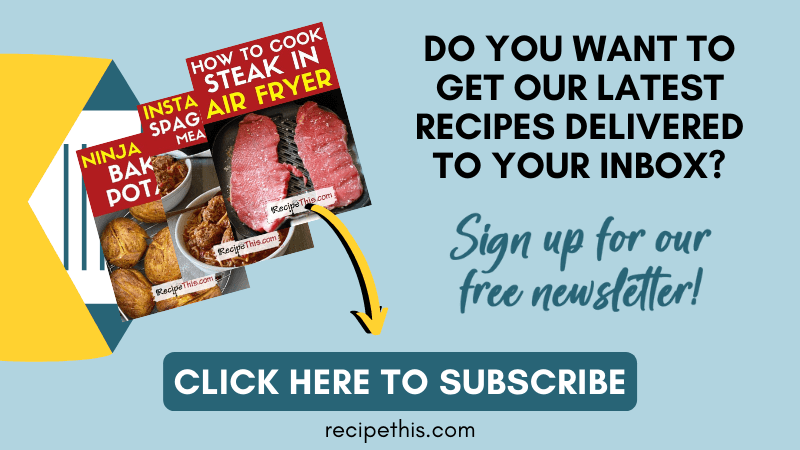 How To Thicken Stew Without Flour?
The best way to thicken stew without flour is do the thickening a little different to how you used to have it growing up.
As a kid, I always watched as Bisto (or a rival brand) of gravy granules were used in the beef stew.
It had thickening agents so that you can add some of their powder and you had a thick beef stew.
But like with many processed foods it was full of rubbish and now in this modern world you want the Plan B.
My plan B for thickening stew without flour is either:
Drain – Use a colander or a sieve to remove the liquid from the slow cooker, then add everything else back to the slow cooker. Then stir in a little of the liquid back in and you no longer have a watery beef stew.
Add Potatoes – Potatoes are a natural thickener and are fantastic for stews. Mash up a little potato and stir it into your stew and it will thicken it for you like magic.
Add Roots – That same rule can apply to other root vegetables, and they will also thicken it nicely. Such as swede (rutabaga), turnips, sweet potatoes, carrots etc.
Add bread – In Portuguese cuisine its common for bread to be added to a stew and then the stew is poured over the bread. Or chunks of bread (similar to croutons) are added to the bowl. This is also amazing for thickening your stew.
Each of these methods above work perfectly. If you are making a stew and serving it with Ninja Foodi mashed potatoes, I would recommend you follow our potatoes method because it is the easiest. Just go with what you are making and what is best for you.
How Do I Thicken Beef Stew In Slow Cooker?
If I am cooking a beef stew in the slow cooker, I will often use the same ingredients each time. Such as beef, carrots, potatoes, and onions.
Carrots and potatoes as I have mentioned above are natural thickeners for your stew. Therefore, I will get out my hand blender and find a section of the beef stew with lots of potatoes and carrots.
Then I will blend a small section and then stir with the same hand blender. This will then thicken the stew up.
It's the easiest method for thickening stew in the slow cooker because you are not draining or moving out any of the ingredients and its keeping it natural at the same time.
I also recommend that if you plan to do this regularly, that you focus on adding a little extra potato and carrots then usual as this is going to be the bit of the stew that is going to be thickened.
Note I have used a similar method with my lamb stew and look at how thick it is:
What To Do If My Stew Is Too Watery?
Simply follow my drain method as this works best when you have a watery stew.
You simply drain out all liquid, add back in the stew and a little liquid at a time into the slow cooker and you have a creamier, thicker, stew.
I also recommend having some bowls like this with a bowl below and sieve above as its ideal for draining.
If you check out our Lancashire hotpot video (yes, it's a slow cooker recipe) in that we show the drain method and how we also make a creamy sauce for it.
And also, don't forget to check out our how to thicken soups, stews and sauces for a more in depth look.
Did You Know We Have A Podcast?
We started the Magic With Gadgets podcast in the January of 2021 as a way to offer a different way to enjoy Recipe This. It focuses on cooking with kitchen gadgets. You can find out more about our podcast here.
With twice weekly episodes through September to December. This is episode 25 of the second season and you have the choice between reading this post, listening to the podcast or both.
If you would like to stay in the loop with our podcast, I recommend you subscribe below:
How To Listen To This Podcast Episode?
You can use the player above to listen to this episode of Magic With Gadgets. Alternatively search for Magic With Gadgets on your favourite podcast platform or click the links below:
Subscribe & Review
Thank you for listening to the Magic With Gadgets Podcast. Have some feedback you would like to share? Want to be featured in a future episode? Want to help us spread the word?
Browse other episodes (access them all here)
Leave a comment below the blog post
Share with your friends on social media
Share your thoughts in our Facebook Group (you can sign up here)
Ask me a question or submit a guest request by filling out the form below
If our podcast has helped you, please leave a review on iTunes. Your reviews help spread the word and without reviews our podcast will not get seen. Plus, I love reading each and every one of them.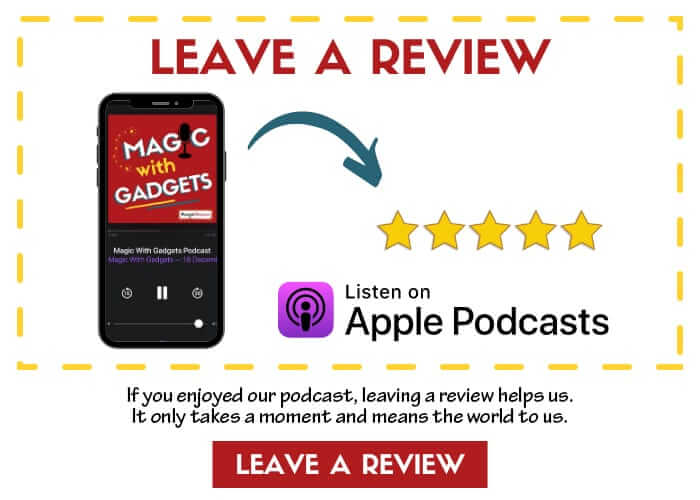 Can't listen now? Then pin it for later!