Butcher Box On A Budget. Have you ever wanted to sign up for Butcher Box or another meat delivery service and thought you can't afford it on your budget? Well today I am sharing with you 10 ways to save money at Butcher Box.
So far this month I have been showing you the ins and outs of Butcher Box. It started at the beginning of the month with my Butcher Box Review, then I showed you how to choose the best Butcher Box Plans for you and now today I am sharing with you how to do Butcher Box on a budget.
Butcher Box On A Budget
One of my biggest ever obsessions is saving money. I always wonder if I didn't have RecipeThis.com which is based around family recipes using kitchen gadgets, that I would be a money saving budget blogger.
I get excited over bargains and if I can I buy things second hand. I have absolutely no issue in the fact that my kids have second hand clothes, that I do, or that my sofa was second hand.
The time over Christmas that excites me the most is the 27th of December. That is when I go shopping and buy all the clearance produce from Christmas.
I get my favourite Christmas cake, cheaper Christmas chocolate, whole turkeys and plenty of Christmas gifts for the year after.
I also love to save money on groceries and always shop online for the best deals as I WANT value for money.
That doesn't mean I am not willing to buy quality though and Butcher Box is a prime example of this.
It's a premium meat delivery service and for those meats I can't get locally, they often work out cheaper. You get that free tote bag too, which you must admit it is cute?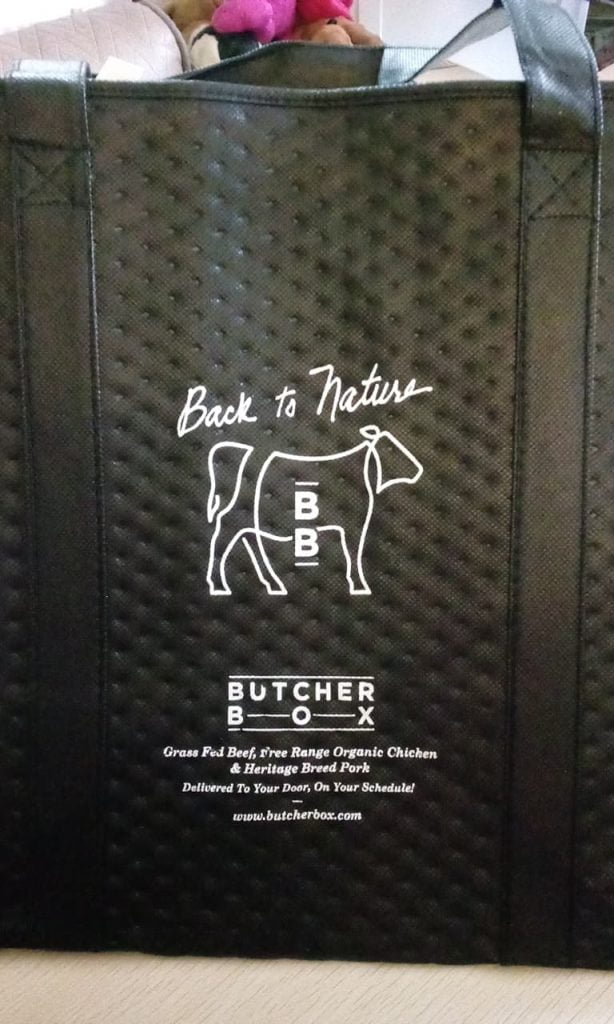 As well as this I love the concept of making sure each product lasts and it stretches to its limit. I finally changed my iron recently, it was a wedding present over 15 years ago and it finally died on me.
I also freak at the hubby when he wants to change his phone after 2 years. I am always saying to him it still works and stop moaning!
But Dominic couldn't understand how I could be so in love with Butcher Box with it being organic and more expensive than cheap meat from the grocery store. Well for me Butcher Box is all about the quality of the meat and knowing what you're getting.
There are plenty of great ways to do Butcher Box on a budget!
Butcher Box On A Budget: 10 Ways To Save Money At Butcher Box
#1 Boneless Vs Bone In Chicken Thighs
If you're doing the Butcher Box Custom Box then remember this. Bones weigh and if you get the boneless and skinless chicken thighs you're getting a lot more chicken thigh for your money.
It counts as the same amounts of units of chicken thigh regardless of whether you get boneless or bone in.
#2 Get The Chicken & Beef Mixed Box
As the mixed boxes cost the same amount of money and are each $129 a month, the one with the chicken and the beef offers the best value.
Based on previous months Butcher Boxes they are expected to include ground beef and chicken breasts, which are perfect for bulking up in meals.
#3 Mix Two Different Boxes Every Other Month
Because there is the option to have your box monthly or every other month you could mix and match. This would allow you to have two different mixed boxes every other month instead of purchasing one large box.
If I was to do this, I would purchase the chicken and beef, along with the main mixed box. This would cost $258 and would amazing value for money. Then divide it by two for every other month and you are coming in at $129 still for some great meat.
If you look through the last months boxes of these you will see that this would get you a lot of chicken breast, lots of ground beef, pork and beef for roast dinners, as well as some nice steak.
#4 Go With The Custom Box
Or go with the custom box every month and then pick and choose the best cuts for value for money. Avoid the cheaper cuts and go with the best of the best.
Or like we do buy a lot of ground meat and chicken breasts and see how they stretch out in your meals.
For example, half a pound of chicken breasts is plenty for a one pot meal for the five of us for dinner. With chicken breasts being sold as a 3 pound pack, this is 6 family meals.
#5 Make A Fake Meal Plan
Before you purchase Butcher Box, write down what you would like to eat each day for dinner, or what you did the week before and then see what meat you need.
See if you would be cheaper on a custom box or a mixed box. See if you can make some slight changes to make it cheaper.
For example, if you want to follow a recipe that calls for diced pork, you could chop up a pork chop instead.
#6 Ask Me For The Monthly Butcher Box Special
Every month Butcher Box email me with what the extra bonus is for new members. One month this was salmon, another month it was ground beef and another month it was extra bacon. Whatever the deal is you get it for life.
But you might find that the deal for this month is something you don't like and would be better off waiting until next month.
You could also plan this extra bonus into your meals and get even more meals for your money.
#7 Use The Addons
There are some fantastic addons that you can pay extra money to add to your order. If you have food that you always buy every week and want this included, then this can work to your advantage.
For example, you want the beef box as with the beef box you get to have steak every week for the price of $129 a month. But you want to bulk out your other meals too and love chicken.
Or you want to eat more ground meat and you don't feel the beef box gives you enough.
These are the Butcher Box addons I would suggest:
2lbs Breakfast Sausage for $18
6lbs Chicken Breast for $48
6lbs Boneless Chicken Thighs $36
This can bulk out a lot of your meals and truly save you money and reach a lot of family dinners. Along with your beef box this would bring your monthly box up to $231. It is still less than buying the larger box, yet you're getting a brilliant choice for your money.
#8 Get The Roasts
Another way to save money with your Butcher Box subscription is to focus on the roasts. They can normally be split into two and then you can also use the leftovers for a delicious Monday Pie.
Examples on Butcher Box include:
Chuck Roast
Pork Tenderloin
Whole Chicken
#9 Think Local
Think about what you can buy locally and if locally is cheaper for you. Sometimes you can get clearance on your local goods that are organic. For example, I always get a good price on local chickens.
#10 Use The Butcher Box Bones
I love the leftover bones that you can get with your meat. In the summer I used a ham shank bone to make Instant Pot Ham Bone Soup. It was amazing and was one of our favourite meals of the summer. Just think about the bone scraps you have and what you could make with them. This could account to another meal a week if you use your bones wisely.
Saving Money At Butcher Box Video
We have also put together a video on You Tube sharing with you a step by step video of how to save money at Butcher Box, that I am sure you'll love:

Buy Your Butcher Box Subscription Today!
I recommend that you give Butcher Box a go. Even just to try it out and see if it lives up to its reputation and if it is for you or not. Plus, you also get free bacon with your first order, I mean how cool is that?
If you use my link or click using any of the banners in this Butcher Box review, then you will not only get FREE BACON, but you'll also get $15 off your first order.