This Post Contains Affiliate Links. Click Here To Read Our Full Disclosure.
Welcome to the Whole 30 Accessories list and what you really need for an easy transformation into the Whole 30.
As I write this I am on day 11 of my second round of the Whole 30 programme.
My first was in 2015 and I am doing it again now to give my body a reset. Just like before I am doing it after the birth of my kids. I welcomed my second child into the world in November 2014 and my third (and final) in September 2016.
I love my kids to bits but I find as you go through the sleepless nights you tend to turn to sugar a bit too much and all of a sudden you have an out of control addiction to high carbs and high sugars.
That is why I am back doing the Whole 30 again to be able to reset my body and feel good again. This time around though I am finding it harder through the demands of a baby and a toddler, but I will complete it, it is just a slow process.
Not everyone will complete the Whole 30
I actually regularly see updates on Instagram for people that have not completed it. For one reason or another they have finished early and thrown in the towel and headed out to McDonalds.
Some have found for health reasons it is not for them, others were going on holiday and didn't want to be Whole 30 when there are lots of cakes around.
But I find the biggest issue is that people are not prepared. They have thrown out their processed foods and bought more vegetables, but have not realised there is much more to it than that.
Then it will drag and they will be counting down everyday and dreaming about the milky coffee, the lasagne and the fast food.
But whether it is slow or fast there are things that you will need to be able to make it an easy one and to be able to physically cope with the changes in your body that you are not used to. That is exactly why I have put this list together for you. So that you can see what I used, to make my Whole 30 a good one and why you need these items too.
Whole 30 Accessories Must Haves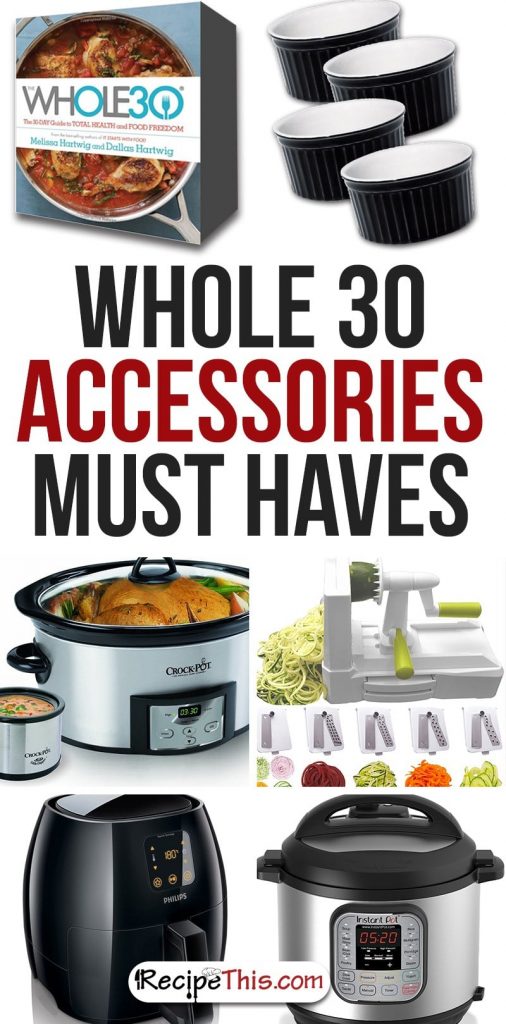 All of the accessories below we recommend for long term healthy eating as well as during your Whole 30. They are all accessories that I personally used to get through my first round of the Whole 30 and ones that I am using right now with my 2nd round.
We are also very frugal when it comes to what we buy for our kitchen and all of the items below we consider to be must haves rather than luxury household purchases!
This is the main Whole 30 Book. It talks you through everything you need to know about the Whole 30 and before you know it you have a full education about what the Whole 30 is about and what to expect. What I loved most about it, is that it actually tells you what thoughts you will have at certain points in the diet. For example it was spot on with what day I was going to dream about chocolate.
This wasn't available during my first round of Whole 30 but it is now available! It gives you loads and loads of delicious recipes for you to follow during your Whole 30. Therefore if you find yourself getting bored of the same old food everyday, it can give you some brand new inspiration.
I would be lost without my Airfryer and it is particular good for the Whole 30 challenge. The main reason is that in the Airfryer pretty much cooks everything with a tablespoon of olive oil and doesn't get as hot as an oven so the good fats don't die like they would if baked.
[clickToTweet tweet="#Whole30 #Accessories & What You Really Need For Your Electric Pressure Cooker via recipe_this" quote="#Whole30 #Accessories & What You Really Need For Your Electric Pressure Cooker via recipe_this"]
You can saute vegetables for breakfast, make meatballs, eat frittatas and so much more. The possibilities are truly endless. Then when you have bought one check out our Airfryer recipe selection as there are plenty of Whole 30 ones.
Other good brands for Airfryers include GoWise and the Power Airfryer XL.
It is a must to have a spiralizer. They are perfect for creating vegetable pasta and vegetable rice and gives you a great alternative to your old days of eating dried pasta. Put courgette noodles onto your dinner plate instead of spaghetti and then make a delicious Bolognese to go with it.
Or if you just want strips of vegetables (similar to making your own tagelitelle) then go with this Julienne Peeler instead.
I love my Instant Pot and even though the hype has it associated with beautiful looking cheesecakes, it is very good for eating healthy. Quickly steam chicken and vegetables, salmon and broccoli or even a pie fat frittata. If you are struggling for time it is particularly good.
I seem to mention these every time that I do a round up post. Well that is because they are essential for home cooking and truly perfect for if you are on the Whole 30. I like to use them to make little fritatas and quiches. You can mix cooked vegetables with egg and then cook them in your Airfryer.
Most of us have one anyway, but a slow cooker or a crockpot is essential in the kitchen. You can add some meat and put a pot roast on for dinner, or you could make a chicken curry. The possibilities are endless.
Your Kitchen Cupboards
I would always say to start with a nosy around your kitchen cupboards and see what useful things you have that you can use. Have you got some old slicers in your cupboard that you got at a food fair years ago that does trendy vegetables? And if you have then use it.
I would always say that your herb and spices cupboard is your best friend during your Whole 30. Just think if you were stuck on a desert island and you could have just one thing, then the majority of us would always say seasoning for our boring food. Its so true, a plain piece of chicken breast tastes so good with a nice seasoning.
Other Whole 30 Accessories
Here are some other accessories for your Instant Pot that MIGHT come in handy but what we wouldn't consider to be essential:
A Good Quality Blender – In our kitchen we also have a good quality blender. It is probably essential, but as most can be expensive it is not in my top 5. We use ours to make a delicious avocado smoothie, homemade sauces instead of a cheese sauce, a tomato sauce to go into our Bolognese and it is also great for blending the soup.
Soup Maker Machine – We also credit our soup maker as being used a lot during our Whole 30 challenge. You can put a quick soup together for lunch or dinner and it will be ready (and blended) in under half an hour.
Some good mason jars – if you are going out and are on Whole 30 it can be really tough. If you invest in some good mason jars you can use it make up portions of food especially salads if you are heading down the beach this summer.
Casserole Dish – I love a casserole dish and they are perfect for making a good baked lunch or dinner. Bake your tomatoes in the oven for the best ever gourmet tomato sauce you have ever tried. It is also wonderful for a pot roast too.
Whole 30 Accessories In Summary
You will find online that there is a serious case of "information overload" as far as Whole 30 accessories is concerned. There are so many sites saying that you need to buy their ebook, or that you can't cope without X, Y or Z. Well these are the bare bones of what you really need to survive.
You could probably list another 20 or even 30 items but these are the basics. The things that I simply couldn't and didn't want to live without. Also if I was to name just ONE thing on this list that I couldn't live without then I would hand on heart say the Airfryer. It is a dream for whatever diet you are on.
Plus I reckon all of the Whole 30 accessories that I have mentioned you will use time and time again beyond your Whole 30, so don't just think they are a one off use.
I have added the links to all the Whole 30 accessories that I have mentioned above so that you have a quick easy access list:
Also please note, for the month of June we are showcasing every recipe and every days food for you to all read about and use as your own inspiration. You can click here to view our June blog posts and we hope it helps you in your own Whole 30.