Welcome to my spiralizer super sized family frittata.
I don't know about you but I love to watch cookery shows. Last year we ditched our English television mainly because we felt it was a bit daft getting British TV when we lived in Portugal. So after 7 years of getting the Best Of British while living in Portugal we were all of a sudden losing our British soaps, police dramas and our favourite cookery shows. I mean how were we couldn't to cope without our British Masterchef.
Then all of a sudden we signed in for the Portuguese equivalent to cable television and we were hooked. The British cable (for similar shows) is so expensive compared to what we are now paying. We suddenly had Criminal Minds and Grey's Anatomy without having to pay for it on DVD and all these great cookery shows.
I kind of forgot what British Masterchef was when we suddenly had the Canada & USA versions. Then there were all the usual cookery shows and lots of new American ones that we had never heard of before.
One that got my attention straight away was Man Vs Food. In the show a guy goes around lots of American restaurants looking for extreme portions. You have a burger that is the size of ten of them, a pizza that is the same as me having five of the usual size that we get at Pizza Hut and lots of other crazy portions.
The show does make me incredibly hungry so I only watch it while having a big dinner!
I can't eat huge portions. So the frugal me was thinking it would be great to go there. The prices are not bad and we can take loads home that would feed us all for a week.
But that is what I decided to do and put it to the test. I made a super size version of my favourite frittata (made quicker by the help of the spiralizer) and then you have this fantastic frittata with loads of leftovers. I even calculated it and it was enough to feed 12 of us for lunch so with us being a family of 4 we had enough to freeze for another two days. Or you could make it stretch to four days if you served it with some sweet potato fries or with jacket potatoes and coleslaw.
#Spiralizer Super Sized Family #Frittata thanks to @recipe_this
Click To Tweet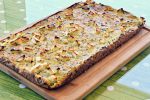 Spiralizer Super Sized Family Frittata
Instructions
Preheat the oven to 180c and grease a large oven tray. Chop up the broccoli into small/medium florets and place them in the food steamer for 10 minutes so that it ends up blanched.

Peel and dice the onion, peel the potatoes, carrots, butternut squash.

In a large pan add a tablespoon of oil and the onions and cook until they have gone golden on a medium heat. Add the garlic puree and mix well.

Using your spiralizer – make the carrots into long strips, the butternut squash into small squares and your potatoes into thinly sliced potatoes.

Add them to the large pan, add the seasoning and cook for 10 minutes keeping it on a medium heat.

Add the broccoli mix well and then place the ingredients in a large oven tray.

In a mixing jug mix together the eggs (beating them well) and the milk.

Place them on top of your vegetables and cook in the oven for 30 minutes.

Leave to rest for 5 minutes and then chop up into slices.

Serve!
Recipe Notes
The frittata cooks best if it is small in height. So aim for wide and long rather than tall.