Mealthy Multipot vs Instant Pot Pressure Cooker. In the Milner house we have had the pleasure of pressure cooking with both the Mealthy Multipot and the Instant Pot Pressure Cooker. Here is our product comparison.
I never thought 5 years ago, that I would be sat here in front of the laptop as a kitchen gadget food blogger. I am even more surprised that as I write this, I am the owner of 3 electric pressure cookers.
Electric pressure cookers never appealed to me.
Well that was until I got my first Instant Pot Pressure Cooker in the November of 2016. It was the day of my daughters 2nd birthday and I was excited about trying the Instant Pot and seeing what all the fuss was about.
Like many other people before me, I got my first Instant Pot in the Black Friday sales and was amazed at the bargain that sat in front of me.
That was my Instant Pot Duo which I still have today. It is the 6 litre/6 quart addition.
I also have the Instant Pot Duo 8 litre/8 quart and the Mealthy Multipot 6 litre/6 quart.
As they are the same size and have similar capabilities, I am comparing today with you the Mealthy Multipot 9 in 1 and the Instant Pot Duo 9 in 1.
Mealthy Multipot Vs Instant Pot Pressure Cooker Comparison
Both the Mealthy Multipot and the Instant Pot Duo are brands of electric pressure cookers. In terms of best seller rank on Amazon, the Instant Pot is the number #1 brand and the Mealthy is number #3.
If you look at the main functions of both the Mealthy Multipot & the Instant Pot Duo you will notice lots of similarities:
The same buttons – On both you will find pressure cook, slow cook, rice, yoghurt, meat/stew, bean/chili, soup/broth, sauté, steam, cake, egg, multigrain and porridge.
Replaces 9 main kitchen gadgets – steamer, frying pan, food warmer, slow cooker, pressure cooker, rice cooker, yoghurt maker, egg cooker and cake maker.
Keep warm setting – so that you can use your pressure cooker to keep food warm for longer. We use this when we are waiting on a side dish in the air fryer.
Free recipe app – both offer a free recipe app that you can access to get lots of recipe inspiration from.
Change pressure – the Mealthy and the Instant Pot both give you the opportunity to change it between low pressure and high pressure. Though beyond rice you will not use the low pressure much.
Delay timer – Want to dump your ingredients into your pressure cooker, but don't plan to start cooking for an hour? Then you will be pleased to know that BOTH have a delay timer.
3 Cook modes – You'll find the option to go from less, normal and more whenever you like. A change mainly made when slow cooking, sautéing or making popcorn.
I should also point out that via many electric pressure cookers you will find similar buttons and functions. The choice of which electrical pressure cooker you choose, often comes down to brand loyalty and price. But we will cover that in more depth shortly.
Instant Pot Duo 9 in 1 Pressure Cooker
The Instant Pot Duo 9 in 1 is very similar to the 7 in 1 that many people have had for years. It was the Instant Pot Duo 7 in 1 that we originally bought in the November of 2016.
All that has really changed since then is a couple of button upgrades:
The egg and cake setting have been added
The poultry setting has been replaced with sterilise
The manual button has been renamed pressure cook
It is a very solid electric pressure cooker and you would really have to have a big temper tantrum to break it! Our lid of our Instant Pot is slightly cracked from when I had an accident with it and dropped it. Having said that, it is 2.5 years old and has been used daily since its purchase, so I don't think that is too bad.
Pros: The Instant Pot Duo is very easy to use and is perfect for someone at the start of their electric pressure cooker journey. As it is the most popular electric pressure cooker, means that there is plenty of material and reviews to read as you start your Instant Pot journey.
The new sterilise button is perfect for if you want to quickly clean your Instant Pot. It is also a fantastic way to do the Instant Pot Water Test when you're getting started.
Cons: I HATE the fact that they have replaced the manual button with pressure cook. So many of us have the old manual version and when you're showing others how to use it, many are confused as to what the pressure cooker button means. Plus, so many Instant Pot recipes (including my own) are written with the manual button in mind and it confuses newbies.
RecipeThis.com Opinion: I love the Instant Pot Duo. It is a fantastic starting point for your pressure cooker journey. The Instant Pot will last you years and it will save you a lot of prep time in the kitchen.
Further Reading: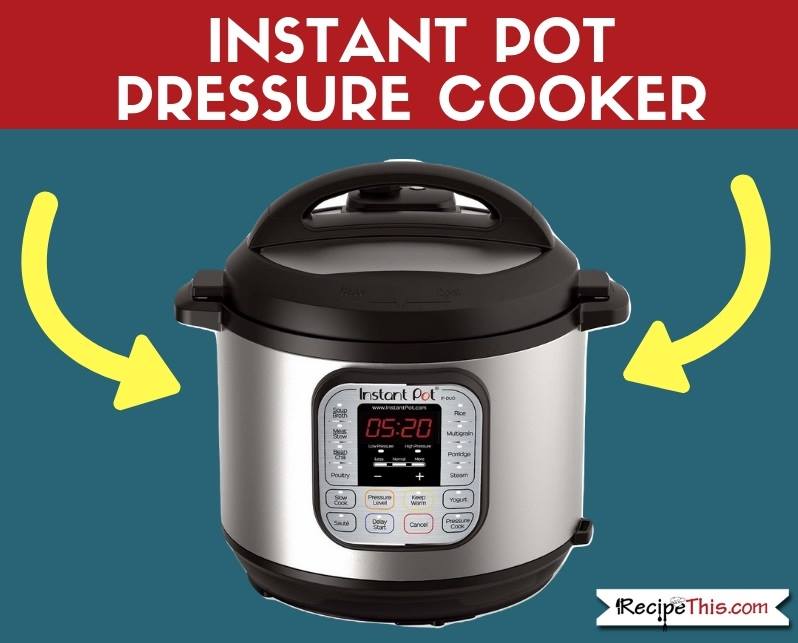 Mealthy Multipot 9 in 1 Pressure Cooker
The Mealthy Multipot 9 in 1 pressure cooker is the latest electric pressure cooker to enter the Milner household. We have fallen head over heels in love with the Mealthy and I am sure we will get a lot of use out of it over the years.
Pros: With Mealthy being the new, but very successful electric pressure cooker, they go the extra mile to keep their customers happy.
One of these ways is with all the Mealthy Accessories that you get with your purchase. Don't you just hate how much you must pay for all these accessories when you get the Instant Pot?
Because the Mealthy is very similar to the Instant Pot, you can use all those Instant Pot recipes in the Mealthy.
Cons: I am really struggling to find anything that I don't like about the Mealthy. My fellow bloggers and fellow readers would probably be shouting out that it's a copy of the Instant Pot. Or a bit like getting an Aldi version of an electrical device. But that really doesn't bother me.
Like Ross in Friends when he is choosing between Rachel and Julie, it comes down to that Julie is not Rachel. Maybe your decision might be that its not an Instant Pot in your deciding factor.
What I find so hard is that I have had an Instant Pot for so long it is hard to move away from it. I keep calling the Mealthy and Instant Pot out of habit and the button placement drives me nuts. I am there looking for the button and its in a different place to what I am used to.
RecipeThis.com Opinion: I love the Mealthy and it has proved to me that you don't have to get an Instant Pot. There are other brands out there that can do a similar job. What sells it, is that you get all the accessories included and its more of a money saver.
Further Reading:
Why The Mealthy Is Better Than The Instant Pot?
Overall, the differences between the Mealthy and the Instant Pot Duo are hard to pick up on, well unless you have had the opportunity to try both like I have.
I have cooked a LOT with my new Mealthy and I have been writing down notes as I have cooked. Things that have stood out that the Mealthy does, that the Instant Pot doesn't, and I wanted to share them with you.
I love the poultry setting and admit now that I miss it not being on the Instant Pot 9 in 1
The Mealthy has a fantastic progress indicator. Don't you just hate not knowing how long it is going to take before your Instant Pot goes to pressure? Well with the Mealthy the guessing is gone.
The beeps on the Mealthy is louder, making it perfect if you are in another room while your dinner is cooking.
The Mealthy is better on the electric. It doesn't have a long term OFF light running when the pressure cooker is not in use. Which was our biggest complaint about the Instant Pot when we first got it.
The Mealthy has gone to pressure quicker for us. Though this could be down to being newer.
I Asked A Friend
I decided to ask the opinion of one of my friends. She lives in Canada and has a lot of experience both with the Mealthy and the Instant Pot. So, I asked her what she loved about the Mealthy that the Instant Pot didn't do, and this is what she said:
What I like about the Mealthy is the incredible value you get for the price. For $95.95 you have the progress indicator which lets you know the status of your meal. On the IP this is only available in models priced at $159+. As well it is a 9-in-1 priced like the 7-in-1.
Final Thoughts
I find that overall, they are very similar and its like when you start a new relationship when you go from the Instant Pot to the Mealthy. You are comfortable with what you had before and now you have new territory.
They are both excellent electric pressure cookers and it will often come down to personal choice.
I also like to compare the Instant Pot and the Mealthy, like the comparison of Amazon and eBay. Amazon came along and created something using the business model of eBay and just did a better job. Quite often the new brands of products are better, because they can test what the original did and see if they can better it.
That is exactly what it feels like Mealthy has done. They have taken some simple flaws, that many people wouldn't notice and made it better.
Where To Buy Mealthy?
You can click here and buy the Mealthy Multipot directly from their website. That is how we recommend you buy the Mealthy.
It is also available on Amazon.com and you can read lots of customer reviews too.
Where To Buy The Instant Pot?
You can click here and buy the Instant Pot Duo 9 in 1 Pressure Cooker on Amazon. We recommend Amazon for purchasing it and they often have some excellent deals too.