Air Fryer Frozen Food Cookbook. Featuring all our popular frozen food recipes that are cooked in the air fryer. Along with air fryer frozen cooking times, tips, and tricks to get you started with your new kitchen gadget.
Want to cook your favourite frozen foods in the air fryer?
Hate it that frozen foods don't have air fryer cook times?
Looking for air fryer frozen food recipes?
Want air fryer frozen food cooking charts?
Looking for air fryer frozen food guidance from an expert?
If you answered YES to any of these questions, then the air fryer frozen food cookbook is PERFECT for you!
We're the Milner's.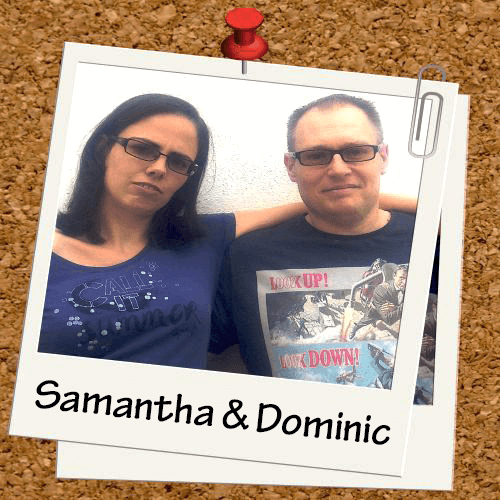 I am Samantha and along with my husband Dominic and son Kyle, we run RecipeThis.com. Our 2 youngest children Sofia & Jorge are our chief recipe testers.
We blog about the air fryer (as well as other kitchen gadgets) from our home in Portugal and wanted to share with you today our fantastic ebook that shows you how to cook all your favourite frozen food in the air fryer.
Why An Air Fryer Frozen Food Cookbook?
Whenever there is a discussion on an air fryer community, the conversation always centres around frozen food in the air fryer.
One of my readers told me that the first thing he ever cooked in his air fryer was frozen sweet potato fries and another said frozen chicken wings. I then replied by telling them how lovely and crispy frozen chicken tenders was in mine.
It got me thinking that there is a lack of information about how to cook your favourite frozen food in the air fryer. With the world against processed foods, it is a taboo subject that is just not discussed.
Back in 2018 armed with a big trolley, I bought lots of different frozen foods and recipe tested them for you in the air fryer. They were then published over Christmas 2018.
Since then many other bloggers have copied our frozen food recipes and now air fryer frozen food has become as much as a thing as eating healthy in the air fryer.
But after special requests from readers after my first 2018 frozen haul, our air fryer frozen food recipes have grown bigger and bigger.
Our Air Fryer Frozen Food Cookbook was born in 2019…. An electronic recipe book that you can download instantly that includes the cooking times and methods for some of your true favourite frozen food.
It has been a HUGE HIT downloaded by thousands of air fryer readers. But as time has gone on, we have written more and more air fryer frozen recipes and we felt it needed a big update to be bigger and better for you.
It features the best of the best of frozen food and shows you that cooking them in the air fryer, can taste just as good as in the deep fat fryer, but just with a LESS calories.
Best Air Fryer Frozen Food Recipes
It was not until I started looking that I realised what an incredible choice of frozen food we have for cooking in the air fryer. The air fryer crisps up breaded food better than the deep fat fryer, but with the same calories as the microwave or the oven. You can also use the air fryer to cook from frozen healthier food too. For example, my favourite healthy food in the air fryer is frozen sprouts.
Here are examples of 25 of the air fryer frozen food recipes that are included:
Air Fryer Frozen Pizza
Air Fryer Frozen French Fries
Air Fryer Frozen Sweet Potato Fries
Air Fryer Frozen Onion Rings
Air Fryer Frozen Mozzarella Sticks
Air Fryer Frozen Chicken Nuggets
Air Fryer Frozen Chicken Wings
Air Fryer Frozen Potato Wedges
Air Fryer Frozen Potato Waffles
Air Fryer Frozen Roast Potatoes
Air Fryer Frozen Hash Browns
Air Fryer Frozen Hamburgers
Air Fryer Frozen Veggie Burgers
Air Fryer Frozen Egg Rolls
Air Fryer Frozen Fish Sticks
Air Fryer Frozen Breaded Mushrooms
Air Fryer Frozen Shrimp
Air Fryer Frozen Jalapeno Poppers
Air Fryer Frozen Lasagna
Air Fryer Frozen Chicken Breast
Air Fryer Frozen Chicken Thighs
Air Fryer Frozen Corn On The Cob
Air Fryer Frozen Green Beans
Air Fryer Frozen Broccoli + Cauliflower
Air Fryer Frozen Brussel Sprouts
Air Fryer Frozen Food CookBook Highlights
Introduction
Imperial & Metric – We have worldwide customers at Recipe This and we like to help you all and that is why all recipes feature both imperial and metric. We also have temperatures included in both F and C.
Frozen Veggies – You will love our guide showing you how to cook your favourite frozen vegetables in the air fryer. We have cooked many and have an opinion of what makes excellent air fryer frozen vegetables.
Air Fryer Frozen Recipes – This latest addition of our air fryer frozen food goes beyond just 25 recipes and there is a total of 88 air fryer recipes included.
Air Fryer Cooking Times – Quick reference for cooking your favourite frozen food in the air fryer. Sometimes you just want to know how many minutes to cook your favourite frozen wings in the air fryer.
Recipe Photos – Every recipe featured in this ebook includes the recipe photo, so you know exactly what you are going to get!
Air Fryer Frozen Food Printable
When I am cooking with a new kitchen gadget all I want to know is how my regular recipes convert to the new gadget. Thanks to a fantastic printable that our son Kyle designed, you have the perfect printable included in this package.
It includes details of how long to cook 16 of your favourite frozen foods in the air fryer, so that there is no more guess work. Simply print it off and stick it to your fridge or inside a cupboard door and have it for easy access whenever you need it.
I just wish there had been a printable like this available to me when I purchased my first air fryer. When we got our first Air Fryer, there was only 2 brands available and it was only sold in small parts of Europe and Asia.
I was hoping that times would have changed but after several years of using an air fryer, there still are no instructions for air fryer cooking on a bag of frozen fries. You get oven, deep fat fryer and sometimes microwaveable information but no air fryer info.
That is why this ebook is so crucial if you plan on cooking frozen foods in the air fryer
This Air Fryer Ebook focuses on a lot of popular air fryer frozen food recipes. Do not expect to find recipes with frozen food you cannot source or weird diets. Only regular ingredients for the lady or gent next door.
All our Air Fryer recipes are based around using the Philips Air Fryer or the Power Air Fryer Oven. We are experienced with other brands of air fryers too and this ebook is perfect for all.
Our air fryer frozen food cookbook is only available in ebook format. This is great for you because you can download the ebook to your computer, laptop, tablet, or phone. Then print off a recipe as and when you need them. I also love to have my phone in the kitchen when I am cooking, and I can quickly glance at cooking times as I air fry.
But even better it saves you waiting for a book to arrive and you can literally start reading our Air Fryer Frozen Food Cookbook in a couple of minutes from now.
It is also priced at JUST $15.00 Simply click on the banner below for instant access to our air fryer ecookbook:
This air fryer ebook is downloaded in PDF format. It downloads instantly after payment. You will also receive an email with your download details.