Welcome to whole 30 slow cooker recipes – 7 magical family crockpot meals to cook during your whole 30.
If there is one thing that I will always remember about my time doing the Whole 30 programme is that I did it alone.
My husband and son was not joining me in it and that meant that it was like cooking two sets of meals.
I suppose it is a bit like being in a family of meat addicts and being a vegan. Meal times can be stressful and not only are you suddenly cooking from scratch for the whole 30 but you are also cooking for your family too.
My Whole 30
I did the Whole 30 during the summer of 2015. I made it 30 days without any chocolate whatsoever and I can tell you I am the biggest chocolate addict going so for me to last 30 days without chocolate happens to be a true miracle.
At the same time there was chocolate in the house, butter asking to be used to make chocolate chip cookies and don't even mention how much I missed wine in my food.
After 30 days I was 5 pounds lighter and amazingly my addiction to chocolate had passed. I dreamt about it but I didn't truly miss it.
I had also introduced Dominic to some delicious roast dinners and I think you could say he was about 80% with me.
Well minus the chocolate, the butter and the cereal. But for everything else I think I had him.
Just over a year later I dedicated another month to being 100% in the game, though this time with 30 days of 100% Paleo.
This meant of course that I could have honey and dark chocolate and I used this to help with my sanity through the sleepless nights after having my 3rd child a couple of weeks earlier.
But what I have now discovered is that even though I am not in the Whole 30 programme – I will regularly cook and without realising it I will serve it up and say "this is actually Whole 30".
This is why I decided to do this blog post today and highlight these great slow cooker recipes that are 100% Whole 30 compliant and you will be amazed by how much your kids will like them.
First Let's Talk The Whole 30
I am sure you are wondering what the Whole 30 Programme actually is and what all the hype is about.
If you would like to understand the whole 30 more, nothing gives a better introduction that the infographic below:

Well basically you buy this book:
And you follow what I would call a strict version of Paleo for 30 days. You don't cheat, you don't get weighed and you just enjoy breakfast, lunch and dinner while eating the wholesome food that is associated with the Paleo way of life.
There are many stories from people that had type 2 diabetes or high blood pressure and don't anymore thanks to the changes they made during the Whole 30.
Just from Dominic partly joining me on the Whole 30 he managed to combat his IBS and now when we eat something that is really unhealthy we feel awful, a bit like we are having a really bad hangover.
The main food difference that we found between a strict Paleo month and the Whole 30 is that white potatoes are allowed on Whole 30 but are banned on Paleo.
Along with many Paleo followers make their own take on baked goods which is banned on Whole 30.
Plus I find the Whole 30 very difficult to do because I can't have honey which is Paleo compliant.
I find doing either can transform your life and it depends at the end of it what you want to get out of it.
7 Magical Family Crockpot Meals To Cook During Your Whole 30
Why this Whole 30 recipe is fantastic for your family: Because kids get all fed up over the thought of eating their vegetables but serving it like this is so delicious. Plus you can take it beyond just cooking a whole cauliflower.
Add to it some coconut milk and mix together when cooked and you have cauliflower mash. Or when you have cooked your cauliflower it is of the perfect texture for cauliflower pizza, cauliflower tater tots or even cauliflower burgers.
Why this Whole 30 recipe is fantastic for your family: OMG this is like heaven for both parents and kids. Are you on a date night with your man? Then serve this up and he won't feel like you are forcing him on a diet or being fussy.
Or having a meal with your kids then cook this in the slow cooker and then transfer the slow cooker to the dining table and have great fun while cooking this.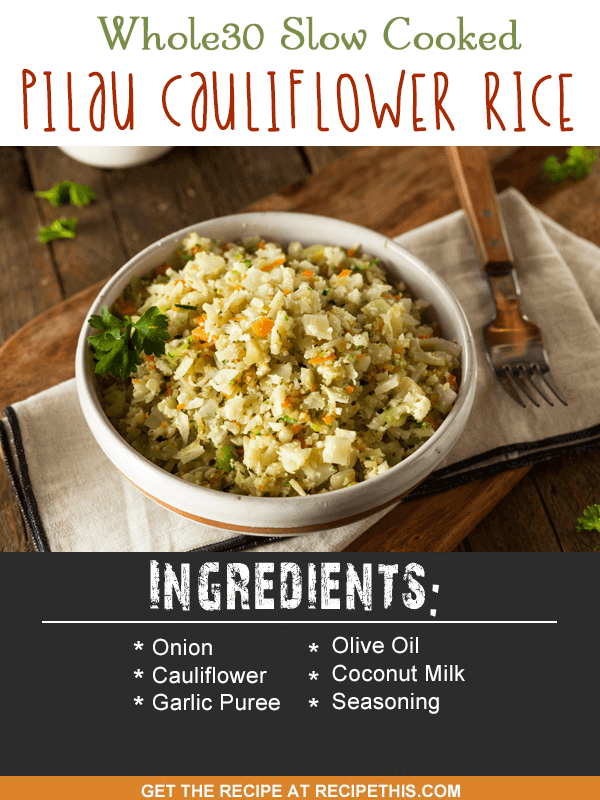 Why this Whole 30 recipe is fantastic for your family: Make a delicious homemade Whole 30 approved chicken curry.
Then serve it over this delicious pilau cauliflower rice. A totally different idea for a healthy take on a family curry night!
Why this Whole 30 recipe is fantastic for your family: If you love rotissrie chicken then this is a lovely alternative for you that is Whole 30 compliant.
Serve it with some delicious salad and you have a great family dinner. Or have this as the back bone of your Sunday roast dinner.
Why this Whole 30 recipe is fantastic for your family: If you have a family and you also have a job (like us) then there simply won't be enough hours in the day.
The idea of peeling and chopping the butternut squash just doesn't seem very appealing. Instead chop them in half, season them and cook them slow and serve.
Why this Whole 30 recipe is fantastic for your family: This is roast dinner heaven. Throw the ingredients into the slow cooker, let the slow cooker do the work and then you have the roast dinner of your dreams with your family.
Lamb is also a very good cut of meat, very healthy and great for Whole 30 leftovers.
Why this Whole 30 recipe is fantastic for your family: If you want just a quick mid week dinner to share with you and your family then give this beef and pumpkin stew a go. The beef cooks perfectly and will come out lovely and tender that it will even please your fussy kids.
---
Thanks for reading all about our favourite Whole 30 slow cooker recipes and I hope I have given you some fresh ideas of how to enjoy your Whole 30 meals with your family. You don't have to do 2 lots of meals all the time.
I find that the best way to do it is delicious lunch and dinner together as a family, and then enjoy the leftovers for breakfast. It makes things so much easier!
In terms of getting yourself a copy of the Whole 30 Book (in case you don't have one yet) then you can get it by clicking here.
If you would like loads more ideas then we have a collection of our Paleo recipes. They are a massive mixture of recipes in the slow cooker, Instant Pot, Airfryer and other kitchen gadgets.
We call them our "go to recipes" for when we want some healthier recipes to enjoy or we just want to feel good.
You will be amazed (once you have read it) how many delicious unhealthy recipes can be made healthy.
They're also available to download so that you can access them on your tablet, phone or desktop. Either click on the cookbook cover on the left or click here for immediate access.
If you have your own way of cooking Whole 30 and Paleo recipes then we would love to know via the comments below.