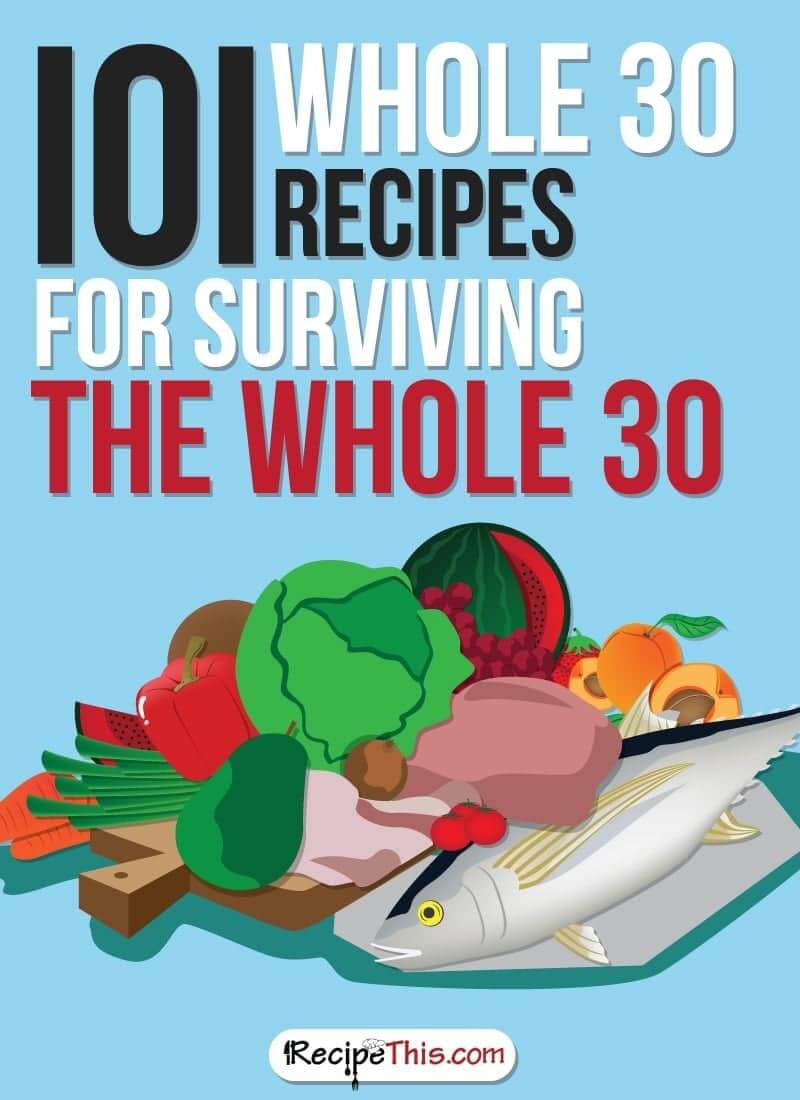 Welcome to my 101 Whole 30 Recipes for surviving the whole 30. Easy recipes for the complete beginner and perfect for when you are embarking on the Whole 30 diet.
As I write this, I am on day 11 of my second round of the Whole 30. I did my first nearly 2 years ago and thought I would do it again.
My kids eat the healthy Whole 30 meals (because they don't taste or look like diet food) and my husband loosely follows the Whole 30 (he still has milk and cereal only) and I must admit I am enjoying it.
But I totally admit that I would be really, really miserable if it wasn't for great delicious food.
Every meal is exciting, every meal is full of flavour and there is a strict rule of "no rabbit food allowed".
Instead we enjoy our steamed vegetables, fully loaded salads, roast chicken, pulled pork, fries, casseroles, stews and even party food.
It is all thanks to the recipes below and many more that we have discovered.
They make the Whole 30 easy and make you forget (well almost) that you are losing out on your favourite carbs, your favourite chocolate and of course your dairy.
It has also taken me a long time before I had a good list together that I could turn to whenever I wanted Whole 30 inspiration.
Plus when you are out of your Whole 30 and you just want good regular recipes to enjoy and don't want to go back to your old ways, then this is the chance.
Doing The Whole 30
Before you start the Whole 30 you need to be ready for it. You need to look at what social dates you have planned, holidays abroad or even special birthdays.
One of your big birthdays might be coming up and to be without a cake, without booze, without carbs might be too much to take.
So find that month when you have nothing important coming up and dedicate those 30 days to it. We actually chose the month of May for us.
That way it was just before beach season, we had no birthdays or special occasions and it seemed like the perfect time.
For example in June it is beach season and we would want our beach doughnuts (which are amazing BTW) and we want to go out for dinner when we are at the Waterpark which of course includes fast food.
Then April was not good because it was Easter, then we have the rest of summer and otherwise it would have been September, so you could say it was the perfect ever month.
So first think about when is good, then browse through these recipes, go grocery shopping and get on with it!
Best Ever Whole 30 Beginner Recipes
To get started with your Whole 30 you need some good quality beginner recipes to get things started.
Some recipes that you can turn to in a whole range of dishes and recipes that you will grow to love beyond the Whole 30.
Well lets start with apple chips. They make a great go to snack for when you fancy your old junk food but can't.
It can then be your alternative to crisps, chocolate or even sweets. Though during my Whole30 I don't like to snack between meals so I tend to have them over my pulled pork.
You also need this KFC chicken rub recipe. Then you can smoother your chicken breasts, your pulled pork or your fish in this amazing marinade.
Or why stop there. Another great alternative is the famous Nandos Piri Piri Marinade. Its 100% Whole30 compliant and is filled with olive oil, homemade tomato sauce and a range of spices. You will never want plain chicken again.
Whole 30 compliant strawberry and banana frappe. Think McDonalds but the kind you can turn to when you have a cool drink craving.
I am one of those weirdos that HATES tea and coffee. So this is my Paleo/whole30 friendly drink. Alternatively make a fruit shoot with your kids made with just 2 ingredients.
Or third on the list would be this delicious copycat recipe for the Innocent Smoothie and this one really is innocent!
Or you could start the day with this green detox smoothie. Full of vegetables and fruit and a great starting point for the day.
Or if you are missing the soft cheese that you normally eat all day long then try this Whole 30 alternative. A great spread and perfect for dipping carrot sticks into.
Here are even more beginner Whole 30 recipes:
Best Ever Whole 30 Sauces
Or what about that time on the Whole 30 when you want a really good sauce to go with your chicken or fish? Well we have got you covered with our Thai Curry Sauce.
Then after that dig into some avocado sauce. It can be used as your alternative to mayonnaise and give you something simple to dip your steak into.
Next on the agenda has to be homemade mayonnaise. You need something for your salad, your fries and your burger and it doesn't get much better than this Spanish style one.
Or make a delicious ranch dressing with coconut milk. Its so good and so quick you will forget that it is good for you.
Not technically a sauce, but this salsa is fantastic for giving you something to put your carrot and cucumber sticks into.
Or if you are missing your white sauce then use this sauce for all your casseroles. Its one of those go to recipes that we have as often as we can.
For a truly incredible vegetable hit, then it doesn't get any better than this creamy and dreamy Paleo sauce.
Best Ever Whole 30 Soup Recipes
We all love a good bowl of soup. They warm us up in winter and they can give us a big boost of vegetables in one big fat bowl.
But most of the time a soup comes with beans or it comes with Greek yoghurt or something else that is not quite Whole 30.
Lets start with a delicious creamy pumpkin and garlic soup. Easy and pumpkin is on offer the majority of the year for a cheap vegetable.
Or here is a soup where you can make best use out of all your leftovers and throw any leftover vegetables together to make one delicious soup.
Here are some other delicious soup recipes for your Whole 30:
Best Ever Whole 30 Slow Cooker Recipes
I absolutely worship my slow cooker and its such a brilliant invention. I throw all the ingredients into my crockpot and then I have dinner ready for when I have finished work. Amazing food and so easy.
This sausage casserole is the first recipe I ever learnt to cook in the slow cooker and it is a big hit in my household.
Second on the agenda has to be some pulled pork. As in the pulled pork that is not normally allowed on the Whole 30.
Well this one is free of sugar and is full of delicious herbs and truly perfect for it. It is loaded with Indian spices and perfect for a family meal.
Then there is ham. Ham just tastes so good and you can slow cook it in the crockpot and then use it as your main go to meat, rather than buying processed meat from the supermarket.
More great slow cooker Whole 30 recipes:
Best Ever Whole 30 Airfryer Recipes
If you are on the Whole 30 you need an Airfryer. It is like being lost on a desert island and wanting to have seasoning out there with you.
The first thing that must be cooked in the Airfryer has to be the French Fries. Just think normally you couldn't have fries on the Whole 30 because of the saturated fat, but in the Airfryer it is 1 potato = 1 tablespoon of olive oil.
Making them incredibly healthy and perfect for the Whole 30 diet.
Or for more potato recipes in the Airfryer that are good for the Whole 30 try:
Delicious Airfryer Sides:
More Delicious Airfryer Recipes:
Best Ever Whole 30 Spiralizer Recipes
Love it or loathe it the spiralizer is a fantastic way to produce delicious vegetable spaghetti or noodles.
For those moments when you can't quite decide what to do with your vegetables or you want your old pasta dishes but want a Plan B for when you would normally bulk up your meal with pasta.
I have had the pleasure of being sent lots of different spiralizers to test on the blog and have become very fond of them.
My favourite all time recipe is these avocado and zoodles recipe. It is so easy and perfect for any season for a quick lunch or dinner.
Next on the list would be this Moroccan carrot rice. It's a great alternative to dinner than white rice and is perfect with a tajine.
Other great spiralizer recipes include:
Best Ever Whole 30 Instant Pot Recipes
Well if you want to be Whole 30 and you want your dinner QUICK then there is no quicker way than the Instant Pot.
Especially when you think that it can cook broccoli in just 120 seconds.
Plus here are loads more of fantastic Instant Pot dishes:
Best Ever Whole 30 Easy Family Recipes
Here are some delicious family recipes that are perfect for when you are on the Whole 30, but the rest of your family are not.
You can then cook these meals for dinner and not have to worry about a different main meal for you.
Best Ever Whole 30 Date Night Meals
So you feel like because you are on the Whole 30 that your social life has ended. Well think again, there are loads of great date night meals you can make and stay Whole 30 at the same time.
Though clearly that is based on you staying away from the pizza takeaway, fast food establishments and of course the wine cellar.
The first one I would recommend is the simplicity of pork steak and chips. Everyone loves it and its quick and simple to make.
Or how about surf and turf? Served with delicious beef steak, king prawns, jacket potatoes and spinach.