These Whole30 recipes is a big list of easy Whole30 recipes that are created for the air fryer, the instant pot, the slow cooker, and the soup maker.
Ideal for me if like, you have loads of kitchen gadgets and want to use them with your whole30 challenge.
Updated for 2022 with new whole30 beginner recipes that are replacing the old!
Are You On The Whole30?
I have completed three rounds of the Whole30 and loved every bit of food that I have eaten and loved the weight loss and the energy that has come with it.
But when you do the Whole30 for the very first time, it can be daunting and you are often left wondering what meals to have and how you are going to plan those meals.
That is where I come in.
I have been on the Whole30 and worn the Tshirt and appreciate that you want delicious meals, that are effortless.
Because you want effortless meals, there is no better way of achieving this, than with kitchen gadgets.
This list of whole30 recipes to survive the Whole30 are split into the following categories:
The Air Fryer
The Instant Pot
The Slow Cooker
The Soup Maker
Then if you don't have all four kitchen gadgets you have a starting point.
Do You Have The Whole30 Book?
Though before I dive into these whole30 recipes, I just want to double check that you have the Whole30 Book?
Click here if you haven't as it's a brilliant read and totally teaches the Whole30 and the principles behind it.
Whole30 Air Fryer Recipes
I couldn't survive the Whole30 without an air fryer whole chicken so let's start there. You can air fry a chicken in the air fryer in 45 minutes and then serve it with vegetables, salad etc.
But did you know, that unlike a regular Paleo diet that you can have white potatoes on the Whole30. So why not make air fryer baby potatoes (my personal low prep favourite), air fryer sliced potatoes, air fryer duck fat potatoes, air fryer baked potato, air fryer cajun fries, and air fryer potato wedges. Though do note if you want weight loss white potatoes might be best avoided.
Then for sweet potatoes I recommend you try air fryer sweet potato cubes, air fryer sweet potato fries and air fryer sweet potato slices.
Then for meats the air fryer is AMAZING you can make your meat in the air fryer and then pair it with your favourite dinner sides. Plus, this is amazing for other family members as they can enjoy yummy whole30 meat.
Air Fryer reheat turkey is another great choice. As you can cook an air fryer turkey breast, then reheat the leftovers over a few days instead of cooking from scratch every day.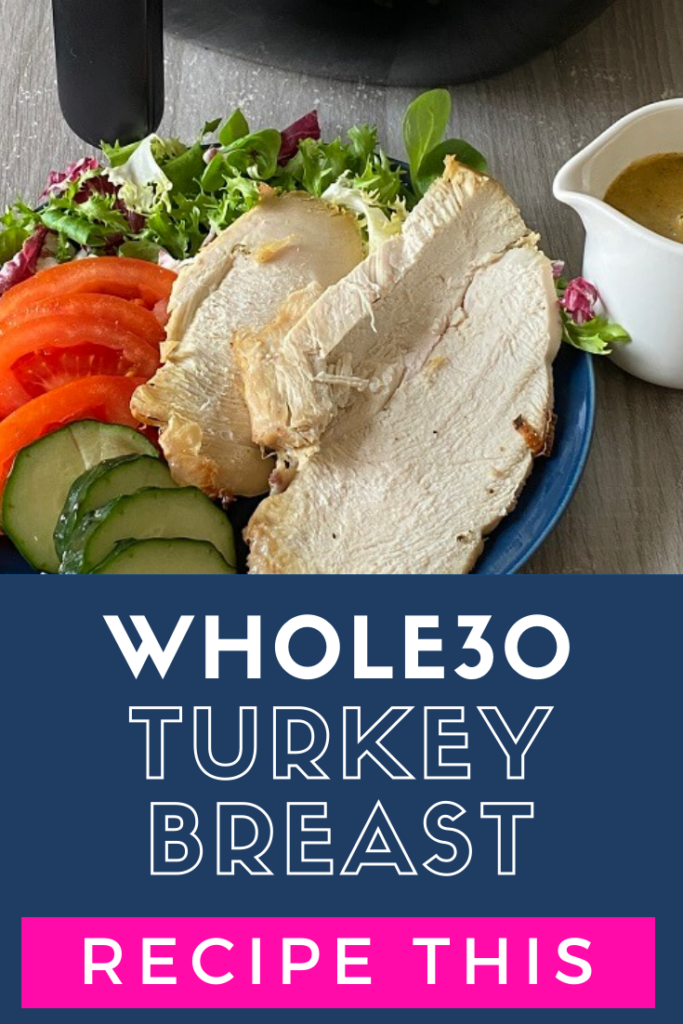 Then for more turkey how about air fryer turkey meatballs or air fryer turkey legs.
But what I also love to use the air fryer for is making a full meal all at once, that is a bit like a dump and start instant pot dinner. Such as air fryer balsamic chicken and vegetables, air fryer chicken breast and cucumber zoodles, air fryer vegetable stir fry, air fryer shrimp fajitas, air fryer chicken fajitas, air fryer steak fajitas, air fryer harissa chicken, air fryer cajun shrimp, air fryer harvest casserole or air fryer tuna steak.
Or if you want some simple air fryer veggies try these:
And here are a few other whole30 air fryer recipes that help you survive the Whole30:
Whole30 Instant Pot Recipes
The instant pot for me and the Whole30 is all about meal prep, making veggies, cooking stock, and making one pot dinners.
Let's start this with making delicious homemade stock in the instant pot. I make instant pot chicken stock and instant pot veggie stock the most. Though there are many others you could do including instant pot lamb bone broth.
Or use our instant pot mushroom soup as a replacement for cream of mushroom soup as its amazing.
Then for meat in the instant pot I love:
The instant pot is also amazing for steaming some quick vegetables:
Plus, here are a few of my other instant pot favourites:
Whole30 Slow Cooker Recipes
Let's start the slow cooker whole30 recipes with butternut squash. Just like with our air fryer and instant por recipes, slow cooker butternut squash is delicious.
Whole30 Soup Maker Recipes
Then finishing off our list of whole30 recipes is our soup maker recipes.
Here are a few ideas and these work with any quality soup maker brand:
And there you have it 120 whole30 recipes for the air fryer, instant pot, slow cooker, and soup maker.
I wish you the greatest success with your Whole30 and that it makes you feel amazing.
We also recommend that you join our newsletter at recipethis.com too. You can do so on this link and then you will be informed whenever we have new kitchen gadget recipes.
Can't read it now? Then pin it for later!