This Post Contains Affiliate Links. Click Here To Read Our Full Disclosure.
Learn Your Instant Pot. In this 52 week instant pot beginner course, you will master your instant pot pressure cooker one week at a time.
Learn Your Instant Pot Includes:
52 weekly instant pot modules
A new module will be sent to you every 7 days
Read the course online or print it out
Download modules in PDF
Recipe cards for easy printing
Bonus how to instant pot guides
Each week will focus on a different topic for you to master
Easy to follow instant pot beginner recipes each week
Recipes in both Metric & Imperial
Top instant pot advice from a trained chef
Suitable for lots of different diets
Set your own learning pace
Where would you like to be a year from now with your instant pot? Right now, you probably have that brand new instant pot beginner feeling. You got the electric pressure cooker, and you know you can cook great things in it but don't know where to start.
A great friend of mine inspired me to create a year long instant pot course for you, but she does not even know it. She was obese after pregnancy related weight gain, just like me. Then one day she decided to do something about it. She tried the couch potato to 5km running app. Exactly a year to that date of trying the app my friend who is now a lot slimmer than me, ran the marathon for charity.
She kept it quiet that it was a marathon and I nearly fell off my chair when I found out.
The importance of the story is that where would you like to be a year from now with the instant pot? If you are making eggs with your instant pot now and couldn't imagine making a whole meal in the instant pot or your instant pot is still sat in its box, then let me take you one a one year course to instant pot perfection.
Take Guesswork Out Of Pressure Cooking:
Understand the instant pot buttons
Understand when you need to use quick pressure release
Understand how to convert your favourite recipes to the instant pot
Understand how to make rice in your instant pot
Enjoy our tried and tested favourite instant pot recipes
Enjoy all in one meals that are cooked in the instant pot together
Enjoy healthier versions of the classics
Enjoy cooking in the instant pot with confidence
Download a huge selection of instant pot cook times
Download beautiful recipe cards
Download weekly modules in PDF
Download bonus modules that will help you learn the instant pot faster
Just Imagine If You Could…..
Quickly get your dinner cooked in the instant pot. Throw your ingredients into the inner pot, get back to what you are doing and then come back to a perfectly cooked meal when the instant pot beeps.
Feel excited and happy (instead of overwhelmed) about the thought of using your instant pot. All because you now have all the tools that you need to succeed.
Have a concrete plan of action for what steps to take and in which order to learn your instant pot in your kitchen.
Feel completely confident about your new instant pot recipes and know what steps to take to make cooking with the instant pot a success for you.
Get clear direction for all your instant pot problems. From instant pot jargon, to overcooked rice, to cooking from frozen, it is all covered and you will know what to focus on.
Start cooking great food in your instant pot this week because you've started talking the right steps and in the right order.
We're the Milner's.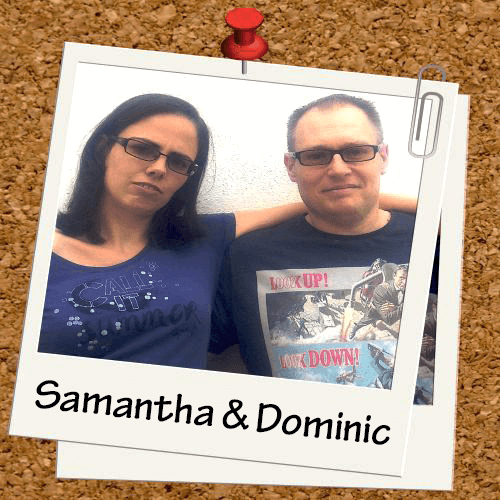 I am Samantha and along with my chef husband Dominic we started RecipeThis.com in the November of 2015. The inspiration was to become the one stop place for everything kitchen gadget for kitchen gadget beginners. From air fryers to instant pots to slow cookers to soup makers, we wanted to be the ultimate resource.
AND I KNOW EXACTLY WHAT IT'S LIKE TO STRUGGLE WITH YOUR NEW KITCHEN GADGET.
When we bought our first instant pot back in 2016, there was a lack of advice and most people just told us that our instant pot would blow up. That their instant pot was still in the box and it was a bad idea to use it. But we followed the instructions did the water test, then moved onto broccoli and before we knew it, we were in love with the instant pot pressure cooker.
Our knowledge has expanded more and more over the years and we now have more than 250 instant pot recipes that are among our readers favourites.
What our readers love about us and Recipe This is that we practice what we preach. We use our instant pot every day, often several times and have used instant pots since 2016.
We also surprised our readers by using the instant pot as our only cooking device when we went travelling around Europe in 2018.
These days, our ultimate goal is to help as many other aspiring instant pot cooks as we can, and this Learn Your Instant Pot Course is the perfect place to start! You can learn more about us and access more instant pot resources by clicking here.
You Asked, So We Delivered!
All our instant pot ebooks were created based on reader requests. Readers like yourself that is struggling with a certain element when it comes to instant pot cooking and wants to learn more.
The instant pot advanced mini course came about after several readers complained to me about a lack of quality instant pot mini courses. They had signed up for many, but they lacked true knowledge of the instant pot and just covered incredibly simple basics that they already knew.
They loved our instant pot advanced mini course, and it has become one of our best sellers. Which is amazing considering it was only launched recently.
But they had a complaint.
After the five days of the mini course was up and after they had gone through the recipes, they were left wondering "now what?". They wanted a follow up course to the advanced mini course that would hold their hand for a longer time and turn them into instant pot experts.
After a few busy months we finally had the opportunity to sit down, put pen to paper and come up with a long term solution.
The solution was our Learn Your Instant Pot 52 Week Course.
All for the AMAZING PRICE of JUST $49.00 A Month:
Learn Your Instant Pot Course
Here are 7 AMAZING features of our instant pot course:
Recipe Cards – Blank carefully crafted and designed recipe cards that you can use for new instant pot recipes you create. You can fill them in and add them to your recipe binder.
Printed Recipes – As well as recipe cards we also feature printable recipes that are perfect for placing on the fridge, into recipe binders or saving in your recipe folder.
Cooking Times – Quick cooking times for your beginner instant pot recipes. Perfect for quickly printing out and adding to your fridge for quick reference later. Everything from frozen meat to vegetables to chicken are included.
Instant Pot Beginner Recipes – Each week we are focusing on teaching you our favourite on topic instant pot beginner recipes. Each week we will have a different topic and you will be taught topic specific instant pot recipes that are easy for you to follow along at home.
Instant Pot Tips – We have been using the instant pot for a lot of years and we have a lot of instant pot knowledge. In our modules we will share with you important instant pot tips to make instant pot even easier for you.
No Fail – Learn from our instant pot mistakes and the mistakes our readers have shared with us. We will share with you the best of the best instant pot recipes that are fail proof.
PDF Download – Each module is available in a downloadable PDF too. Ideal for printing for later, viewing on your tablet, accessing on your phone or just for viewing on your laptop.
Learn Your Instant Pot Modules
Here is a sneak peak of what is included in modules 1-6 of Learn Your Instant Pot:
Introduction – Introducing you to the course and giving you a guided tour of how the course works. We will also show you how to download recipes and modules and print off what you need.
Module 1 – In getting to know your instant pot we teach you the instant pot basics. We cover the instant pot buttons, sealing vs venting, your type of electric pressure cooker, high vs low pressure and so much more.
Module 2 – Top 10 instant pot recipes to cook first. Exactly as it sounds. Our top 10 easiest instant pot recipes that you should cook first to help build up your confidence.
Module 3 – Let's talk instant pot in pot cooking or pip for short. How to get your head around pot in pot cooking, the best pot in pot cooking and what containers we recommend you use in your instant pot.
Module 4 – Instant Pot eggs. Eggs are fantastic in the instant pot and we will show you all our favourite ways to cook eggs in the instant pot. You will love this module.
Module 5 – Is all about instant pot vegetables. The best vegetables to cook in the instant pot, which ones we cook the most and how to cook frozen vegetables in the instant pot too.
Module 6 – Dedicated to instant pot soup. After teaching you about vegetables in module 5, we will take it up a level to show you the art of perfect instant pot soup every single time.
Bonus Modules – During the first six weeks of the course you will also receive 5 tips to be better with your instant pot, confidence with your instant pot, instant pot cooking times, instant pot meat and mash 4 ways and instant pot egg mould recipes.
Learn Your Instant Pot focuses on a lot of popular instant pot topics. Each week we focus on a different topic and teach you everything you need to know about it, to be confident cooking with your instant pot.
Frequently Asked Questions
What is included in the Learn Your Instant Pot Course? The Learn Your Instant Pot is designed to show you, step-by-step, exactly what steps you can take to get to grips with your new instant pot. From learning the basics of the instant pot to cooking delicious meals in your instant pot, it is all covered in this 52 week course.
Packed with actionable PDFs you can use right away; this digital course is designed to help you take real action.
How do I know if Learn Your Instant Pot is right for me? The Learn Your Instant Pot is for anyone looking to buy a new instant pot, has an instant pot sat in its box or someone that wants to expand their instant pot knowledge. This instant pot course makes it so much easier compared to going out on your own. There is a huge learning curve when you first get an instant pot, and we will make pressure cooking easy.
What is the cost of the course? The cost of the course is a monthly fee of $49 over 12 consecutive months or a one off fee of $488. Working out at either $12 or $9 per module depending on how you choose to pay.
Is this a book? No it's a 52 week drip fed digital course rather than a physical book.Our learn your instant pot course is only available in digital format. This is great for you because you can download the materials and access the course materials on your computer, laptop, tablet, or phone. Then print off anything as and when you need it.
When will I receive my purchase? You will receive the welcome module and module 1 instantly after payment has been received. After this you will have each lesson drip fed 7 days after the previous, until you have completed all 52 weeks of the course.
What is your returns policy? We are confident that this Learn Your Instant Pot course will pay for itself within days with the knowledge you will receive, but if for any reason you are not satisfied, we do provide a 30-day happiness guarantee.
Is this a one time fee or am I signing up for a monthly charge? This depends on how you choose to pay for the course. There is a discount when you pay a one off fee, or you can choose to pay monthly.
I'm not very techy is this going to be hard for me to use? It is rather simple. You get an email once a week to let you know that your latest module is available to download. You can then download the files and enjoy the latest week of the course.
What type of instant pot is this course for? Many people that know us well, know that we are fans of the Instant Pot brand. But we also own the Ninja Foodi and the Mealthy Multipot. In a nutshell any brand of electric pressure cooker will work perfectly in this course.
Can I test your course before I commit to it? Yes you can. We are offering future students of the Learn Your Instant Pot course a sneak peek of the course. Once you have entered your email address below, we will swiftly send over to you module 2. Which covers the easiest beginner recipes that you could ever make in your instant pot.
Is this course diet friendly? Every module cannot cater for every single diet. I doubt there is a course that can cover vegan, vegetarian, paleo, whole30, keto, gluten free, low fat, low calorie and 5:2 all in the same course.
But there are a lot of modules and recipe ideas featured in the course that are easy to adapt to your preferred diet.
We are also big fans of clean eating and real food and you will love the different ways we cook vegetables in the instant pot.
Buy Learn Your Instant Pot Today!
If you are ready to get confident with your instant pot, then we would love to welcome you into our Learn Your Instant Pot course. You can choose whether to pay a one off fee and save $100 or pay monthly if you are looking for a recurring payment plan.
If you choose monthly it is JUST $24.50 a month or save $140 and pay a one off fee of $244. Simply click on the banners below for instant access to our instant pot course:
Once payment has been received, you will receive an email from Send Owl (the people that process our secure payments) with the link to download your first weeks modules.
Looking forward to teaching you everything good I know about the instant pot.
The Recipe This Team