The Air Fryer Breakfast Recipe Cookbook. Featuring all our popular breakfast recipes that are cooked in the air fryer. Along with air fryer cooking times, tips, and tricks to get you started with your new kitchen gadget.
Want to cook your favourite breakfast recipes in the air fryer?
Hate it that your air fryer sausages set off the smoke alarm?
Wondering why your air fryer breakfast potatoes are dry?
Looking for air fryer breakfast recipes?
Want air fryer breakfast cooking charts?
Looking for quick air fryer breakfasts that you can prep ahead?
Looking for air fryer breakfast guidance from an expert?
If you answered YES to any of these questions, then the air fryer breakfast cookbook is PERFECT for you!
We're the Milner's.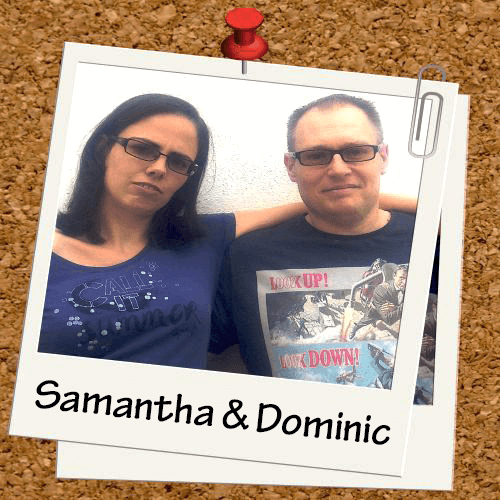 I am Samantha and along with my husband Dominic and son Kyle, we run RecipeThis.com. Our 2 youngest children Sofia & Jorge are our chief recipe testers.
We blog about the air fryer (as well as other kitchen gadgets) from our home in Portugal and wanted to share with you today our fantastic ebook that shows you how to cook all your favourite breakfast recipes in the air fryer.
Why The Air Fryer Breakfast Cookbook?
Even though I work from home, I still feel like I have the same morning rush that other people have. I have 1 kid in college, 1 in preschool and another that will be in preschool soon. The morning is always focused on getting them up and ready for heading out. As well as wanting to do some morning exercise before I drop them off.
Then after preschool drop off, back home and starting work for the day at approximately 9.30am.
But of course, we need our breakfast too and the air fryer is ideal. You can make your favourite omelette but more hands free in the air fryer. Or even make baked oats.
If you feel like you want your breakfast to be hands free thanks to the air fryer, then it is for YOU.
Best Air Fryer Breakfast Recipes
It was not until I started looking through Recipe This that I realised just how many different breakfast recipes I have made in the air fryer.
Some are paleo and low carb such as our avocado egg boats or our air fryer omelette. Whilst we also cater to those that want sausages, baked oats, or breakfast potatoes.
Here are examples of 10 of the air fryer breakfast recipes that are included:
Air Fryer Omelette – I love how hands free an air fryer omelette is. You load it into your air fryer dish and turn the air fryer on. Much better than waiting for your pan on the stove.
Air Fryer Baked Oats – I never tried baked oats until I got an air fryer. I love how well they come together in small ramekins and then you can load them up with favourite fruit and yoghurt.
Air Fryer Avocado Egg Boats – OMG I love how cute these are and they are perfect for a quick air fryer breakfast. Follow a low carb diet or want something after your morning workout, then this is it.
Air Fryer Grilled Cheese – One of my favourite breakfasts as a kid, grilled cheese can be cooked in the air fryer and it is oh so good. Perfect for Saturday morning breakfasts with the family.
Air Fryer Toast – Many people don't know this, but the air fryer is fantastic as a replacement for the toaster too. Add slices of bread into the air fryer and come back to perfect toast.
Air Fryer Scrambled Eggs On Toast – A breakfast classic but with an air fryer makeover. Perfect for a filling breakfast on a Sunday morning.
Air Fryer Egg Cups – Another favourite low carb breakfast and the air fryer breakfast I eat the most. Think of them as mini omelette bites. You can take them to work with you for lunch and snacks and they are so delicious.
Air Fryer Breakfast Potatoes – Yes you can cook your favourite breakfast potatoes in the air fryer. Loaded with bacon they are perfect for pairing with breakfast sausage and fried eggs.
Air Fryer French Toast – Treat the kids to a breakfast of French toast soldiers. It will set them up for the day and they will love you for it.
Air Fryer Bacon – Bacon lovers get excited you can cook your favourite bacon in the air fryer. Perfectly crispy and truly addictive.
The Air Fryer Breakfast CookBook Highlights
Introduction
Imperial & Metric – We have worldwide customers at Recipe This and we like to help you all and that is why all recipes feature both imperial and metric. We also have temperatures included in both F and C.
Air Fryer Breakfast Recipes – This air fryer breakfast cookbook goes beyond just 10 recipes and there is a total of 23 recipes included.
Air Fryer Cooking Times – Quick reference for cooking your favourite breakfast recipes in the air fryer. Sometimes you just want to know how many minutes to cook your favourite brand of bacon in the air fryer.
Recipe Photos – Every recipe featured in this ebook includes the recipe photo, so you know exactly what you are going to get!
Air Fryer Breakfast Printable
When I am cooking with a new kitchen gadget all I want to know is how my regular recipes convert to the new gadget. Thanks to a fantastic breakfast printable, you have the perfect printable included in this package.
It includes details of how long to cook all your favourite breakfast recipes in the air fryer, so that there is no more guess work. Simply print it off and stick it to your fridge or inside a cupboard door and have it for easy access whenever you need it.
Perfect for when you learn our air fryer breakfast recipes and you know how to prep them but keep forgetting the exact cook time.
This Air Fryer Ebook focuses on a lot of popular air fryer breakfast recipes. Do not expect to find recipes with ingredients you cannot source or weird diets. Only regular ingredients for the lady or gent next door.
All our Air Fryer recipes are based around using the Philips Air Fryer or the Power Air Fryer Oven. We are experienced with other brands of air fryers too and this ebook is perfect for all.
Our air fryer breakfast cookbook is only available in ebook format. This is great for you because you can download the ebook to your computer, laptop, tablet, or phone. Then print off a recipe as and when you need them. I also love to have my phone in the kitchen when I am cooking, and I can quickly glance at cooking times as I air fry.
But even better it saves you waiting for a book to arrive and you can literally start reading our Air Fryer Breakfast Cookbook in a couple of minutes from now.
It is also priced at JUST $7.00 Simply click on the banner below for instant access to our air fryer ecookbook:
This air fryer ebook is downloaded in PDF format. It downloads instantly after payment. You will also receive an email with your download details.