The Top 25 Best Ever Kitchen Gadgets for Mom. Featuring the ultimate kitchen gift guide with a fantastic selection of the top 25 kitchen gadgets to buy for you mom who loves to cook.
Best Kitchen Gadgets For Mom
Today is the second addition in our series of kitchen gadget gift guides. Today we are sharing with you the best kitchen gadgets for mom. Written of course by me A MOM. I am a 37 year old mom so appreciate what I wanted when I was a young mum, as well as my current age and what my mum likes and what I would like when I am older.
I consider this list of the best kitchen gadgets for mom to be the ultimate kitchen gift guide for moms of all ages and is perfect for when you are gift buying for your mom and can't decide yet what to buy her.
Top 25 Best Ever Kitchen Gadgets For Mom
Let's get this gift guide party started, shall we? Below is my ultimate list of the 25 best ever kitchen gadget gifts that you could get for your mom. It is a fantastic inspirational list and you can click through to each of the links and browse and buy. If you scroll down to the bottom there is also a quick link list guide to make clicking through easier as well as a free printable to make gift buying easier.
My mom is absolutely fascinated with the Philips Air Fryer and I would love to buy her one for Christmas this year or Mother's Day next year. Sadly, due to her location this is not possible. But you could! The air fryer is easy to use and perfect if you have a mom that is always on a diet! Click here to read more about it.
If my mom already had an Instant Pot Pressure Cooker (like the one below) I would be instead investing in a Mealthy Crisplid. As this can turn your moms electric pressure cooker into an air fryer. This is the new popular kitchen gadget so your mom will love you for keeping her in the trend. Click Here To Read More About It.
The second kitchen gadget that I would get my mom is the Instant Pot Pressure Cooker. It is perfect for her location living in a caravan and perfect for space saving. She would also appreciate using it for quickly making soup and baked potatoes. I also got her in awe of it with my love for the egg bite mould. Click Here To Read More About It.
Or if your mom doesn't have an air fryer or an electric pressure cooker, then the cheapest starting point is to get her the Mealthy Multipot and the Mealthy Crisplid.Then she has both an electric pressure cooker with an accessory that turns it into an air fryer. It is the best 2 in 1 accessory and one that we have here at Recipe This. Click Here To Read More About It.
If your mom has an Instant Pot or you are planning on getting her one, remember to load it up with lots of Instant Pot Accessories. Or if I wanted to make the gift to my mom more personal, I would get her some accessories based on what she would enjoy cooking and then make her a mini cookbook to go with it. Click Here To Read More About It.
If you have a good budget for a gift for your mom, how about getting her a kitchen aid mixer? I would love one, though they are a bit out of my price range. There are also lots of recipes for it, so you could make the kitchen gadget gift for your mom more personal with some yummy recipes. Click Here To Read More About It.
As a mom myself I would love one of these Le Creuset Cast Iron Casserole Dishes and I am sure a lot of other moms would love one too. They would be great for a smaller amount of food that you would bake in the oven and they would also work well in an air fryer oven too. Click Here To Read More About It.
Or treat your mom to an authentic Le Creuset Casserole Dish. I love them in red, but you may prefer a different colour for your mom. They are fantastic and will last for years and it will then make it easier for when your mom cooks dinner. Just imagine baked chicken and baked pasta dishes in this beautiful kitchen gadget. Or if you are on a budget there are many smaller sizes and shapes to choose from. Click Here To Read More About It.
As a mom one of the best things in my kitchen gadget collection is a hand blender. It is perfect for quickly plugging in and blending what I am cooking while keeping washing up to a minimum. I use it the most for when I am baking vegetables and want to turn them into a yummy sauce or when I make corn chowder in the instant pot. Click Here To Read More About It.
Make your moms kitchen look truly beautiful with some gorgeous looking vintage kitchen scales. They are also built in much better quality than some of the modern scales and are so much easier for baking with. Click Here To Read More About It.
I don't ever recall my mom ever having any oven mitts. Instead I would come home from school and she would share with me this massive burn she had got while cleaning the oven or cooking. It was like it was normal to be covered in burns. Each mom should have some good quality oven mitts among her kitchen gadget tool set. Click Here To Read More About It.
My tea towels are often ugly and wet and scruffy. I will go looking for one and there is never a clean one about. And then I will find a spare one in the back of the cupboard. Married to a chef I must remember to look on the husband's shoulder when I need one. But a mom could never have enough so some cute ones should do the trick. Click Here To Read More About It.
If your mom loves to cook, then the chances are, that she loves to bake a warm pie. My mom often makes my dad a warm apple pie or a steak and kidney pie. Getting her a nice new ceramic pie pan can make a great stocking filler for Christmas. Click Here To Read More About It.
My mom gave me her massive stash of scruffy recipe cards and magazine clippings to organise. There was loads and loads of them. What she really needed was a good recipe card and box set so that it could be thoroughly organised. To make this kitchen gadget gift extra special you could add in your favourite recipes or other family recipes that have been handed down through generations. Click Here To Read More About It.
This leads me to the recipe book stand. One of my mom's all time favourite Christmas gifts has always been cookbooks. She would have got maybe 2-3 of them each Christmas from different relatives or friends and would be in awe of them. If your mom is into the cookbooks how about a beautiful stand in the kitchen for them to sit on as she cooks from them? Click Here To Read More About It.
OMG your mom would think you are AMAZING if you got her this blue casserole dish set as a gift. Her face would light up. I mean us moms have all these casserole dishes that are cracking, getting old and to have a beautiful blue set that will bring the dining table to life would be awesome. Click Here To Read More About It.
I have a set of these and my mom living in a caravan would adore them too. But let's face it, even those of us with HUGE kitchens never seem to have enough space and our cupboards are also full of real chaos. But having a set of bowls that sit inside of each other is truly perfect. Click Here To Read More About It.
I love these cut resistant gloves and not only are they perfect for people like me who are partially sighted, but also amazing for a mom that is in a rush when she is cooking dinner. It stops us from being as nervous when using knives and then you know your mom is safe while doing their prep. Click Here To Read More About It.
Men joke that women have a plan for a plan or are always writing down a to do list. Well news to the men, it keeps us organised. This kitchen wall chalkboard is the perfect example of this. Us moms can quickly write down our meal plan or an ingredient that we wanted to put on the shopping list. Why not make it personal by writing on it love you mom? Click Here To Read More About It.
Why not upgrade your moms' scruffy apron with a new one? There are some beautiful and some fun aprons out there for moms and it makes a fantastic stocking stuffer for your mom. Or if you are on a budget, I am sure your mom will appreciate you gifting her a pretty apron. Click Here To Read More About It.
If your mom is like my mom or like me, then the chances are she loves to bake stuff. Well having a really good sheet pan dinner set is ideal. You could be replacing her very old one with a new shiny one or providing her with the first sheet pan set. Click Here To Read More About It.
My mom loves sushi and so do I. My mom learnt how to make sushi when her sister visited from America and taught her what it was, of course back then it was the new trend. Since then my mom has adored sushi and that is what she always eats when at the Chinese. If your mom loves sushi, then treat her to a sushi making it. Click Here To Read More About It.
Is your mom one of those cheese addicts? Never has a sugar loaded dessert but goes weak for cheese and wine with some bread? If that is true of your mom, then why not buy her an amazing cheese board set? They are reasonably priced and last for ages, even when you have run out of cheese and need to restock it. Click Here To Read More About It.
If your mom loves cooking and baking, then chances are she would love her own pasta maker to make homemade pasta. It is one of those dream kitchen gadgets that many families simply do not own which is such a shame. Buy your mom a beautiful pasta maker for her next birthday or for Christmas and she will be so pleased. Click Here To Read More About It.
This will probably sound crazy, but my mom didn't have a slow cooker until I bought her one for Christmas in her early 60's. That slow cooker thing had passed her by. Maybe that is your mom too? Or maybe your mom's slow cooker is dying a slow death? If so, why not get her a slow cooker? They are such a low priced kitchen gadget and are perfect for dump and go easy mom cooking. Click Here To Read More About It.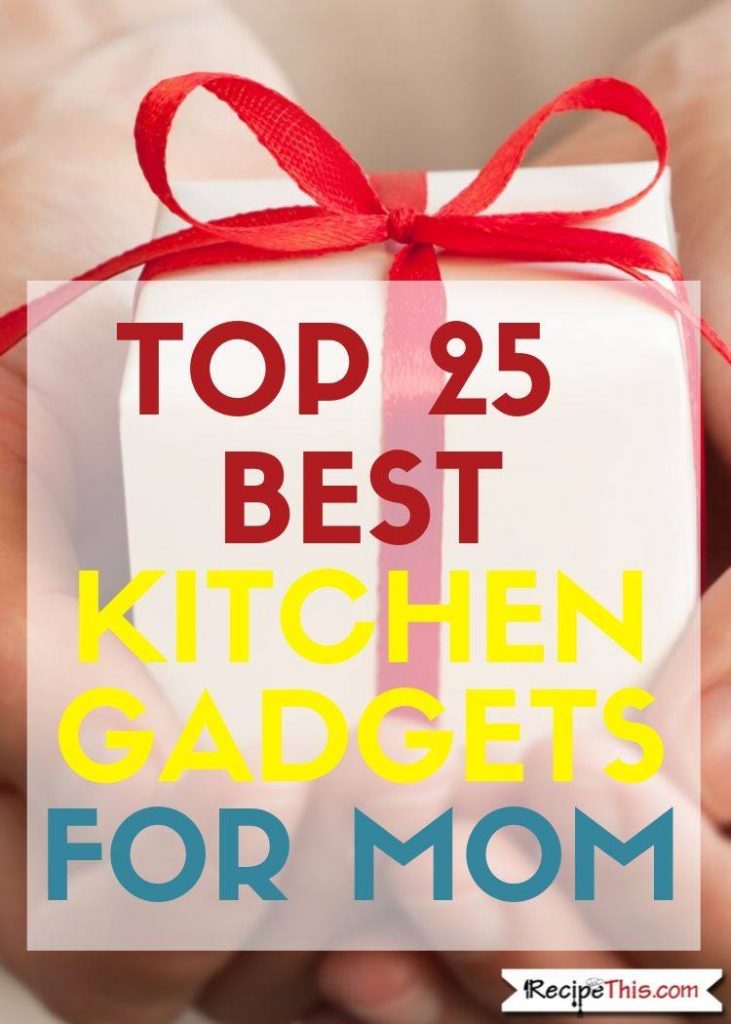 Kitchen Gadgets For Mom Quick Links
Kitchen Gadgets Gift Guide Free Printable
Simply enter your email address below and have instant access to our kitchen gift guide free printable. It includes a downloadable PDF that you can print off what pages apply to you, to make planning your kitchen gadget gifts so much easier. It is perfect for birthdays, holidays and all those other important gift giving times.
Can't read it now? Then pin it for later!
Join The RecipeThis.com Community:
Facebook Group | Pinterest | Twitter | YouTube
Plus, don't forget to subscribe below to join our email newsletter with updates of our latest recipes, latest freebies, our cooking stories, plus much more: