The Top 25 Best Ever Kitchen Gadgets for Dad who has everything! Featuring the ultimate kitchen gift guide with a fantastic selection of the best kitchen gadgets to buy for you dad who has everything, and you are lost with what to buy your dad that loves to cook.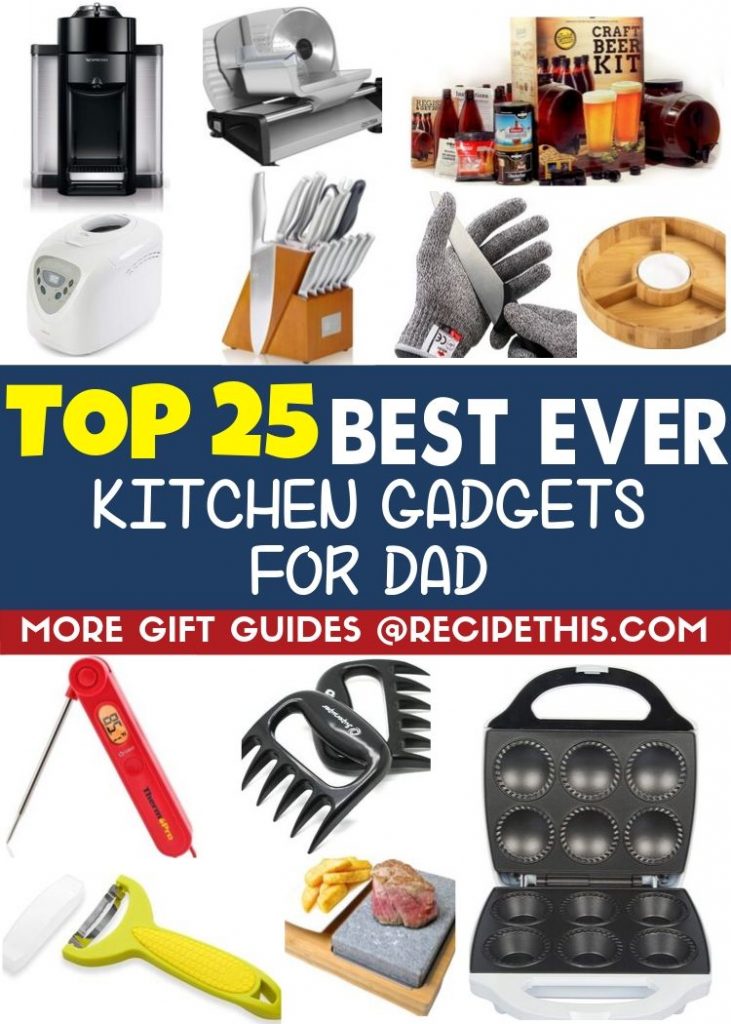 Best Kitchen Gadgets For Dad
Today is the third addition in our series of kitchen gadget gift guides. We have already shared with you our kitchen gadgets for the elderly, kitchen gadgets for mom and today is the turn of kitchen gadgets for dad.
To research for todays kitchen gadgets for dad gift guide today, I have been stalking out all the dads I know to share their top kitchen gadget tool and I am sure my husband Dominic is sick of hearing about it. I have also gone through all the various kitchen gadgets that my husband and my dad have, and it has certainly been like a trip down memory lane.
Top 25 Best Ever Kitchen Gadgets For Dad
Let's get this gift guide party started, shall we? Below are the top 25 kitchen gadgets that I would recommend buying for either the dad in your life, the father in law in your life, or even that amazing guy you adore.
There is of course a good kitchen guy theme going on and maybe some of these gifts your man might already have. You can also scroll down to the bottom and access a quick link list of all the 25 kitchen gadgets we recommend for your dad. As well as this we have a free printable to make gift planning even easier.
Every guy I know that is into cooking has an air fryer oven. They are like a dream come true and make cooking all that man food even easier. They make perfect chicken wings, steak, rotisserie chickens, French fries and so much for, for a fraction of the usual calories. Click Here To Read More About It.
Then if your dad already has an air fryer oven, or you want some stocking stuffers to go with it, then I recommend checking out these air fryer oven accessories. They make cooking the stuff even better. Click Here To Read More About It.
For the man that loves his meat, how about introducing him to the Sous Vide way of cooking? There are plenty of things that you can cook in a Sous Vide and if your dad likes a lot of meat, then there is no better kitchen gift. Though your dad is probably wondering just how perfect it will cook his steak or ribs. Click Here To Read More About It.
OMG if you have not seen one of these before then they are AMAZING. The one linked to above is the same one we have in the Milner kitchen and is a guy's best friend. No matter what their age if a guy likes steak then they like these. In a nutshell you cook your steak on this hot stone and it cooks your steak perfectly and then the steak is eaten with your favourite steak sides. Click Here To Read More About It.
Does your dad like to barbecue? Or maybe he travels a lot and just wants a small one? Well if that is the case, why not get a Cobb Grill? We took our cobb grill with us when we travelled around Europe in the summer of 2018 and it made it perfect for camping too. Click Here To Read More About It.
Or what about a meat smoker? That way your dad can smoke all his favourite meats and then tell you all about the amazing results. Even better you will get to taste the results as he proudly shares with you all about his meat smoker and what a thoughtful gift it was! Click Here To Read More About It.
We proudly have one of these Nespresso Coffee Makers in our kitchen after the kids bought it for their dad for Christmas a few years ago. It has been used a lot but has stood the test of time and still works perfectly. It is one of those awesome kitchen gadget gifts that lasts forever. I even got a similar one for my aunt and uncle and that too got a lot of use. Click Here To Read More About It.
Or how about a meat grinder? Your dad can feel like he is the home butcher with his own meat grinder and turn his favourite turkey into ground turkey or even make his own sausages? It is a true luxury item and I am sure many dads would love to be gifted their own meat grinder. Click Here To Read More About It.
If your dad loves game season, then why not get him a manly chip and dip set? Then next time his American Football is on, he can get it out and fill it with his favourites and he is all set! Click Here To Read More About It.
Just like with the chip and dip set, you could also get your dad a lovely taco holder too. It is the perfect dad kitchen gift if your dad is obsessed with tacos and maybe he will invite you for a taco Tuesday dinner? Click Here To Read More About It.
If your dad loves to eat corn and maybe he is getting a little older and the corn gets stuck in his teeth, then a corn zipper is a fantastic plan B. You can roast your corn as usual and then when you have finished cooking zap them off! Click Here To Read More About It.
Or let's carry on the dad foodie kitchen gadgets with the beer can chicken accessories kit. Your dad will love how delicious roasted chicken is when it is cooked using the beer can method. We have cooked chicken many times the beer can way and it tastes truly amazing. Click Here To Read More About It.
Or the next time your dad is making his famous pulled pork, he can get out the amazing meat claws that you just bought him. Then tell everyone what an awesome gift you bought him and how much time in the kitchen you saved him! Click Here To Read More About It.
All dads need to have a knife sharpener in their kitchen. Then next time mom calls out that the knives are blunt, he can quickly sharpen them. Though nowadays with how much knife sharpeners have improved it is not just a man's job. Though when I asked Dominic what his favourite cheap kitchen gadget was, he said his knife sharpener! Click Here To Read More About It.
Or maybe your dad needs a brand new set of knives and a trendy knife block? You could get him one for Christmas or for Father's Day and know that they will last him a long, long time. Along with a knife sharpener, he will have no excuses anymore with his knives. Click Here To Read More About It.
Or expand on your dad's current knife collection with some steak knives. If your dad likes to eat steak, then steak knives are something that should be in his drawer. Or I like it when they come in a nice folder and then you can get your steak knives out on a special occasion. Click Here To Read More About It.
If you are not a professional chef, then the chances are you will need a meat thermometer for your kitchen. They are very good for quickly reading the temperature in the centre of your meat. Then you can tell if it is cooked or not without cutting into it and making it look ugly. Click Here To Read More About It.
Confession time now. I am a kitchen gadget food blogger, yet I have never used our bread maker. That is because Dominic considers it to be his manly kitchen gadget and takes so much pride in the bread, he makes me in the bread maker. We have enjoyed a bread maker in the kitchen for a few years now and it is PERFECT for your dad for a kitchen gadget gift. Click Here To Read More About It.
Does your dad love pie? Then how about a simple pie making machine. It makes delicious pies and quiches too that you can just load into the machine and let the machine do the hard work for your dad. It even comes with a pie cutter to get those shapes and sizes perfect. Click Here To Read More About It.
Or how about a breakfast sandwich maker? Is your dad absolutely addicted to a fried breakfast and want a great way to cook his bacon and eggs? Then you're in luck because this breakfast sandwich maker is the perfect kitchen gadget gift for dad! Click Here To Read More About It.
I always remember when we had a family roast dinner, that the head of the table (always dad) would be carving the meat and everything would be getting excited over getting a slice. But nowadays technology is so much better than those terrible carving knives and dad can have an electric meat slicer instead. Click Here To Read More About It.
Is your dad into his beer? Does he love a beer while sat in the sunshine or after a hard day's work? Well if that is your dad then why not treat your dad to a beer brewing kit? They are less expensive than you would expect and bring your dad so much beer brewing pleasure. Click Here To Read More About It.
Or if beer is not your dad's thing, but wine is, how about treating your lovely dad to a wine making kit. Then he can have so much pleasure making his own wine. He can also share with you all the stories of how it went and how he tweaked it to make it perfect. Click Here To Read More About It.
These are perfect for keeping dad safe in the kitchen especially if he does a lot of chopping when he is cooking. Here at the Milner's we love the heat resistant glove for feeling safe and not losing fingers while being distracted by the kids. Click Here To Read More About It.
A great dad apron that dad can wear when he is cooking. Whether that is cooking on the barbecue, cooking in the air fryer oven, or showing the family how to make the perfect roast turkey at Thanksgiving. Click Here To Read More About It.
Kitchen Gadgets For Dad Quick Links
Kitchen Gadgets Gift Guide Free Printable
Simply enter your email address below and have instant access to our kitchen gift guide free printable. It includes a downloadable PDF that you can print off what pages apply to you, to make planning your kitchen gadget gifts so much easier. It is perfect for birthdays, holidays and all those other important gift giving times.
Can't read it now? Then pin it for later!
Join The RecipeThis.com Community:
Facebook Group | Pinterest | Twitter | YouTube
Plus, don't forget to subscribe below to join our email newsletter with updates of our latest recipes, latest freebies, our cooking stories, plus much more: