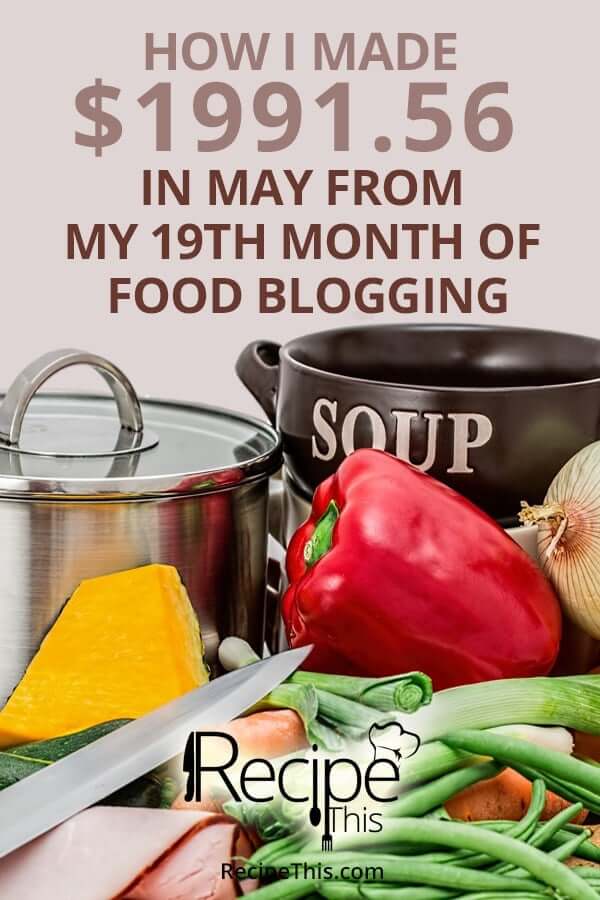 Welcome to our 19th food blogging and income report for May 2017.
We live in a world that if we are not happy with something then we can change things. A decade ago I was rather miserable. I worked from home, felt lonely and longed for a second child. My son was about to turn 6 and after he had gone to school the house was just me and my laptop and I hated it.
I wanted to hold a newborn baby in my arms again, breastfeed again, watch my baby take its first steps and above all get away from the likes of eBay and build myself a long term business that I would be proud of.
A year later we moved to a new country where the sun came out everyday, we could work together from home and we could have another 2 babies.
But we were still not 100% happy as we were working for internet marketing clients that never appreciated us and treated us very badly. Well 75% of them did. You kind of hoped for lots of those 25% clients but in truth I hadn't found one of those for a while.
So we made the decision to start RecipeThis.com and build our own future instead of someone else's. To remember that its our life and we can choose our own destiny.
If you are like us and feel like this is you and that you are in a rut then do something about it. Start that food blog, work more on your traffic, monetise your site better and just think about what you could achieve.
Or ask yourself this simple question:
"Where do you want to be in 10 years time?"
And then make it happen!
Our Food Blogging Income During May 2017:
Total Revenue = $2523.01
Our Food Blog Expenses During May 2017:
Total Expenses = $531.45
This leads to a total income from Recipe This For May 2017 of $1991.56
As a food blogger you are expected to always be there. Always answering the emails within a few short hours, always on social media, always creating new content. But what happens if you get ill? Go and have a baby? Have a bereavement? Go on holiday?
The internet is always moving and there is always things to do. Of course if you stop blogging you will lose your respect of your readers and you will probably lose about 10% of your traffic. But overall things will stay the same and you will still earn a living without actually working.
This my friends is called passive income and is one of the fantastic perks of being a food blogger.
The content that you wrote a year ago (or longer) still earns you a living a year from now.
I actually have old affiliate links still on blogs that I sold years ago. The sites were never updated by new owners and this provides me with a passive income.
Then I look at the income above and minus the sponsored content and the free products I am sent, the rest is 100% passive income.
Income that I would earn if I didn't do anything again to the site.
So remember the passive income you're building as you put in 16 hour days into your blog!
Read How @recipe_This made money from their food blog last month From Food Blogging
Click To Tweet
Recipe This Blog Traffic May 2017
We are still working away on our traffic and enjoying its growth. Its that time of year that we find (before summer hits) when our traffic can be slow in progressing. People don't really know what to do, or what season they want to enjoy as they wait desperately to get the barbeque out!
Here is our traffic for May 2017:
After a few months that have been struggling with the traffic, we have gone above 200,000 page views this month. We are also at our highest ever users for one month and our 3rd highest month overall.
Best of all we have been running campaigns on our blog, this month is the last and then we will be working particularly on the growth of our social media and SEO.
We have had a Slimming World campaign for May, currently on the Whole 30 for June and we are so excited to be starting with our July content and getting excited over summer classics.
Here are our top 10 traffic sources for RecipeThis.com during May:
Look we don't change much do we? But then again being consistent with our traffic always works well for us, it means that we are always there and those traffic methods are never really going to change.
Our favourite of our top sources if Google. Nothing will ever be better than Google search. Visitors are on a mission after searching and are more likely to buy your ebooks or click on your ads. And are also more likely to become returning visitors. Plus you are just doing the work the once and can then achieve long term traffic.
Here is our SEO traffic from Google Webmaster Tools account:
I love my SEO. I love the way old content can stay on peoples radars and be popular in the long term. Unlike social media when you get a boost and then you get forgotten about, social media is where you want your traffic to be at.
I look at my SEO via Google Webmaster Tools once a day and I love new keywords taking off and seeing long term ones staying on the front page of Google.
If you search for your results by one date you can then see what posts are lingering around the 3rd to 4th page and see any improvements.
For our current SEO we discovered:
If you dedicate a month to a type of food then you will rank quickly for it
That more than 2000 people still searched for soup in May
You can get long term traffic from sponsored content that can then help you land new clients
If you run monthly themes it is quicker to get long term SEO rankings
Food Blogging Takeaways
We are now in June. Our summer season is here and we are in a position to take our blog to the next level. What I find works really well is to audit my site. Over the last few months I have looked at my content and decided how I can remarket it.
What can I do to bring back posts that are over a year old and how can I improve on things?
That is what I think we should all ask ourselves about our blog. But start small. Look at your social media and plan into your social media calendar the repromotion of old content. For example we have just repromoted our ice cream recipes from last summer, then we will continue to look through what we did a year ago and see how we can bring it back to the attention of our readers.
What's Next?
As I write this income report we are in the middle of a change of theme. We are leaving Thesis and moving back onto Genesis. We have found a theme that we love (well actually I have loved this theme for years) and can't wait to get it onto RecipeThis.com. The benefit of it is that it suits multiple income streams. I can sell ebooks, work a lot harder on building my mailing list and of course affiliate income.
Along with this our summer target is to work on SEO and work on both new and old posts. And we can't wait to share with you our results when they happen!