Instant Pot Paleo Recipes
This Post Contains Affiliate Links. Click Here To Read Our Full Disclosure.
Instant Pot Paleo Recipes. The ultimate list of the 45 best instant pot paleo recipes. From chicken to vegetables to one pot dishes to amazing paleo sauces we have it covered. Scroll through our list of paleo recipes in the instant pot and decide what to cook for dinner tonight.
Instant Pot Paleo Recipes
Welcome to instant pot paleo recipes. Updated for 2020 and including lots of new paleo ideas to make in your instant pot or other brand of electric pressure cooker.
I am an Instant Pot Junkie. I am also a Paleo addict. The two just belong together like salt and pepper. Whenever I fall off the Paleo bandwagon, I feel terrible.
It is like my body goes into shutdown mode. I always suffer from a bloated stomach and look heavily pregnant and lose all the energy that the Paleo way of life gives me.
I also suffer from gluten intolerances and I am obsessed with eating vegetables and that suits me and paleo perfectly.
But I also have many, many readers here on Recipe This that don't do paleo and this is about me and my fellow Paleo instant pot users to have a special place to go to cook instant pot paleo recipes.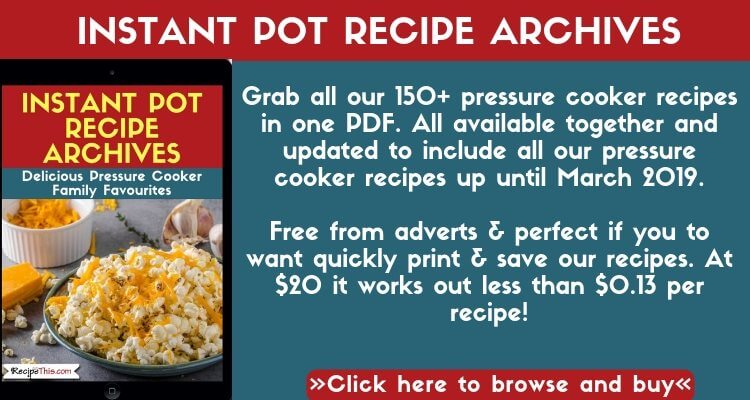 What Is Paleo?
But first, you must be wondering what Paleo is and how it fits in with healthy Instant Pot Cooking? Well the infographic below is fantastic for describing it. Think of it as a less restrictive low carb diet. Many people avoid carrots and sweet potatoes on low carb diets yet its allowed on paleo.
As you can see, instead you eat meals that are loaded with vegetables, use healthy flour substitutes, such as Bobs Red Mill, use honey and maple syrup as your natural sugar source and eat quality organic meat.
For example, getting your meat from Butcher Box. As well as this healthy fats like extra virgin olive oil are extensively used in cooking.
To replace cream and milk, it is normal to use coconut milk instead and this often gives a much better flavour to your cooking.
Processed foods become something that you used to do, and you get your carbs naturally through root vegetables and other foods.
There are so many ways where you can make Paleo recipes in the Instant Pot and I believe the Instant Pot, alongside the Air Fryer are the perfect way to eat healthy with your kitchen gadgets.
Below you will find my top 10 favourite instant pot paleo recipes that I recommend you start your instant pot paleo cooking with.

Top 10 Of The Best Instant Pot Paleo Recipes
Instant Pot Vegetables
One type of food for the instant pot that is ideal for the paleo diet is vegetables. The instant pot is life changing for the speed in which it perfectly steams all your favourite vegetables. Here are a few instant pot steamed vegetables to try next:
More Instant Pot Paleo Recipes
Can't read it now? Then pin it for later!
Join The RecipeThis.com Community:
Facebook Group | Pinterest | Twitter | YouTube
Plus, don't forget to subscribe below to join our email newsletter with updates of our latest recipes, latest freebies, our cooking stories, plus much more: