Instant Pot Camping Recipes
This Post Contains Affiliate Links. Click Here To Read Our Full Disclosure.
Instant Pot Camping Recipes. Introducing you to the best instant pot camping recipes. These 32 camping recipes are easy, mainly healthy, quick to prep, some are keto, some are low carb, with lots of new ideas to add to your next camping trip.
Instant Pot For Camping
If you are new to Recipe This, then you might not know that I learnt how to use the instant pot while camping.
Prior to this Dominic did all the instant pot recipes and I looked at it like it was going to explode in my face like those 1980's pressure cookers did.
But while travelling we only had the instant pot pressure cooker for our meals and I soon got over my issues and cooked out of the instant pot 3-4 times a day.
The day started with boiling water in the instant pot for Dominic's morning coffee and to warm up Jorge's baby milk.
Breakfast, lunch and dinner were then made in the instant pot.
It gave me amazing experience with the instant pot, and I fell in love with it.
After that I never asked Dominic to use the instant pot again and since then I have done all the instant pot recipes and I don't even think about it, I just get on with it and use the instant pot.
Those 8 weeks spent tent camping throughout Europe in the summer of 2018 gave me a wealth of experience and if you are going camping, do take the instant pot as it is ideal.
Instant Pot Tent Camping
When we took the instant pot tent camping, space was a big issue. This camping trip was more than just a weekend camping, it was a long vacation.
We had a family car and a top box and had to fit in 5 family members as well as a pushchair, camping supplies such as the tent and sleeping bags.
We amazed ourselves with how much we could fit in one car and became very savvy when it came to space saving.
Our instant pot setup was the best bit of our tent camping: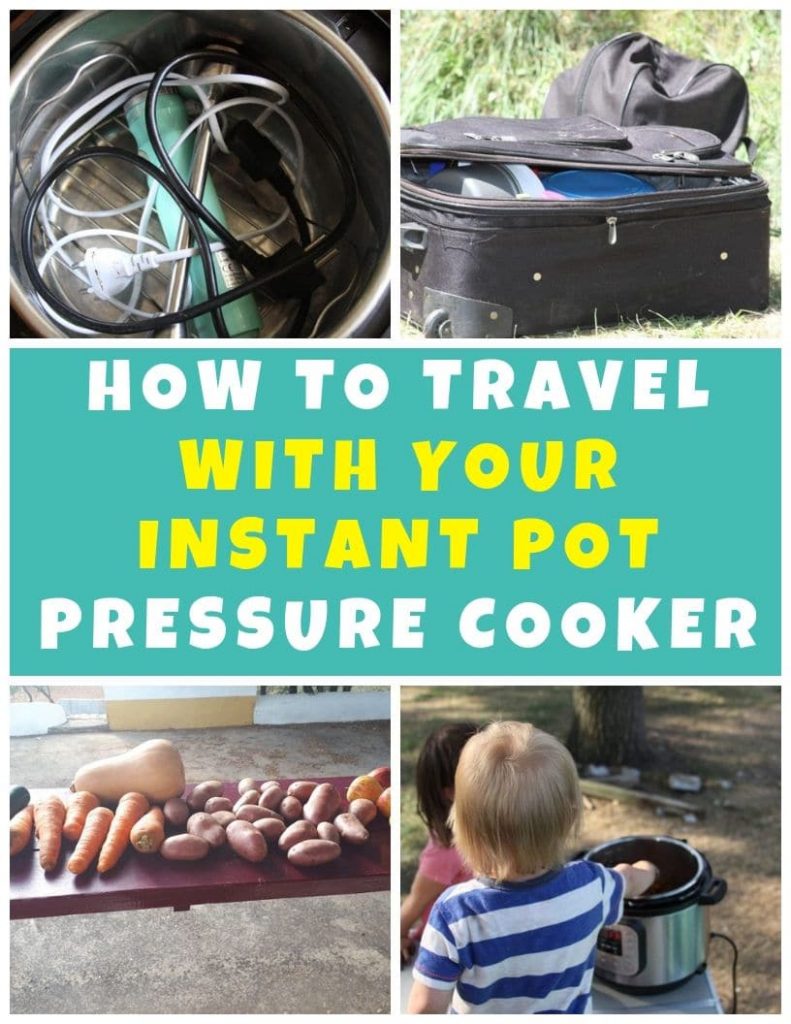 From this image above you can see that we used the inside of our 6 quart instant pot duo to hold the trivet and our hand blender.
The suitcase you see is what we used for all our kitchen utensils, our plastic dinner plates as well as silver foil and other essentials.
The kids loved to help me with the instant pot cooking, and it makes me smile with how little they look as I write this almost 2 years after the photo was taken.
The other photo shows the root vegetables and potatoes we had with us at our first campsite we stayed at.
I found a nice bench for meal prep and that was what I looked at from many other campsites along the way.
I ended up with favourite instant pot camping recipes and that's what I want to share with you today.
If I can do them as a newbie to an instant pot, while on the road and not in a position to meal prep at home first, then you can easily do it.
Best Instant Pot For Camping?
Many will suggest to you that the instant pot mini is the best for camping. Yet here I am talking about taking our instant pot 6 quart with us.
For us the instant pot 6 quart was the perfect size as a family of 5 for eating out of every day.
But if you are a smaller family, or are not using it as much as us, then you can go smaller.
It wasn't available back in the summer of 2018, but if it had, I would have gladly of taken the Mealthy Crisplid with me too.
All those times when I truly missed my air fryer, it would have been wonderful.
Top 10 Instant Pot Camping Recipes
More Instant Pot Camping Recipes
Here at Recipe This we have even MORE instant pot camping recipes for you to try.
Have a browse through these instant pot tent camping recipes for even more inspiration and bookmark for later.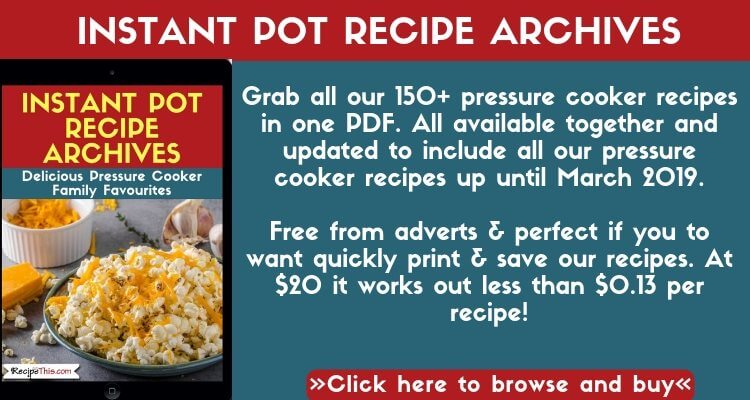 Further Reading
Can't read it now? Then pin it for later!