Welcome to how to marinade slow cooked Paleo chicken in under 10 seconds recipe.
This is my kind of recipe that is meant for people like me. By me I am talking about new mums that have very little energy for anything other than sitting on the sofa staring at their cute little baby and wishing that they could have just an extra half an hour of quality sleep.
The thought of moving off the sofa to do anything productive is the worst thing ever and the thought of cooking is just like someone swearing in their face or trying to drag them down the gym.
Well this is how I feel right now. We ate relatively healthy when Sofia was born nearly 2 years ago but when we had Kyle in 2001 we were heart attack couple waiting to happen. Tiredness, low blood pressure, anaemia all added up and before you knew it there were a lot of takeaways and cheese sauces.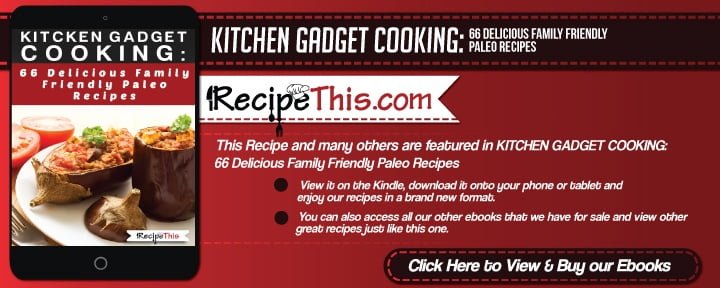 But if someone was to point me in the direction of this recipe back then I would have been a very happy new mum.
This recipe is one of my favourites because of the preparation time and how much cleaning that you have afterwards. There is no marinating dish to clean, the contents are in silver foil so the slow cooker just needs a quick wipe and you have your chicken prepared in less than 10 seconds.
I am sure no matter how tired we all are and how we say we cant eat healthy as we don't have the time can not argue with the idea that you can cook a delicious meal with just 10 seconds out of their daily schedule.
How To #Marinade Slow Cooked #Paleo #Chicken In Under 10 Seconds via recipe_this
Click To Tweet
How To Marinade Slow Cooked Paleo Chicken In Under 10 Seconds
Instructions
Place a sheet of silver foil on your worktop. Throw on it the seasoning. Cover the chicken breasts (use your hands) with the olive oil and lay on the silver foil. Rub the marinade over the chicken and seal it up making sure both sides of the chicken are blasted in marinade. Add the fresh rosemary and seal your silver foil packet.

Fridge for 6 hours (for the best results but optional)

Place in the slow cooker for two hours in its silver foil on high.
Recipe Notes
So a lot of you will be wondering what I am talking about when I mention chicken rub or chicken seasoning. We get our mixed chicken herbs in a small jar from Spain as they do amazing Mediterranean spice blends. But you could use whatever you have spare such as leftover pulled pork marinade.
I find for the best results marinade in the fridge for up to 12 hours. I tend to make mine the night before, put it in the slow cooker mid morning and then have it for lunch.