How Much Olive Oil Do You Need To Make Air Fryer French Fries? Now that's the million-dollar question.
There are so many Air Fryer French Fries recipes out there it is hard to know which one to follow.
We put them to the test to show you exactly what you get with each bit of oil you splash into your air fryer.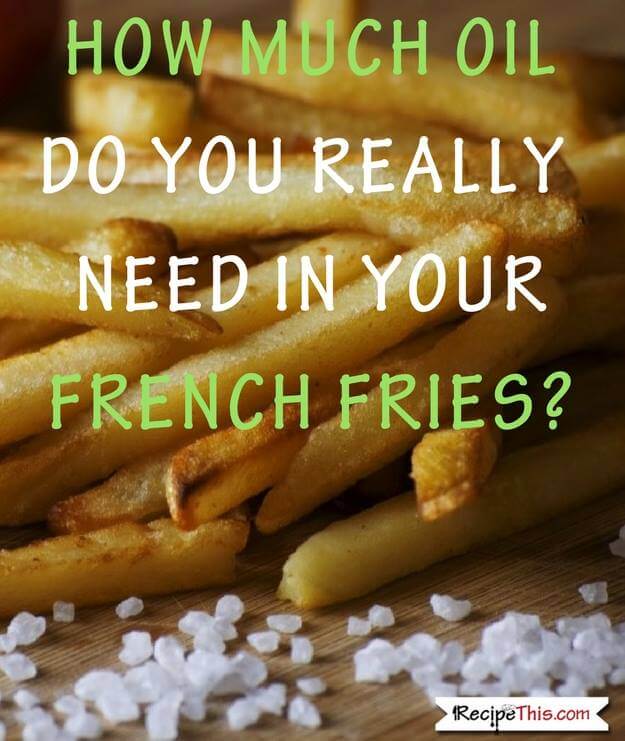 I have loved French Fries for as long as I can remember, though from growing up in England they were always called chips rather than fries.
They were never good for the diet and there was way too many of them nearby. I had a chip shop at the end of the street, another one on the street behind us and probably about another 10 within a 5-minute walk.
As well as this we had a pizza restaurant at the end of our street too. A Chinese takeaway on the road behind us and that's without everything else that was available in the town too.
So, no wonder I was on Slimming World by the age of 13!
But back then there were no air fryers waiting for us at home that could make us the most amazing air fryer French fries and other delicious fast food style treats.
I even remember the awful Slimming World Chips that were around back then. They would involve soaking, boiling in a pan and then oven roasting.
They tasted disgusting and were not like the real French Fries that you can make for yourself in the air fryer.
But if there is one food that comes first, that I love cooking in the air fryer the most then it must be French Fries.
They taste amazing and its amazing if you alter the oil or go oil free how different they taste.
So here is the lowdown for if you want to perfect the air fryer French fries and control the amount of oil that you use.
How Much Oil Do You Need On Your Air Fryer French Fries?
#1 Oil Free Air Fryer French Fries Method
When you buy an air fryer it's the addiction that you use a LOT LESS oil than you would with deep fried French Fries. But what would happen if you used no oil at all? Well they wont taste as good as air fryer fries that use a tablespoon of oil, but they will still taste much better than other oil free alternatives.
Here is our air fryer oil free French fries recipe
#2 Half A Teaspoon Air Fryer French Fries Method
I find that these are the best balance for if you want to lose weight and only use a very tiny amount of oil.
This is a copycat recipe of the famous Five Guys Cajun Fries. They cook at two different temperatures; the potatoes are rinsed to remove the starch and they are like what you would expect at a top restaurant.
Here is our air fryer Cajun fries recipe
#3 Skin On Teaspoon Air Fryer French Fries Method
I love these air fryer French fries the most. You use up your spare potatoes and scrub, but don't peel. Because the skin works as a barrier it requires less oil and they don't need soaking before cooking.
Adding just a teaspoon of olive oil and you believe they have come out of a fat fryer!
Here is our air fryer skin on French Fries recipe
#4 Half A Teaspoon Small Potatoes Method
The great thing about small potatoes is that because they absorb the oil, you don't need as much of it to have that deep-fried flavour.
Make cubed potatoes just like breakfast potatoes and you have a wonderful system of tasty potatoes for very little oil.
You could cook your cubed potatoes with the skin on or the skin off its your choice. Or like us cook your whole breakfast in the air fryer at once.
Here is our air fryer breakfast potatoes recipe
#5 One Tablespoon A Potato Method
The final option is the naughty ones that taste just like they have come out a British Fish & Chip shop. You could close your eyes and think that you were having the real thing!
They work out at a tablespoon per medium sized potato and are the best. I often get comments that its too much oil for an air fryer.
BUT compared to how much oil if you deep fried this is the air fryer naughty option. So not for everyone!
Here is our original air fryer French fries recipe
Bonus Trick = The Dirty Air Fryer Method
Now as a final point I should mention the naughty and dirty air fryer method that I learnt from of my readers that bought a used air fryer.
If you have had oil drip into the bottom of your air fryer from a previous meal and not cleaned it out, then leave it there and cook your fries without oil.
The grease from the bottom will give them a greasy fries taste without a splash of oil touching the potatoes.
My Favourite Air Fryer French Fries Recipe Is:
Well it has to be the Cajun fries version. With this version you are putting in a little bit more effort than you would normally do, but the prep is only increased by an extra minute.
They are flavoured, they have JUST ½ a teaspoon of olive oil in a recipe to feed four people and you can eat them daily and not feel an ounce of guilt!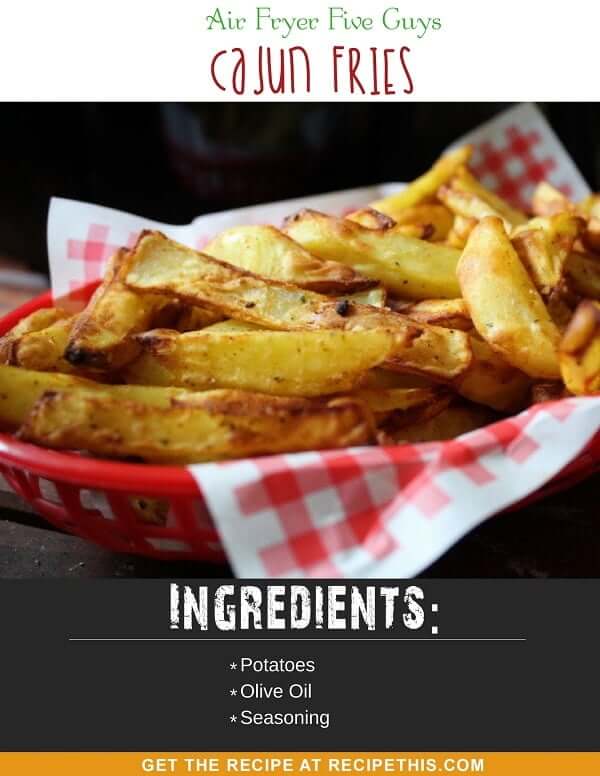 What Olive Oil Should You Use?
This is our favourite olive oil, but you could use any that you like. It's all about an olive oil that is quality and not too expensive.
You could also use other oils too. I have never enjoyed it when I have used coconut oil but avocado oil has become the new trendy oil to use in air fryer fries so worth a look?
I would avoid using vegetable oils as air frying is all about healthier cooking and vegetable oils just don't offer the same health benefits as what healthy oils do.