Welcome to my Cobb BBQ Grill Review and let me share with you if I think a Cobb Premier BBQ System is worth buying or not.
I am sure if you are into barbecuing your food and outdoor summer family gatherings that you would have heard about the Cobb BBQ Grill by now.
If you have not heard about the Cobb BBQ Grill then it is as a compact BBQ grill that is light, easy to use and perfect for taking on camping holidays.
But unlike many barbecues the Cobb will set you back over $100 and that is WITHOUT the growing amount of accessories, so I am sure what you really want to know is whether or not it is worth buying.
In my totally unbiased opinion it is TOTALLY WORTH IT. But before you grab yourself a Cobb BBQ read on….
The Milners & Barbecues
I love the movie Beethoven. Its also one of daughter Sofia's favourite movies too. We love to snuggle under the blanket after her afternoon nap and get excited over the adventures of The Newton Family and their loveable St Bernard.
In it the dad says all the time that they are not "dog people" even though by the end of the movie they truly are.
It reminds me of us Milners and barbecues. I would say we are not BBQ people.
We are Instant Pot people, Air Fryer people, Soup Maker people, Slow Cooker people and Ice Cream Maker people when we are feeling FAT.
But barbecues have kind of passed us by.
I grew up with many barbecues.
I had two uncles that would often do barbecues and they would do a fine job. My dad on the other hand sucked at it.
He would be so busy getting side tracked entertaining everyone or getting drunk that he always forgot about the food. So, barbecuing was never really a big thing for me.

Then we moved to Portugal and everyone barbecues around us and we just didn't. Not that we didn't want to, but because every barbecue we bought was rubbish and it put us off.
So, our summer food became KFC Chicken in the air fryer with a salad. And that is how it has gone for the last 10 years.
But with us planning our summer holiday camping around Europe (you can read our story about it here) we felt that a barbecue needed to be priority.
We planned to take our Instant Pot but we wanted something else that we could double up with and that is when the Cobb BBQ Grill came into our plans.
You see we have already seen a Cobb BBQ Grill up close and personal at my Dad's last big barbecue that I remember him doing.
The USP with it then (well for us) was the fact that it kept the food warm for hours. He cooked the barbecue food mid-day and then for supper he was making himself banana fritters on it.
Cobb BBQ Grill Unboxing Video
We decided that nothing told the story better of getting a new Cobb BBQ Grill than an unboxing video + using the product straight away from the point of view of a new customer.
It includes:
Unboxing the Cobb BBQ and everything that you get with the premier starter pack
Making our homemade Mediterranean Paleo Burgers along with barbecuing some chicken thighs and chicken drumsticks
Our final thoughts on the Cobb BBQ Grill
And all this is filmed in our garden after we have unpacked our new tent for the first time. That way we can get used to all our camping gear before we go on our summer road trip.
Cobb BBQ Grill = Perfect For Beginners
As I mentioned above we are total newbies to the world of barbecuing and pretty much suck at it. In the video above, you get to see us unpolished as we give it a go and realise that we are not using enough heat to get the Cobb Grill to cook our food quick enough!!!
But even though it was slow, we still did it.
We still made delicious food and it didn't burn.
Fast Vs Slow Heat
I always remember going to family barbecues and how they would start heating it up an hour early, just so that it could cook in time.
You don't need to worry about this with the Cobb BBQ as you can have fast or slow.
Use regular firelighters and charcoal and you will need to add extra just to get the heat high enough to sustain cooking some barbecue food.
However, if you want SPEED, then treat yourselves to some Cobb cobblestones. Then you simply place them on the grill and they heat up and cook so much faster.
Cobb BBQ Grill Put To The Test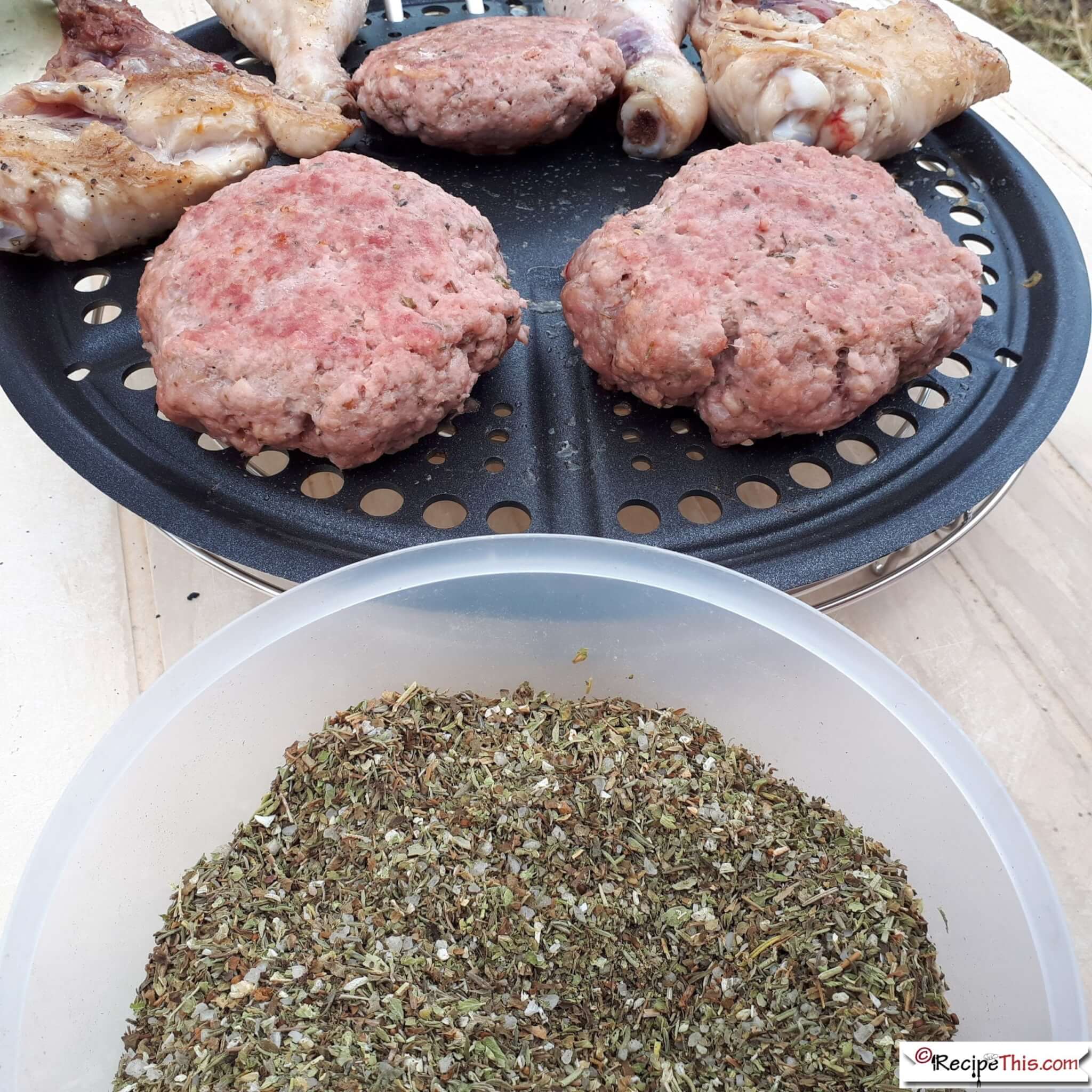 We put the Cobb BBQ Grill to the test by using it to cook our favourite Mediterranean Burgers with our homemade Italian Seasoning.
This is the kind of food we would cook a LOT on our Cobb and it gave us the chance to give it a proper test run.
The burgers cooked perfectly on the Cobb and didn't have that burnt BBQ taste. The chicken pieces were tender in the middle and crispy on the outside just like they are when I cook them in my Air Fryer.
Cobb BBQ Grill Highs & Lows
For us as a family of 5 we loved the Cobb BBQ Grill. We could cook a whole barbecue on it if we wanted to. We could also use it just for sides or just for the main meat.
The Cobb feels the same way as the Air Fryer did when we first bought it. Lots of grilling and endless opportunities.
If you went camping I am sure you could make a copycat version of KFC chicken on it.
We love the idea that it works perfectly side by side with the Instant Pot. You can cook your sides in the Instant Pot and then the meat in the Cobb BBQ or vice versa.
Even though it keeps its heat for hours, this can also work as a low, because when you have small kids you just want to cook, clean it and then pack it away for next time.
It will take you a while (just like the Instant Pot) to get your head around all the different accessories, whether you need them or not and how to slot all the different parts into your Cobb BBQ base.
Because of the amount of heat, it generates, it feels a waste to just cook some burgers on it. We ended up using up some leftover bacon we had in the fridge with ours.
As I hate to waste things! Plus, bacon tastes so good on the barbecue!
The Cobb BBQ Grill is fantastic because:
It offers fantastic value for money
Available around the world
It is perfect for campers
Low weight = perfect for tent camping
Family friendly
Suits both beginners and expert barbecue cooks
Comes with some amazing accessories
Stays warm for hours and hours
Perfect size for family barbecues
The bottom stays cool to prevent burns
Is The Cobb BBQ Grill Worth It?
In our opinion it is so worth it! We can imagine a long future with our Cobb BBQ Grill and imagine that over the years we will buy more and more accessories to go with it.
So far, we have cooked burgers, barbecued chicken and bacon in our Cobb BBQ, but I am sure there will many, many more recipes getting the Cobb effect.
You can buy the Cobb BBQ Grill below by clicking on the banner or by clicking here. We wholeheartedly recommend it for providing you with the best barbecue solution.
Can't Get it now? Then pin it for later!
Join The RecipeThis.com Community:
Facebook Group | Pinterest | Twitter
Plus, don't forget to subscribe below to join our email newsletter with updates of our latest recipes, latest freebies, our cooking stories, plus much more: