Let me help you choose the Best Instant Pots To Buy. Featuring the top 10 of the best Instant Pot Pressure Cookers as well as other brands of electric pressure cookers. Also includes the 3 best Instant Pots owned here at Recipe This.
Top 10 Best Instant Pots To Buy
When I started looking for an Instant Pot a few years ago there was not much choice and it feels so good to put together my top 10 of the best Instant Pots to buy for you because you have so much choice compared to what I had.
When I look for an Instant Pot and deciding which is the best Instant Pot to buy, I am looking for quality, good price and durability. I want the Instant Pot to still be doing a great job 3 years from now.
I say that because my first ever Instant Pot was the Instant Pot Duo 7 in 1 that I bought back in 2016 and it is still doing a great job after all the cooking we have asked it to do.
Today in our blog post for the best Instant Pot to buy, we will first share with you our own electric pressure cookers and then share with you other Instant Pot brands that we also recommend.
Why Buy An Instant Pot?
I am sure first, you want to know if you should buy an Instant Pot. Well can I shout at you and say AN INSTANT POT IS LIFE CHANGING. It will literally change your life. It will be like a happy drug you have taken. You will make a special Instant Pot Beginner Recipe, think how amazing and what a genius achievement it was and then you will wonder how on earth you ever coped before this point without an Instant Pot.
The first thing we ever cooked in the Instant Pot was our Instant Pot Broccoli and we couldn't believe it could taste that good and be cooked that quick. We then cooked more and more things and the Instant Pot impressed us more and more.
The Instant Pot can cook a whole variety of one pot dishes, and it replaces a lot of your household gadgets. This makes it popular among motorhome owners, people living in small accommodation and those that want to travel.
But for me as a mother of 3, I can put dinner on the table so effortlessly, especially when I am tired.
Or if you would like to learn more about the Instant Pot, do check out our Ultimate Guide To The Instant Pot.
The first Instant Pot we had, as we mentioned above was the Instant Pot Duo 7 in 1 Electric Pressure Cooker. It is a 6 quart/6 litre and is the perfect Instant Pot in so many ways.
If you have read about Instant Pots the chances are that the person who wrote the article that you're reading, is talking about the 7 in 1 Duo. It is world famous. You just look at a picture of it and you have clarity of the times you have seen it referenced.
For me the Instant Pot Duo is the perfect starting point. It does everything you could imagine and then some.
It replaces the following kitchen gadgets:
Rice Cooker
Steamer
Pressure Cooker
Slow Cooker
Sauté Pan
Yoghurt Maker
Food Warmer
Popcorn Maker
If I was starting out with an Instant Pot right now, I would choose the Instant Pot Duo all over again.
In 2018 we added the next Instant Pot to our kitchen. It was the exact same model as our first Instant Pot, but it was bigger. We were now the proud owners of both the 6 litre and the 8 litre Instant Pot Pressure Cooker.
If you can't make your mind up in regard to the size then think of it like this:
If you want to cook freezer meals or are feeding more than 3 people, then get the Instant Pot 8 litre.
If you are a couple and don't care for leftovers, then get the 6 litre.
We use our 8 quart more than our 6 quart and feel it's the perfect size for us. Though our family set up is 3 adults and 2 small children.
Then in 2019 we welcomed our first Mealthy Multipot into our lives. We had never owned a Mealthy before and were curious to what brands other than the Instant Pot were like.
It was the Mealthy Multipot 6 Quart that we had the pleasure of checking out and I must say I am impressed. It has a few pros over the main Instant Pot Duo that unless you have both in your kitchen, you really wouldn't notice.
Such as the Mealthy is quicker to pressure and the beep is louder when you're out of the room.
The Mealthy Multipot, Instant Pot Duo 6 and the 8 litre models the 3 best Instant Pots to buy. After these 3 I would also recommend the following 7 Instant Pots:
The Instant Pot Mini is the smaller model of the Instant Pot Duo that we mentioned below. As we discussed the 6 litre (6 quart) and the 8 litre (8 quart) it is only natural that we would go small and mention the Instant Pot Mini.
The Instant Pot Mini is a 3 litre (3 quart) Instant Pot Duo. If you think of my first ever Instant Pot and imagine it at half of the capacity. It is the perfect Instant Pot for single people. For people that just want a quick lunch or dinner and don't need something big.
I have many readers that have the Instant Pot Mini and they are mainly the retired folk that live alone. They love cooking our Instant Pot Baked Potatoes, Instant Pot Beef Tips as well as Instant Pot Popcorn.
If you wanted to follow our Instant Pot Recipes For Beginners, then all you would need to do is change the servings and then they are very easy to adapt for the Instant Pot Mini.
Click Here For Current Price + Read More Reviews
The Instant Pot Ultra is impressive. It works like the other Instant Pots that I have mentioned above, but it has gone digital.
The Instant Pot Ultra is the next step up in electric pressure cookers. You have a central dial and you can quickly press whatever programme you like for perfect pressure cooking.
Compared to the Instant Pot Duo the new features include:
Altitude Adjustment
Cooking Indicator
Steam Release Reset
There are also new buttons for egg, sterilise and cake.
I have also seen the Instant Pot Ultra on sale the most on Ebay and I recommend you read our guide for buying an Instant Pot on Ebay, as you can save a small fortune. Or check out our guide for how to buy an Instant Pot for under $100.
Click Here For Current Price + Read More Reviews
The Ninja Foodi is an air fryer and Instant Pot in one. If you're wondering exactly what this means. Well it is like getting the Instant Pot Duo and then also buying the Mealthy Crisp Lid. It is very popular because it does everything. You could use the Ninja Foodi to make my Instant Pot Mediterranean Chicken Wings and then use the air fryer attachment to make the chicken wings crispy.
I am not too keen on the Ninja Foodi brand after checking out their awful customer service (maybe it will be different for you?) and they do seem a little bit more money than Mealthy.
Or if you compare it, then think of it like this:
It is 25% cheaper to buy either the Mealthy or the Instant Pot Pressure Cooker and then buy the Mealthy Crisplid rather than getting it all from Ninja Foodi.
But I know many people that think the Ninja Foodi is the best thing since sliced bread, so I will leave it up to you to make a decision.
Click Here For Current Price + Read More Reviews
The Pressure King Pro is the UK equivalent of the Instant Pot Duo. It is basically the one that is popular to people that live in England and Ireland and many of my Slimming World friends have it.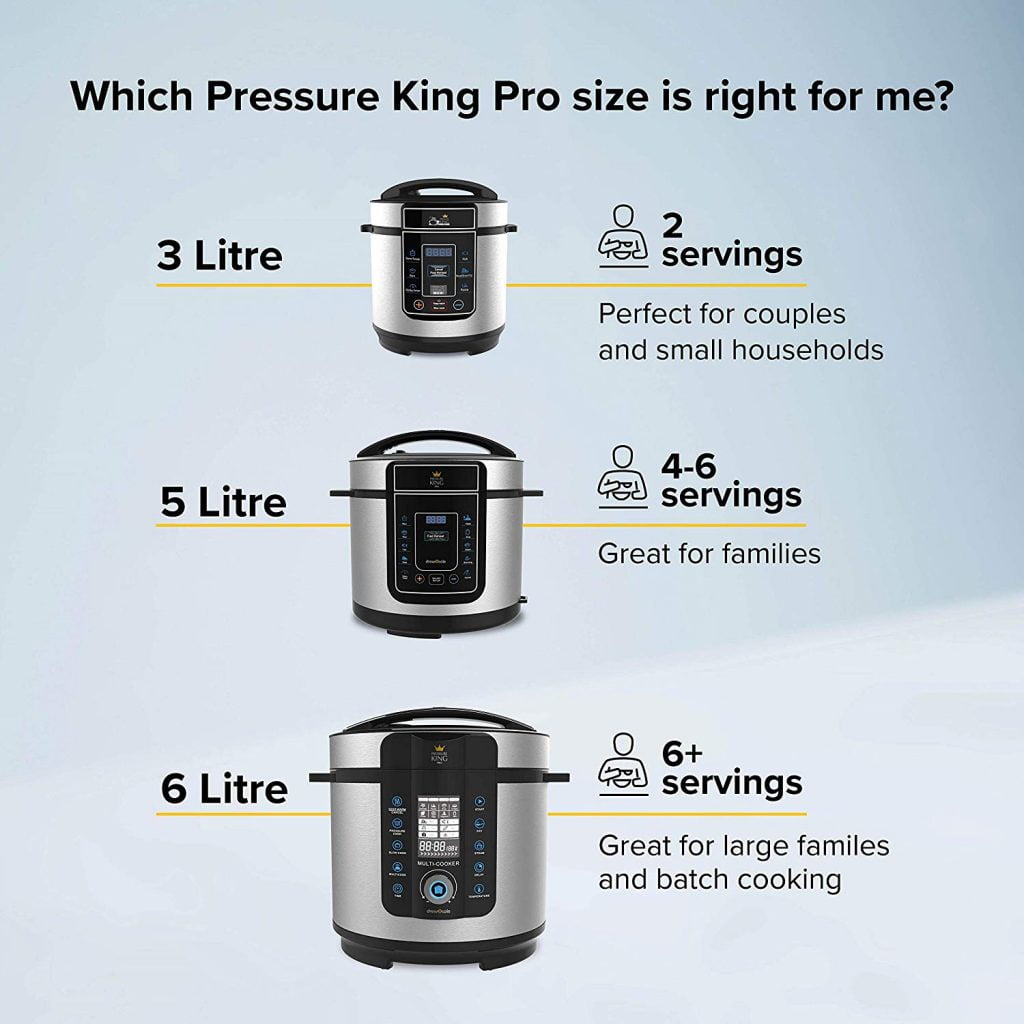 It is worth a look if you live in England and are not sure if the Instant Pot brand is right for you.
It is also cheaper than the Instant Pot and popular thanks to the soups that many Pressure King Pro users make.
I also like the sizes. Unlike the Instant Pot and Mealthy brand they offer an in between. Instead of 3,6, and 8 litres you have 3,5, 6.
I would love to own the 5 litre Pressure King Pro one day.
Click Here For Current Price + Read More Reviews
The Power Pressure Cooker is another firm favourite of ours here at Recipe This.
It is another of the electric pressure cookers that is similar to the Instant Pot Duo. Like the Instant Pot it is the ultimate mulitpot with lots of great functions to get you started with pressure cooking.
Here at Recipe This we love that the Power Pressure Cooker XL includes not only the wire rack and ladle, but also a power chopper, steam tray, canning guide and recipe book.
Not only does the Power Pressure Cooker XL have a preset timer but it also has lots of other presets too including:
Canning
Soup
Slow Cook
Rice/Risotto
Fish/Vegetable/Steam
Though I must admit when I pressure cook, I mainly use the steam or manual pressure cook button.
The Power Pressure Cooker XL is excellent for freezer meals too.
Click Here For Current Price + Read More Reviews
The Tower Pressure Cooker is impressive thanks to the 14 different buttons it has. It works like most pressure cookers and is the ultimate all in one system.
It is also popular in the UK and I am also a fan of the Tower Air Fryers. If the Tower Pressure Cooker is anything like its Air Fryer, then you're onto a great product.
I would call it the UK's perfect pressure cooker that does everything that anyone in England would want. I love the Pressure King Pro but the one thing it lacks is that it is not compatible with the Mealthy Crisplid which a lot of people are interested in using when buying a pressure cooker.
But you can relax with the Tower Pressure Cooker as it does everything. It also comes with a recipe book and has an easy to use digital controls as well as a 24 hour timer.
Click Here For Current Price + Read More Reviews
The Crockpot Express Slow Cooker + Pressure Cooker in one is well worth mentioning. If you love your slow cooker but also want to pressure cook, I recommend that you try out the Crockpot brand.
In many brands of pressure cookers, they have a slow cooker setting that is often below par, and by choosing the brand that is famous for its slow cooker, might be the better plan.
This reminds me more of the slow cooker, pressure cooker and sauté in one, that many of my Australian readers have and I wish this had been my first slow cooker.
The Crockpot Express is a dream come true.
Especially if you want to be able to sauté before you slow cook or pressure cook.
Click Here For Current Price + Read More Reviews
Which Is The Best Instant Pot To Buy?
We all have different personal tastes and in summary this is my suggestions for what's the best Instant Pot to buy.
Lacking Space = Get the Instant Pot Mini it is just a 3 quart pressure cooker and perfect for small spaces and travelling.
Lacking Budget = Get the original Instant Pot Duo. It is a 7 in 1 multicooker and it is a fantastic starting point. It was also the first Instant Pot we bought.
Just For Couples = Get a 6 litre pressure cooker such as the Instant Pot Ultra. It is the ultimate all in one and you can also check on your food to see if it has come to pressure yet.
Family Pressure Cooking = Nothing beats the Power Pressure Cooker XL for this. It doesn't take up much space in the kitchen, yet it is perfect for family meals. You could make breakfast, lunch or dinner in it as well as Instant Pot Freezer Meals.
Slow Cooker Junkie = If you love slow cooking then get the Crockpot Express it is made by Crockpot who are famous for their slow cookers and it is built on simplicity. You can then just focus on slow cook, sauté and pressure cook.
Best Instant Pot List
For a quick reference, here is our best instant pot list, so you don't need to scroll up and down for your links:
I also recommend that once you have chosen your Instant Pot that you check out our Instant Pot Get Started Guide + our Instant Pot Accessories.
Can't read it now? Then pin it for later!