Best Instant Pot Duo Mini 3 Quart Accessories. Introducing you to the best instant pot accessories for the mini. From books to finding great accessories that fit your 3 quart instant pot we have it covered!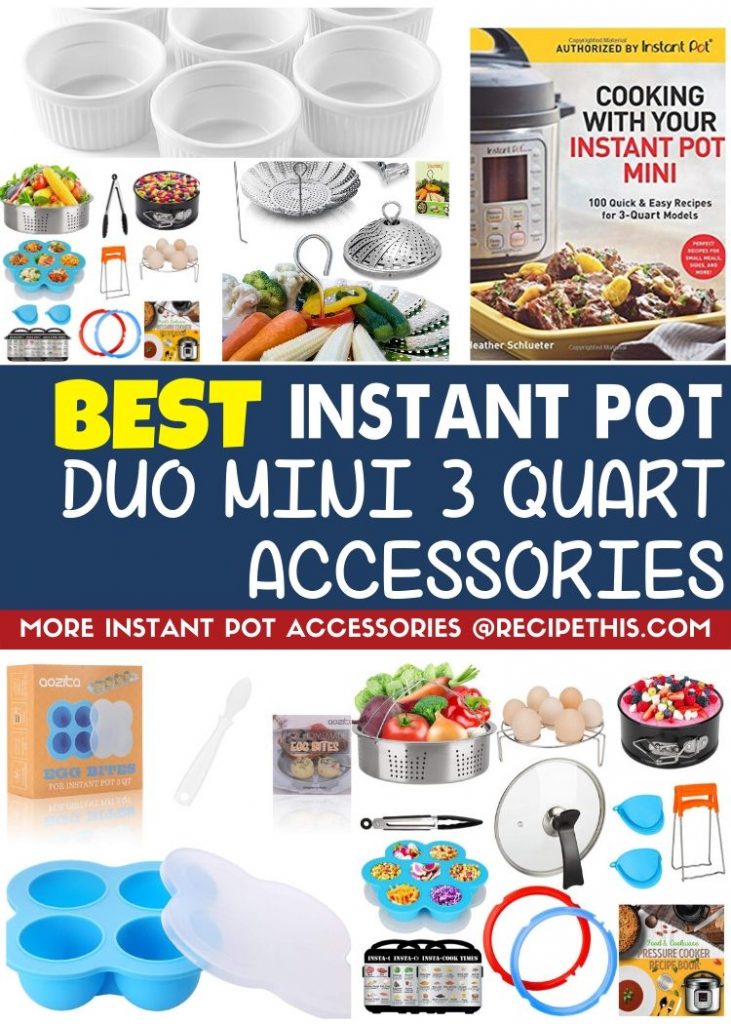 Best Instant Pot Mini 3 Quart Accessories
Let me guess? You have just bought yourself a wonderful Instant Pot 3 Quart Mini and every post that you read for instant pot accessories is based around the bigger instant pot sizes.
Well you have landed in the right place as we are going to run through the BEST instant pot duo mini 3 quart accessories to make choosing accessories for your small instant pot so much easier.
But first let me introduce you to our love for the Instant Pot Duo and other electrical pressure cookers.
We got our first Instant Pot on Black Friday 2016, before buying a few more since then and it feels like our Instant Pot has become our best friend in the kitchen.
The day our first Instant Pot arrived it was our daughter Sofia's 2nd birthday. We had to wait until the next day to do our Instant Pot Water Test and we were full of excitement over the latest kitchen gadget craze.
We fell head over heels in love and the Instant Pot soon joined our Air Fryer, in a prime position in the kitchen with a plan to be used each and every day.
We even took our Instant Pot across Europe with us in a camping tent in the summer of 2018 and used it as our main cooking device. It cooked breakfast, lunch and dinner as well as warming up our sons baby milk.
If you have not got yourself an instant pot yet, then we highly recommend the instant pot duo, especially the instant pot mini, which is perfect for the smaller household.
Top 10 Best Instant Pot Mini Accessories
Below is our list of the top 10 best instant pot accessories for the mini, or as you might call it the Instant Pot 3 Quart.
These are our favourites for all sizes and types of electric pressure cookers, accessories we can't live without, but accessories we have gone with that fit in the instant pot mini.
This is very important as not every instant pot accessory fit into the smaller mini and I have had many emails from subscribers asking for an instant pot accessories list catered towards the instant pot mini.
Why this is the perfect instant pot accessory for the mini?
Can I say now, that Cooking With Your Instant Pot Mini is the first Instant Pot Cookbook that I liked? It is amazing and perfect for the smaller household. You could easily double the recipes for the 6 quart or just follow them as they are for the mini.
Why this is the perfect instant pot accessory for the mini?
I recommend choosing an instant pot accessories pack as it takes the hassle away. Don't you hate it when you spend hours online shopping for a bunch of things, when you could click the mouse and get everything together for a cheap price?
Well that is what happens with this incredible instant pot mini accessories pack.
Though the negative to this, is that you often end up with instant pot accessories that you don't need.
For example, I rarely use my silicone mitts, the recipe books included are often not very good and let's face it, we all own kitchen tongs already!
But overall, this is the best option and you could scroll past a lot of the mini accessories below and just get this. It includes:
Why this is the perfect instant pot accessory for the mini?
Or just like buying an instant pot, you can also buy an accessories pack, in both small and large.
The instant pot accessories pack above for the mini carries most of the basics, but this bigger one also includes:
This of course saves you buying #4 below and it down to personal choice. I would recommend comparing prices at the time of your purchase to see which offers you the best value for money.
Why this is the perfect instant pot accessory for the mini?
The thing about sealing rings for the instant pot, is that you never know when you are going to need it replacing. It is like spinning the wheel of fortune.
It can be perfect one day and then gone the next!
I chose not to have a spare, then it needed replacing while travelling through the Black Forest in Germany. Talk about terrible timing!!! But I was able (thanks to Amazon) get a replacement waiting for me at the next campsite.
Why this is the perfect instant pot accessory for the mini?
Back in 2017 I used to roll my eyes at anyone that had a spare inner pot for their instant pot. I used to think they were wasting money and buying instant pot accessories that they didn't really need.
Then I was given one for free when I got my Mealthy Multipot and realised how essential they were.
If you made soup for dinner and plan to have the rest for lunch, then you can place it in the fridge and then use your other inner pot for your porridge at breakfast.
The above is the ceramic non-stick version for the 3 quarts, but you can also buy one made from stainless steel instead. My personal choice is stainless steel version. Click here for the stainless steel version.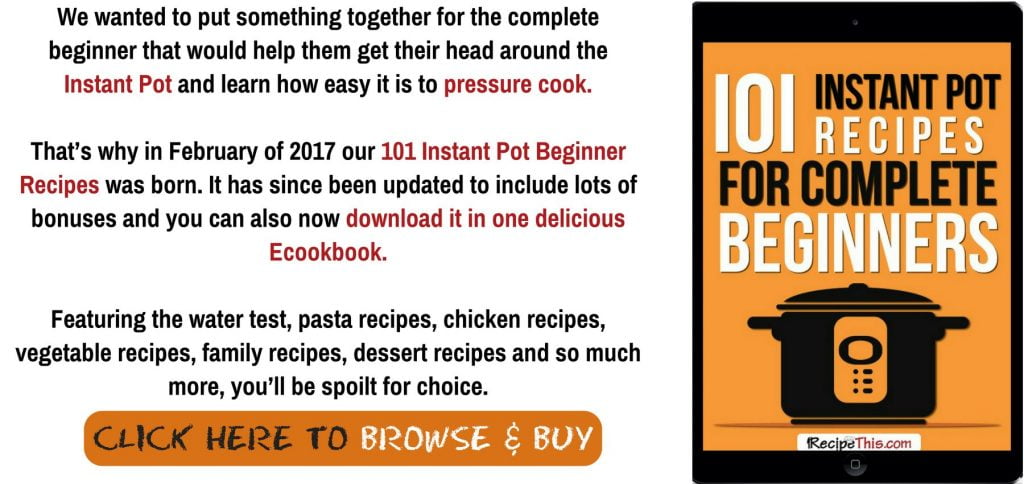 Why this is the perfect instant pot accessory for the mini?
Carrying on the conversation about the Instant Pot Spare Inner Pot, there is the silicone lid.
You place the lid on top of the instant pot inner pot, and it will keep your food fresh. You can then place the food in the fridge or use it to transport the food in your mini.
Perfect for if you are attending a party and bringing your own food or taking a meal to a friend's place. Or in our case when we were away camping.
Why this is the perfect instant pot accessory for the mini?
There is a lot of steamer baskets to choose from for the instant pot and this is my favourite. I have tried lots of them and there have been some that I have HATED.
With more than 6 steamers in my kitchen cupboard for the instant pot, this is the one I get out of the cupboard each time I cook.
It also features in my best steamer baskets review.
What is wonderful about it, is that it expands depending on your space. Making it perfect for the instant pot mini.
Though my kids think it is their new kitchen toy and are always pushing it in and out!!!
Why this is the perfect instant pot accessory for the mini?
When I got into cooking in the Instant Pot, an egg mould was top of my list. Not only do they work for making starbucks style egg bites, such as our instant pot egg bites without cottage cheese, but they are perfect for desserts, no peel hard boiled eggs and a HUGE amount of other recipes.
Trust me when I say, that this instant pot accessory is a must have!
This wonderful version just has 4 holes instead of 7 making it perfect for instant pot mini users.
Why this is the perfect instant pot accessory for the mini?
My ramekins feature in both my Instant Pot Mini Accessories Guide and my original Instant Pot Accessories because they are perfect for all sizes of instant pot pressure cookers and are ESSENTIAL.
There are so many recipes you can use them for, and you could even use them for baking eggs or making crème brulee. I also use them in my air fryer for an alternative to omelettes and I use them so much they are always on the go.
To use them in the mini you can place them on the trivet, with four at a time and cook away.
Why this is the perfect instant pot accessory for the mini?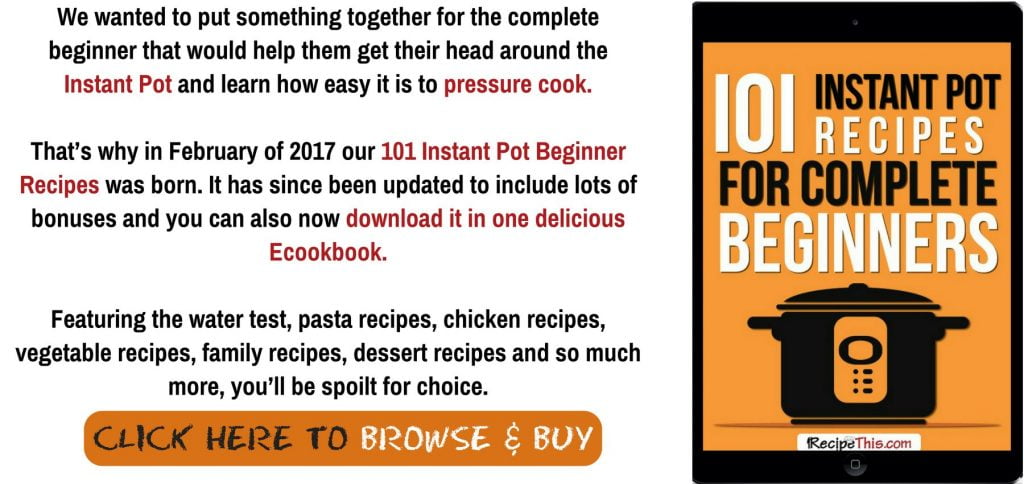 We all need delicious Instant Pot Recipes to get us started with our instant pot pressure cooker. This is our original ebook of 101 instant pot recipes for beginners.
Out of these 101 instant pot recipes it covers a range of cuisines and is perfect for adapting to the instant pot mini.
They were written with us in mind as a family of 5. But back then we were mum, dad, teen and a baby. My American readers always complain that they only feed 2 people as us Europeans eat less.
So, if you want to think of them as recipes for 2-3 people. Then if you are feeding 1 you can half them. Plus, all these recipes easily fit in the mini.
These are the main 10 instant pot mini accessories for your 3 quart that I would recommend. You can order them from Amazon using the links below (or above).
We hope you enjoy using the instant pot as much as us and do let us know in the comments below, if there are any other instant pot mini accessories you would like us to add.
Though if you are in a hurry, I also recommend checking out #10 as that allows you to access our 101 instant pot recipes for beginners straight away, even if it is the middle of the night, as I know how exciting it can be when you get a new gadget and you want to cook with it now!
Can't read it now? Then pin it for later!
Join The RecipeThis.com Community:
Facebook Group | Pinterest | Twitter | YouTube
Plus, don't forget to subscribe below to join our email newsletter with updates of our latest recipes, latest freebies, our cooking stories, plus much more: