This Post Contains Affiliate Links. Click Here To Read Our Full Disclosure.
Air Fryer Paleo Recipes. The ultimate list of the 51 best air fryer paleo recipes. From chicken to vegetables to desserts to amazing paleo snacks we have it covered. Scroll through our list of paleo recipes in the air fryer and decide what to cook for dinner tonight.
Air Fryer Paleo Recipes
Welcome to air fryer paleo recipes. Updated for 2020 and including lots of new paleo ideas to make in your air fryer or air fryer oven.
The paleo diet suits me. I love fruit, vegetables, chicken, eggs, avocados, and I am lost without sweet potatoes. I also hate processed foods and love to cook from scratch every day.
I also couldn't imagine cooking without extra virgin olive oil.
Dinner in the Milner house will often be chicken and vegetables cooked in the air fryer.
Today felt like the perfect opportunity for my fellow paleo followers to have a big fat list of paleo recipes that you can count on each time you want to cook with the air fryer.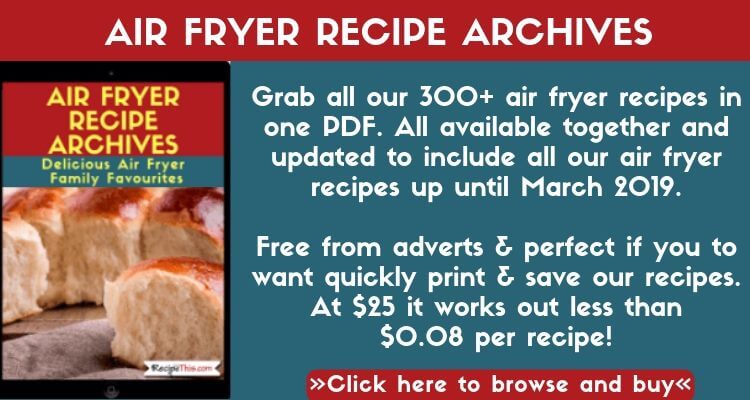 What Is Paleo?
But first, I am sure some of you must be wondering what Paleo is and how it fits in with healthy air fryer Cooking?
Well the infographic below is fantastic for describing it. Think of it as a less restrictive low carb diet.
Many people avoid carrots and sweet potatoes on low carb diets yet its allowed on paleo.
As you can see, instead you eat meals that are loaded with vegetables, use healthy flour substitutes, such as Bobs Red Mill, use honey and maple syrup as your natural sugar source and eat quality organic meat.
For example, getting your meat from Butcher Box. As well as this healthy fats like extra virgin olive oil are extensively used in cooking.
To replace cream and milk, it is normal to use coconut milk instead and this often gives a much better flavour to your cooking.
Processed foods become something that you used to do, and you get your carbs naturally through root vegetables and other foods.
Below you will find my top 10 favourite air fryer paleo recipes that I recommend you start your air fryer paleo cooking with.

Top 10 Best Paleo Air Fryer Recipes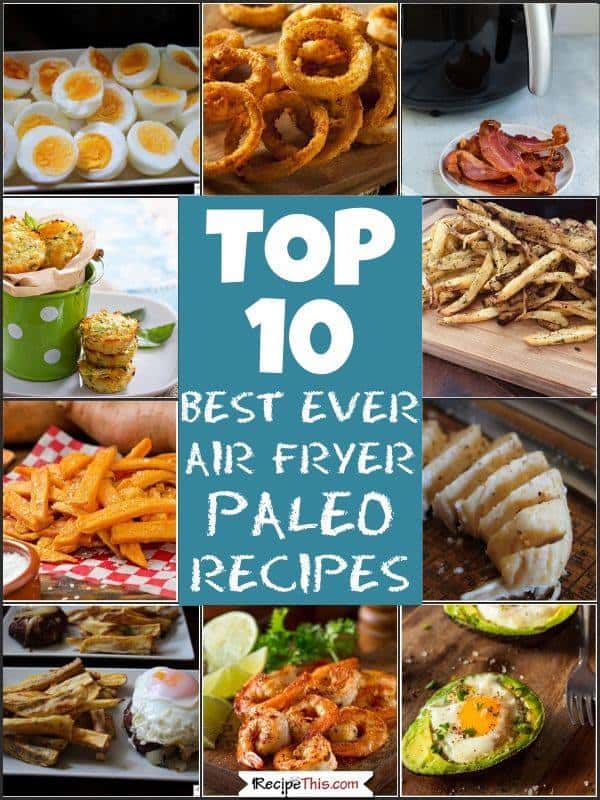 Air Fryer Paleo Chicken Recipes
One type of food for the air fryer that is ideal for the paleo diet is chicken. The air fryer is life changing for the amazing job it does at cooking chicken. From rotisserie chicken to our popular lemon pepper chicken breast we have it covered.
More Paleo Cooking With Your Air Fryer
Also, if you have an instant pot too, don't forget to check out our instant pot paleo recipes. It features 45 delicious instant pot recipes that are strictly paleo.
Can't read it now? Then pin it for later!
Join The RecipeThis.com Community:
Facebook Group | Pinterest | Twitter | YouTube
Plus, don't forget to subscribe below to join our email newsletter with updates of our latest recipes, latest freebies, our cooking stories, plus much more: