Air Fryer Burgers. Welcome to my air fryer burgers. Scroll through all my popular air fryer recipes for burgers and decide which one of them you are going to cook for dinner tonight! Choose between air fryer veggie burgers, hamburgers, cheeseburgers, chicken burgers and much more.
Air Fryer Recipes For Burgers
Welcome to air fryer burger recipes. It has now been updated to reflect all our delicious air fryer burger recipes on Recipe This. We hope you enjoy our 2020 update!
Air Fryer Burgers. Just say those 3 words and I am there. I love how delicious burgers are, especially when they are cooked in the air fryer. Plus, you can be totally LAZY and cook the burgers at the same time as these air fryer French Fries.
I am trying to think of my favourite burger growing up and I don't think I can. Growing up in England compared to in the US means that it has never really been a food that has been on a regular eating list.
You would have your McChicken Sandwich at McDonalds or you might have a small burger patty on the barbecue at a friend's house. But that would be about it.
Burgers was never a big thing.
Though since meeting Dominic and us leaving England there have been many delicious burgers. I remember my uncle Bob taking us to Wendys or visiting the Hard Rock Café in Barcelona.
However, what I enjoy most is making air fryer burgers with the hubby at home.
They never fail to impress us, and we have plenty of air fryer burger recipes that we turn to when we want some air fryer comfort food.
Today is all about putting all of our air fryer burger recipes in one place for you, so that you can quickly scroll through our burger recipes and get some inspiration for your next fakeaway in the air fryer.

Top 10 Easy Air Fryer Burgers
More Air Fryer Burger Recipes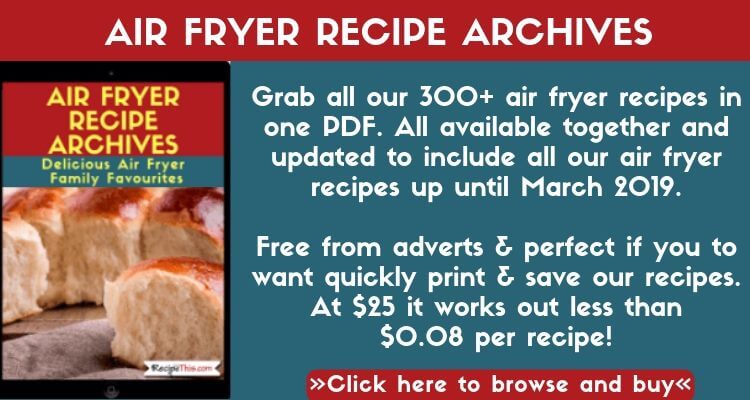 Beyond our top 10 best air fryer burger recipes we also have a few other suggestions:
Can't read it now? Then pin it for later!
Join The RecipeThis.com Community:
Facebook Group | Pinterest | Twitter | YouTube
Plus, don't forget to subscribe below to join our email newsletter with updates of our latest recipes, latest freebies, our cooking stories, plus much more: