Welcome to my ultimate Air Fryer Burgers.
I am a burger addict and couldn't imagine anything better than a tasty burger. I don't remember when it started but I am sure it was at a young age. The only time my parents entertained a burger was when they served them up at a barbeque.
But I had other ideas.
I used to go to McDonalds during my lunch break when I was waitressing as a teenager during the school holidays. I would always sit in McDonalds with the meal deal of the day. Usually a Big Mac with fries and a milkshake and it was food heaven. Also because I was working long hours and always on my feet I never put a pound on so I could easily go twice a week and not worry about my weight.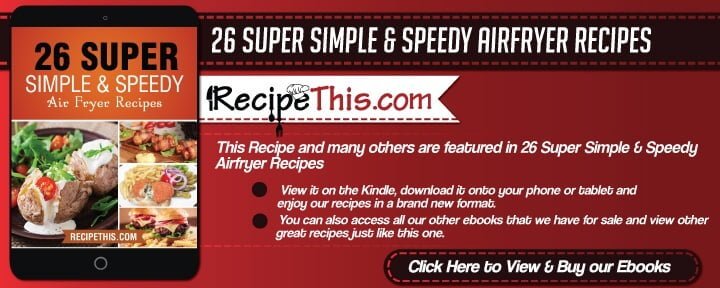 Fast forward a decade……okay Dominic is watching me type…….TWO decades and I still love my burgers but I don't want to put too much fast food into my body so I have got into the habit of making my own.
I will use a mixture of beef and pork mince and they will be made in the Air Fryer. They won't be completely healthy because I will add a fluffy white burger bun and some cheese and mayonnaise but they are better than a Maccy D's.
Popuar #Airfryer #Recipe - The Ultimate Air Fryer Burgers from @recipe_this
Click To Tweet
The Ultimate Air Fryer Burgers
Instructions
In a mixing bowl add the mince and seasoning and mix well.

Form into four medium sized burgers and place in the Air Fryer cooking tray.

Cook in the Air Fryer on 200c for 25 minutes and then check on them and then cook them for further 20 minutes on 180c.

Then add your salad, cheese and bun and serve!
Recipe Notes
I have found that the best burgers come from a mixture of pork and beef mince rather than just beef. If you can get mixed mince from your supermarket then I suggest you do.